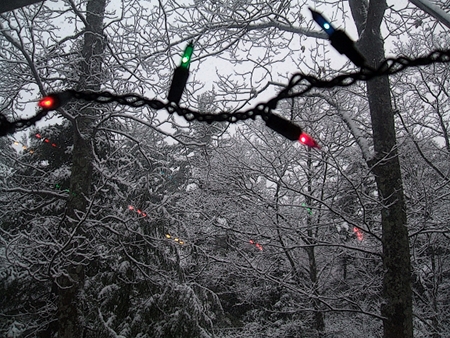 Wishing everyone a Happy New Year!
Attila and I greeted the New Year at 7:00 a.m. this morning, well rested and ready to enjoy our first mugs of coffee by the fireside in the year 2013. We retired for the night at 10 p.m. last night, New Years Eve. This bodes well for us for the coming year, because I slept for nine consecutive hours, a personal record. I know it is because I am still recovering from that miserable flu I came down with on December 17, 2012. That does not detract from the miracle of a good nights sleep.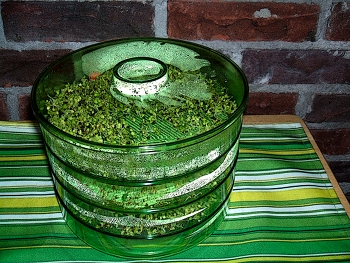 We are celebrating today by tending to Attila's new sprouting kit, from which we hope to harvest fresh greens during the winter months. The sprouter is set up beside the masonry heater so that it will not get cold, as it is always warm beside the heater. This is the beginning of day three and the sprouts are doing their thing, sprouting in the warm moist air of the sprouter kit.
I received a new pressure cooker for Christmas and we are christening it by cooking 10 pounds of fresh carrots, in several batches, which we will package and freeze for winter meals. Carrots have changed in recent years. Until a few years ago fresh carrots would keep almost indenfinitely in the crisper in the refridgerator. Not anymore, within a few weeks they become black and slimy and miserable to prepare whatever remains viable. We are going to get around that by cooking and freezing them while they are still fresh and healthy looking.
Today we both feel like eating heatlhy food again. For the most part what this means at our house is NOT EATING chocolates and desserts. To get our diets back on track for the New Year, I prepared Maple Carrot Soup for lunch, which we enjoyed very much. I have set some aside for my lunch tomorrow.
Maple-carrot soup

Baby carrots make for a quick-cooking base in this maple-syrup-and-Dijon-spiked starter.

Dec 1, 2009 Chatelaine
Preparation time:10 minutesCooking time:30 minutesMakes:8 Cups (2 L)

Michael Graydon

Ingredients
900-mL carton chicken broth
2-lb (1-kg) bag baby carrots
2 tbsp (30 mL) maple syrup
1 tbsp (15 mL) Dijon mustard, preferably grainy
2 tsp (10 mL) dried thyme leaves
1 cup (250 mL) sour cream, preferably light
Instructions
Place broth, carrots, maple syrup, Dijon and thyme in a large pot. Cover and bring to a boil over high heat, then reduce heat to medium. Cover and gently boil, stirring occasionally, until very tender, about 30 min.
Ladle half into a food processor, fitted with a metal blade. Purée until as smooth as you like. Pour into a large bowl. Then purée remaining soup. Return both batches to pot. Soup is quite thick and you may need to add up to 1 cup (250 mL) water or chicken broth. Reheat until hot.
When hot, stir in half the sour cream. Taste and add salt, if needed. Ladle soup into bowls, then dollop each with about 1 tbsp (15 mL) of remaining sour cream. If making ahead, prepare steps 1 and 2. Store in a sealed container in the refrigerator for up to 5 days or freeze up to 3 months. When ready to serve, reheat and continue with step 3.

Source: http://www.chatelaine.com/recipe/vegetarian/maple-carrot-soup/
How wonderful it would be if we all lived in a world where hard work and integrity were valued and rewarded! Public figures are not going to lead us to this healthy state of being; by definition they are already receiving more than their fair share of rewards and recognition and are not leading a balanced social existance.
So we must do it for ourselves, and for each other. We are the water carriers. (see quote below)
The temperature has risen to -11C today and the sun is shining. The world is white and it sparkles!
Worldly Distractions
Weather
-11 °C
Condition: Sunny
Pressure: 101.6 kPa
Visibility: 16 km
Temperature: -10.7°C
Dewpoint: -18.5°C
Humidity: 53 %
Wind: WNW 17 km/h
Quote
"The grass is not, in fact, always greener on the other side of the fence. Fences have nothing to do with it. The grass is greenest where it is watered. When crossing over fences, carry water with you and tend the grass wherever you may be."
Robert Fulghum
1937 –