Luna, Janus, the Grandbabies Imp and Elf and Tink, and the dogs Bennie and Bim, have been here and gone. They stayed with us two nights; the second night was an extra bonus.
The night they arrived we had a campfire in the back yard, over which we cooked hot dogs and grilled cheese sandwiches. Imp and Elf enjoyed tending the fire with "poking sticks". We stayed up late and had a very nice time.
The next day Attila was off to work at 5:00 a.m. I got up with Attila, and waited patiently for our visitors to awake, which was just after 8:30 a.m. We had breakfast, packed a loaf of bread and a jar of peanut butter into their van, and off we went on a day trip.
Our first stop of the day was to visit Attila at work. Attila enjoyed showing off the Grandbabies and showing them what he does all day. They got to meet the "boss", who offered Imp a job, her first job offer! They also had a great time sitting on the tow motor, and watching a train go by. What northern town doesn't have a train track running through it!
Attila and the Grandbabies at work.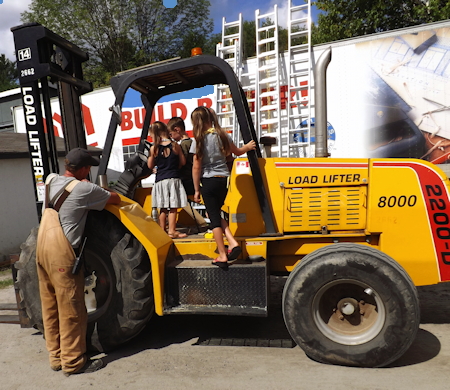 After leaving Attila, our next stop was my Grandparents house. In the past it was the local Post Office, and General Store. All of that closed in the sixties, when the Post Office closed due to centralization. The "village" is now a "ghost town", and the former store is frequently photographed, and displayed by artists, and also by trespassers, on the internet. Some people even boast about their illegal presence on the property.
My Grandmother passed away in 1976, and my Grandfather in 1984. Their house passed to my Mom and her sisters. Both of my Aunts have passed away, and now the property belongs to my Mom and my Uncle (my Mom's brother-in-law). They do not see eye-to-eye about the property, both holding it dear. The upshot is that we Grandchildren visit the house, some stay for short periods of time, but no one maintains the buildings. My sister spends time with her husband cutting the "grass" around the buildings, and checking on it, for my mother. Other than that, the building sits empty, and it is broken into several times a year by partying young people, curious day-trippers, and antique hunters. Almost all of my Grandparents belongings have been stolen. The locks are crow-barred off within weeks of installation.
I tried to purchase the property from my Uncle and my Mom, with the intention of maintaining the buildings. It was my hearts desire. It is close enough to Attila's work place that he could have commuted from the location. But neither were seriously interested in selling. No means no, so Attila and I have moved on. When I join my Grandparents in the great beyond, I can tell them I tried.
When I was very, very young, I was convinced that my Grandparent's house was heaven, literally. All the descriptions of heaven that were provided at Sunday school fit, that is how I knew! I can still feel the love there, as can all the Grandchildren. When I step onto that property I am immersed in love and acceptance. There is no other place on planet earth where I feel this way; it is a unique place in my life. And although my Grandparents have been gone a very long time, I can still feel their presence, and their love, in that place.
I wanted the Grandbabies to see the house, to be present where that loving energy exists, before it begins to collapse. I wanted them to see it before they leave Canada for England. It is where their Great Great Grandparents lived and died, it is where their Great Grandmother grew up, it is where their Grandmother was happiest in this world, and it is where their Mother got to meet her Great Grandparents, and spend time with her Great Grandfather, making maple syrup the old way, playing at his knee. It is a place where five generations of memories meet, all of them happy.
Granny's House. Home, Post Office, General Store… heaven! Generations Three, Four and Five visit; I am Generation Three, taking the picture.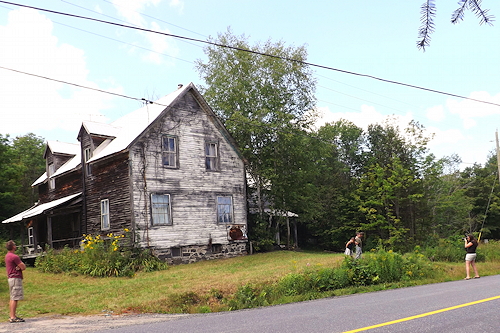 We walked around the building, taking pictures, sharing memories. Then in we went. The interior is now almost empty. In the last few months someone broke in and stole my Grandmother's refrigerator, which still worked after more than sixty years, and her freezer. The dining room set was stolen long ago, as was the pedal sewing machine, which my Grandmother used to make quilts, among them a Centennial Quilt for the Canada's 100th Birthday. The piano is still there. The Grandbabies enjoyed playing at the piano, and Luna gave it a whirl as well. The familiar echo filled the house with memories. I remember that my sister loved to play that piano when she was little, she always wanted to take lessons; she never did.
I think the visit was memorable for the Grandbabies, Luna, and Janus. It was for me. I think my Grandmother would have been pleased. She would also have liked that the oldest Grandbaby Imp, has her middle name, after her, and a relative on Janus side of the family.
Next we headed to Harriet's cottage on the lake. The Grandbabies played in the shallow water, on the dock, and in the paddle boat. This beach too has seen generations of my family. We have a picture of my Grandfather and Aunt standing on this beach in the 1940s. Harriet's property was not previously owned by the family though. My Great Grandfather, my Grandfather and Great Uncles, owned farm fields that were on lakefront, on another nearby lake. That other lake is where we played as children. The beach I played on as a child has been sold out of the family.
Luna, Janus, Imp and Tink on the dock, and Elf in the paddle boat; at Harriet's cottage.
We had our peanut butter sandwich picnic on Harriet's beach, and had a lovely time. Janus took all three Grandbabies in the paddle boat, on an excursion to the island near the cottage. They got to climb onto the island and explore, which looked like a lot of fun.
The voyage to the island!
How Tink sees me. Tink demands the camera, and takes my picture; she is three years old.
Then we all climbed into the van and headed for home.
On the second night we had another campfire, but did not stay up quite so late. Janus bought some "jiffy pop" popcorn to cook over the open fire. We commented on the false use of the adjective "jiffy", because it took a very long time for that popcorn to pop. Janus cooked it to perfection though, and we all enjoyed it.
The next morning Attila left for work at 5:00 a.m. Tink had awakened while he was getting ready for work, so Luna woke up and comforted her back to sleep. When I arose Luna was sitting in the living room reading a book. We had a leisurely breakfast, and then the packing began. Soon they were backing out of the driveway and waving goodbye.
What trip is accomplished without leaving something behind! This trip Elf's pillow was forgotten, as were Imp and Tink's sweatshirt jackets.
It was a wonderful visit.
Worldly Distractions
Weather
14°C
Condition: Mostly Cloudy
Pressure: 101.7 kPa
Visibility: 16 km
Temperature: 14.3°C
Dewpoint: 8.8°C
Humidity: 69%
Wind: NNW 18 gust 30 km/h
Quote
"What greater thing is there for two human souls than to feel that they are joined… to strengthen each other… to be one with each other in silent unspeakable memories."
George Eliot
1819 – 1880