Attila and I are in the process of purchasing a vacant lot north of our country house. Someday we might say to ourselves, "what were we thinking!" So here it is, in writing, just exactly what we are thinking in doing such a thing.
I will begin with my Grandparents, who were central in my life, as they were in all of their Grandchildren's lives. They owned and operated a general store, and the local post office, in a small town in Parry Sound District, Ontario. I literally thought their home was heaven, because it fit all the descriptions supplied by the Sunday School teachers. I might have been right about it too. To say I have fond memories of their home, and the community in which they lived, is an understatement.
My Grandparents home and business have gone unoccupied since my Grandfather passed away in 1985, predeceased by my Grandmother. Attila and I wanted to purchase their home, to renovate and live there. Such was not to be. That left a hole in my heart.
For the last ten years, since we moved to our country house, we have kept an eye on the property market in the area where my Grandparents lived. Property there is very costly, because most of it is either large acreage, or lakefront property. We kept looking, not expecting to find anything we could afford.
Last year a small vacant lot appeared on the real estate web sites, almost next door to my Grandparent's house. The price was reasonable, and for us affordable, so I put in a call. I was disappointed to find that there were "complications" and the property could not be sold at that time. A year passed. This spring, after we decided to sell our country house, I noticed the ad again. Feeling whimsical, I called again, thinking that there was little chance of the land actually being available. To my surprise it was, the "complications" had just been sorted the week before!
I put in an offer on the spot, and used the fax function of my printer to process all the paperwork involved. And then we waited. The realtor called to say that the vendor had encountered a new "complication". So we waited. Then the offer was sent back to us at a higher price, which we countered with a slightly lower price, and they accepted! We take possession of the property on May 16th, 2014. We are engaging a local business to construct a driveway into the property, which is pristine bush.
Now we have our little piece of heaven!
I do not need to live there, in fact I doubt we will ever live there. What we will do is camp there, and perhaps we will even spend our summers there. It is an easy 45 minute drive from the property to Attila's place of work, so this is a doable plan; in the summer. In the winter we would have to find alternate accommodation, in a town, near shopping, with ploughed parking, and thermostat heating.
This has the potential for giving us the best of both worlds.
The little house in the city will be our anchor, the place that is ours and ours alone.
So, to summarize our tentative strategy: sell the country house, spend the summer camping at the new property, spend next winter in an apartment, visit and enjoy our own little house in the city as often as we can. This is the plan while Attila must work at his present job. It has become painfully obvious that we are not going to find work near the little house in the city, we will have to wait for Attila's retirement; thirteen years from now.
We hope that since the little house in the city will be the only house we own, we can focus our renovation efforts on it, and continue to visit and spend time with Terra and Lares.
Here is what all the excitement at our house is about.
The view from "the camp", as we will call our new vacant lot in the country.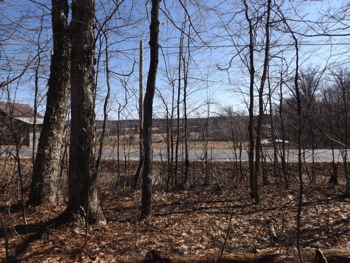 The view looking towards the back of the camp. There is a steep incline to a rocky point, offering a wonderful view of the surrounding landscape. This is rough and ready Canadian Shield. There is plenty of space at the front of the lot for camping, and one might even build a home there, if one were so inclined. I am not inclined, the little house in the city will be the only house we need, in my estimation.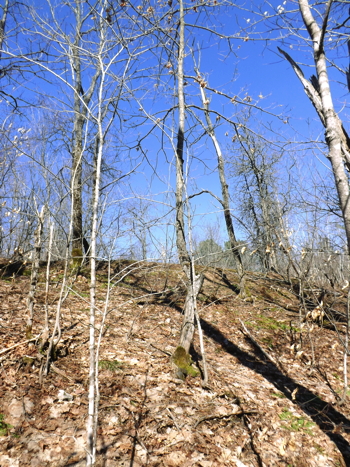 Our nearest neighbour. The house has a distinctive lean to the right, the building is rotting from the ground up, and has not been in use for over fifty years.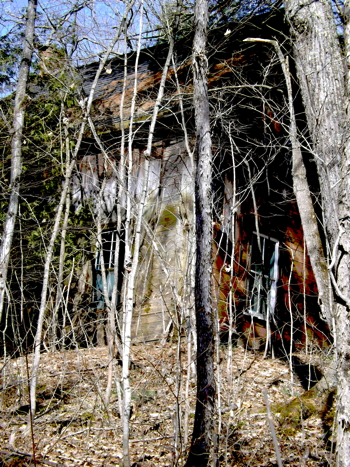 Worldly Distractions
Weather
2°C
Date: 11:00 PM EDT Sunday 27 April 2014
Condition: Clear
Pressure: 102.5 kPa
Visibility: 16 km
Temperature: 2.3°C
Dewpoint: -3.1°C
Humidity: 68%
Wind: NNE 4 km/h
Quote
"We cannot direct the wind, but we can adjust the sails."
Bertha Calloway