Sunny! Warm! Gotta love it! The birds do, I can hear them through the open window. An open window!
It has been an uneventful day, thank goodness.
The flood waters continue to rise, and still have not peaked, according to the local news. I thought they had peaked, but Attila assures me that they have risen since yesterday. Our neighbour, down the road, had their front steps have float away. The rising water should peak early next week. The lakes are spotted with floating deck chairs, trees, boats, docks, and all kinds of other flotsam and jetsam. Boating on the lakes is hazardous. Boat houses are up to their necks in it. Many of the boathouses are really luxury homes on the water, used as "bunkies", for guests of the big houses/cottages. Serious damage is being done
I think Attila and I will still by high and dry when the flood peaks. There are some advantages to owning a home that is not on the waterfront.
This evening I spent some time with Attila loading wood into the wheelbarrow, for transport to the woodshed. I loaded the wheelbarrow seven times with 100 lbs. of wood each time. I am not accustomed to such heavy repetitive work, so I left off before feeling worn out. To prevent swelling in my back I took an Ibuprofen and sat for a while with my feet up, with a good book.
I slept poorly last night; perhaps tonight I will sleep soundly.
Ontario Barns April 21, 2013 [Taken at 90 km an hour, through a closed car window.]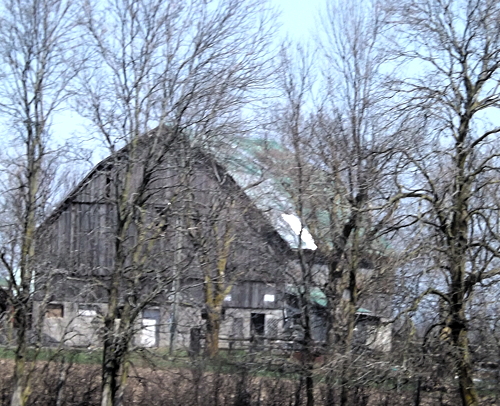 Worldly Distractions
Weather
10C
Condition: Sunny
Pressure: 103.1 kPa
Visibility: 16 km
Temperature: 9.8°C
Dewpoint: -5.3°C
Humidity: 34%
Wind: W 9 km/
Quote
"Oh sleep! It is a gentle thing,
Beloved from pole to pole."
Samuel Taylor Coleridge
1772 – 1834