It was with a heavy heart that I saw Attila off to his day's work today. The wind chill is -32C. While I am slightly chilly, in the house, in this frigid weather, Attila works in it all day long. It wouldn't be as difficult if he didn't need to take his gloves off for some of the more detailed tasks, but he does. The cold bites, his skin peels; and he never complains. It has been this cold more often than not this winter, and Attila has headed off to work with a smile on his face every day. But now, in March, as the bitter cold continues, and after a week long battle with a head cold, Attila's cheer is wearing thin, getting used up. The long, severe winter is affecting a lot of people, who are truly not at their best just now, nor am I if truth be told. The isolation is beginning to affect my ability to sleep at night; there is a downside to remaining cheerful by day, as the stresses that are not dealt with during waking hours are sure to visit in the dead of night. Still, Attila and I carry on, watching the sky and the thermometer, because the snow and the cold have our complete attention this first week of March.
Heating has been challenging this winter, requiring intense effort on Attila's part, keeping the wood supply dry and plenteous, supplying wood for three firings a day through most of the heating season; that is 150 pounds of wood a day, split and carried into the house, and up the stairs into the living area. He has done a fine job too, for there was only once that I felt the need to wear fingerless gloves, to help along hands stiff with the cold, while puttering about in the living area; and that was after returning from a trip.
We use the electric heaters when we are away, and it is a tricky transition turning off the heaters and charging the masonry heater. We were away for a few nights on two occasions since last November. Both occasions took place during cold snaps, when the temperatures were below -25C. The electric heaters will maintain comfort in the living area when it is very cold, but at tremendous cost. We don't get out much as a result.
The main roads were clear and wet yesterday, so we took the opportunity to make an excursion to town for supplies. It had been two weeks since I had left the house, so it was a great relief to walk amongst strangers. Hopefully that superficial but positive exposure to other humans will get me through the next few weeks, until I can get out again!
Besides weather watching, Attila and I are watching episodes of the first two seasons of Downton Abbey, on Netflix. We had watched the first season many years ago, when we still had television service. We watched it again though, so as not to lose any of the plot to memory loss. Two things struck me about the program. I find it comforting, because the wealthy seem to care about those over whom they have power, there is little of the heartless indifference to the effects of disparity that one observes in real life. There would have been wealthy families so humane, to be sure, but that would have been the rare pinnacle of the breed, the stuff of legends, which it is in this drama series.
The other thing that stands out for me is the portrayal of the Irish; it isn't flattering, as in the characters Tom the butler and O'Brien the ladies' maid. In my view, if you are going to portray the pinnacle of the wealthy breed, then it is only fair that you portray the pinnacle of the Irish serving class as well. To optimize one and portray the bottom scrapings of the other, seems to verge on racism, in my opinion.
Still, we are enjoying the program, and grateful to find something to watch that is not dependent on sensationalized violence, or ruthless greed and avarice.
The new apron. Selfies are not my strong point!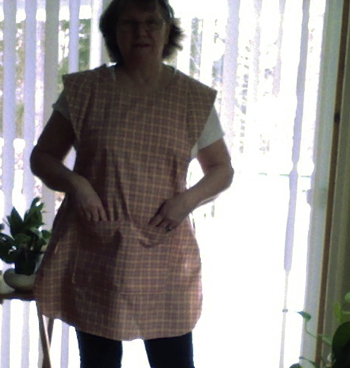 I have been wearing my new apron every day, and it is very comfortable. It took me two weeks to make it, working a few hours a day, and taking several days off to wait for the hemmer foot to arrive.
So, that is how things are at our house. Sunny, snowy, cold; humans and feline a little worse for wear, but still managing to get along, and remain cheerful for the most part. Mist, if you are reading this, please note my generous interpretation of your recent scoldings! Your requests to provide a warm spot to sit in the sun, beside the sliding glass door, inches from the -32C wind chill, are beyond my power to satisfy. I am not just being stubborn about this! In my small world, good cheer in early March is a small miracle.
Worldly Distractions
Weather
WIND CHILL WARNING IN EFFECT
Current Conditions Sunny
-24°C
Date: 8:00 AM EST Monday 3 March 2014
Condition: Sunny
Pressure: 102.9 kPa
Visibility: 16 km
Temperature: -24.0°C
Dewpoint: -27.0°C
Humidity: 77%
Wind: NW 9 km/h
Wind Chill: -32
Quote
"Like so many Americans, she was trying to construct a life that made sense from things she found in gift shops."
Kurt Vonnegut
1922 – 2007
I could not resist this quote! We live in an area of great natural beauty, sometimes referred to as the "Malibu of the North", where the wealthy and famous seasonally recreate in stunning "cottages", and picture perfect settings. The landscape and the built form look like something very appealing, can even feel warm and friendly and almost perfect, to a visitor with money in their pocket, right out of a magazine… the reality is, those are photo shoots in the magazines, not communities. By definition vacations and seasonal visits are fair weather relationships.
NOTE
Fair Weather Friend: "A friend who is only a friend when circumstances are pleasant or profitable. At the first sign of trouble, these capricious, disloyal friends will drop their relationship with you."