Friday, August 25, 2017, Mist Cottage
Sitting here this morning looking for information about hooking up a 30 amp RV electrical system to a generator. It isn't straightforward. I found a connector that looks like it will work, but I can't run to the local Canadian Tire to pick it up, it is in stock, because Tank is at the garage having an issue with the brakes fixed. It is too far to walk to the Canadian Tire store. The same item is available at Amazon.ca for a lower price, we have Prime, so delivery is two day and free.
So it occurs to me that Amazon Prime almost replaces the need for a vehicle to do the shopping. Vehicles cost a small fortune to keep on the road, considering the initial cost, maintenance, licensing, fuel, insurance… Amazon Prime costs less than $100.
Our vehicles are used for much more than shopping of course, so this is pure conjecture, it wouldn't work for our present lifestyle. But were we housebound this could work for us.
I will hold off my purchase of an RV connector until Tank is back on the road, or Attila comes home from work with the car. The advantage to the local Canadian Tire is that if the connector is not the product we need, we can return it easily. Also, I like the staff at the local Canadian Tire, every interaction there has been pleasant over the years, not always smooth, but always pleasant.
Which puts me in mind of a recent purchase we made at the local Shopper's Drug Mart. This is the second truly unpleasant experience we have had there, and I suspect it is due to the management. People who aren't treated well can't help but pass that along to the customers.
We have spent a lot of time at the Rideau Camp this summer, and have been loving it! Our first season at our Camp was just last year. We didn't camp there as often as we have been this summer, which means that meal planning for our stays has become more complex. I can no longer eat the wonderful grilled cheese sandwiches cooked over an open fire, the sodium in bread and cheese is unacceptable. Quick canned items, like soup, or beans, don't work, again the sodium levels are unacceptable. When I was younger camping meant a trip to the grocery store for easy to prepare items, but all that has changed, as now I must carefully watch my intake of sodium, sugar, cholesterol, and my allergen.
Experiments with quick and easy foods is an ongoing project now. Overnight oatmeal sounds interesting, and to that end one minute oats were on the grocery list this week. Since peaches are in season, two Giant Oven Pancakes were baked last night, sectioned, and stored in the refrigerator for quick suppers for me over the next few days. I love Giant Oven Pancake smothered in fresh sliced peaches, no sugar added.
Recovery from the dental work has been taking some time, still requiring that I eat soft foods. Of all the health issues I have encountered in my life, problems in my mouth are the most exhausting. The fatigue that was plaguing me has subsided, but my face still hurts if I talk a lot. Fortunately, I can type a lot instead. As Attila pointed out, when you have an issue with something in your head, it is very hard to ignore it. Thank goodness my issue is temporary. Hugs to anyone dealing with chronic issues in the mouth or head!
Saturday, August 26, Rideau Camp
Tank needed a visit to the garage, so on Wednesday night we both drove to the garage, dropped her off, and drove home in the car. She had a leaking axle seal, which had leaked oil on our trip to the Traditional Camp, which burned and smoked. So in she went. We picked her up yesterday afternoon, the part was $20, the labour was $220, which we considered to be fair. We really like this mechanic!
Our departure for the Rideau Camp was somewhat delayed by Tank's absence, and the need to go and get her. We took our time packing, and arrived at the Camp at about 8:30 p.m.. Usually at that hour of the evening the mosquitoes are at their peak, but there were none. We unpacked, played a game of Cribbage, turned out the lights and turned in for the night.
Last summer's vacation was not pleasant. It was our first week long vacation in over 20 years. This year we plan on spending a week in the autumn at the Rideau Camp. Since there are no extra expenses involved, as there would be if we were to camp in Iris in camp grounds for a week, or even more extravagantly stay in motels or at a resort, we decided to indulge in a luxury. We purchased a small, portable, quiet, generator. This will allow us to use the computer while camping, at either the Rideau Camp or the Traditional Camp. It will allow us to run all of the features in Grace The Trailer, except the air conditioning, which would require a second small generator connected to the first small generator for extra power. We don't anticipate needing air conditioning for our short summer stays in Grace The Trailer, so we did not purchase the second small generator.
I am typing this entry on the computer. My laptop no longer has a functioning battery, which died about a year ago. The MacBook Air will only operate when connected to an electrical outlet, so that it could not be used while camping. The generator enables me to use the computer while camping, which is a very big bonus in my opinion. We don't use cell phones, so that all of my data is stored locally on my computer, I don't use the Cloud for serious storage. Now that the computer will work while camping, I can save the information related to the local areas around our Camps, so that we have a directory of the businesses, and local places of interest, at our fingertips.
The biggest bonus of the generator though, at this point, is the lights. We don't mind the small, inexpensive, low lumen lighting that we use while camping. But now that we have experienced staying in Iris with an electrical service, we are spoiled. Having lights at night is wonderful, it makes a terrific difference. We can use the lights at night as well, on battery power, knowing that during the day we can recharge the battery using the generator.
In my dreams, we install a pump in the deep well at the Rideau Camp, and the generator would supply the power needed to pump the water, and to use it in Grace The Trailer. This is something we won't be doing in the short term though. If we live to enjoy retirement together, we might want to spend our summers at our Camps, then the investment in a working well would make sense. For now we fill containers with water at home, and take the empty containers back with us, when we are staying at our off-grid camps.
Today Attila is removing three large stumps that prevent us from easily turning Tank around in the open area of the Camp. Until now Attila has been backing Tank out the driveway. After today he will turn Tank around in the clearing, ready to be packed when it is time to go home.
I wrote the words below with a pen on a scrap of paper this morning, before the sun rose, while Attila was sleeping.
A little red fox ran towards the trailer this morning, coming up the drive at a steady pace. She veered around the trailer, the side closest to the bush, and was lost to sight. I would not have seen her at all, had I not just turned to look out the back window, as I was pouring the boiling water over my tea bag. It was 6 a.m.. The sun had not yet risen. She was a small fox, her red fur almost glowed with good health. Although she was running, she did not appear to be in distress.

After she had passed, I finished making my tea, and carried my cup to the chair beside the back window, where I intended to do a bit of reading, as the light was quickening, and the words were taking form on the page before me. A movement caught my eye, something on the drive again. A large black dog, with long unkempt fur, loped up the driveway in pursuit of the fox. He was having fun, hunting, redundantly hunting. His slack expression denoted a lack of intensity, and a lack of cunning. This hunt was entertainment, for if he had been truly hungry and in need of a kill to survive, it would have been written in his face and body.

He followed the fox's path and was soon out of sight. Five minutes later the dog was back. He walked a weaving path at a slow trot. There was no sign of a kill around his muzzle. At one point, near Grace The Trailer, he lifted his leg and peed on a pine sapling, then slowly strolled down the drive and out of sight.

He wore a dog collar.

Much earlier than the visits from the fox and the dog, in the morning just after I had awakened, the chorus from a murder of crows filled the air, heralding dawn.

A little later than the visits from the fox and the dog, a partridge clumsily passed across the drive, at some distance from Grace The Trailer, stumbling and flapping along by turns.

How important these living beings seem in the absence of human company.
Monday, August 28, 2017
I am back home and writing from Mist Cottage. The weather is much cooler now, and the humidity is not high. This is ideal weather in my book, a view not shared universally. We need neither air conditioning, nor heating, so our electricity bill will benefit from this weather.
On Sunday I took a trip to a country market, a farm that sells local produce, and was shocked at the prices. $3 for a quart of green beans. The rest of the produce was similarly priced. People living without healthy pensions, and those living at minimum wage levels are not going to be buying local food, it isn't in the cards. The artisanal food movement is offensive, in that the entrepreneurs are constantly whining about needing people to buy locally, while they insist on selling things that only the affluent can afford to buy.
I bought one item though, because I wanted to try Red Fife Wheat Flour. The one kilogram bag of flour was $8.00 plus tax. It will have to be a one-off purchase. I made peach muffins with it this morning, and they are outstanding. Much research is needed to find an affordable source of this basic food ingredient.
Attila just brought in a pound of freshly harvested Scarlet Runner beans. At that country store this would have cost $6.00 plus tax. We love our garden! He also harvested two beautiful tomatoes, and oregano and dill, which we will dry.
I continue to work on my crocheted top. The back was difficult to design, I worked on a design for a day, decided I didn't like it, tore it out, and would start on another design the next day. This process went on for weeks! Finally a design that worked was finished today. There are loose ends and a few alterations to yet to do. The shoulder straps were too long, I failed to take stretching into account, crochet work stretches. The way I constructed the straps meant they could not be torn out and reworked, so a method of shortening them after the fact must be devised.
We are going to take a week at the Rideau Camp this autumn, and I only have one book that I am looking forward to reading, it is about Gavin Maxwell, written by Dan Boothby, entitled Island of Dreams. The book was a gift from a friend, and I have been especially saving it to read while on vacation at the Rideau Camp. I anticipate that I will want to read more than one book though, so I am looking into borrowing books for my Kobo, from the Ontario Library Service. I like my Kobo, but every time I want to use it the instructions on how to load items into it has to be reviewed. It is wifi capable, but since no books are purchased, the cables work well for loading borrowed books, via Adobe Digital Editions.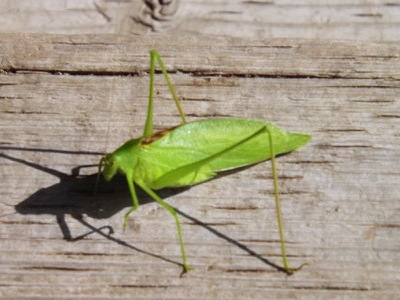 Grasshopper on our back step at Mist Cottage. We also saw one of these out at the Rideau Camp last weekend. I believe this is a Katydid.
Worldly Distractions
Weather
Saturday, August 26, 2017, I've no idea what the weather report is for today, we have no internet connection, which I have come to rely on for such information. It was cold this morning, so much so that I sat on my clothes for a long time, until they were warm, before changing into them. The sun is out now, it is almost noon, and I am still wearing my sweater. It is a lovely day.
Quote
"But, if I must afflicted be, To suit some wise design,
Then man my soul with firm resolve, To bear and not repine!"
Robert Burns, Poems and Songs of Robert Burns, Prayer, Under The Pressure Of Violent Anguish