The good news is that Attila got a promotion at work, that I worked five half days in a row and we might just squeak by with expenses of owning two properties.  Our wild country house has not yet sold.
There is no bad news.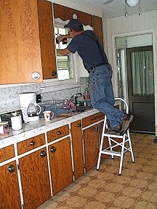 Attila took on his new position last week, worked long hours and almost wore himself out getting things organized the way he wants them.  It is going very well.  I worked five half days in a row last week, all but one of them with wonderful people, and only one morning with a person who hates everyone, including me.  Attila and I were very, very tired on Saturday afternoon when we were finished our week's work.
This morning we felt much better and ventured forth for a short visit to Harriet and Hogan at their cottage.  They bought a neglected cottage on a wonderful site, and have been improving it for the last few summers.  They have worked wonders, but still have a bit of work to do to make it as comfortable as an urban home.
Our drive home from their cottage was interesting; the rain came down in torrents, one couldn't see the road and many people had pulled off onto the shoulder to wait out the storm.  Harriet and Hogan were driving through that stormy weather, I hope they arrived home safe and sound.
We are going to visit the little house next Saturday.  Terra and Lares have been keeping an eye on it for us, and yesterday Lares arranged with his Dad, to have the second hand refrigerator we purchased delivered to the garage.  Our list of things we want to do on our Sunday visit to the little house keeps getting longer.  We want to put a coat of paint on the bedroom walls and the living room walls, and I plan on scrubbing down the wallboard in the dining room, with a scrub brush and a lot of elbow grease.  Attila will make his first foray into the attic, to see what is going on up there; could be gruesome!  And of course we want to get the refrigerator setup, so that we can start using it and put our cooler back into storage.
Worldly Distractions
Weather
20 °C
Condition: Partly Cloudy
Pressure: 101.2 kPa
Visibility: 16 km
Temperature: 20.0°C
Dewpoint: 18.8°C
Humidity: 93 %
Wind: W 5 km/h
Humidex: 27
Quote
"Love is the difficult realization that something other than oneself is real."
Iris Murdoch
(1919 – 1999)