Attila and I are working hard. Attila enjoys the responsibility of his new position, it is a breath of fresh air for him. I have been offered more hours of work in the last month than I had the entire span of last winter. We are working hard to support our two homes. It is a lot of responsibility, and yet we seem to be enjoying ourselves and have begun a new chapter in our lives.
When we are not working at our jobs, we are planning our renovation projects for the little house. The roofing project is looming large, and thankfully Lares is planning on helping Attila install the new roof. I still need to choose the colour, so that Attila can order the materials. This will entail a trip to the building center, with both of us in attendance, so that I can choose the colour while Attila chooses the type of product he wants to work with.
After the new roof goes on, we have a list of issues that just keeps getting longer. This poor little house has not been treated with respect for a very long time. We have water issues, with the basement and with the plumbing. I think we will need to deal with the plumbing first, due to some very beautiful blue mold sprouting on the basement ceiling just below the bathroom.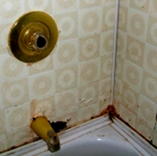 I do wonder how anyone lived in this house in the condition it is in. It couldn't have been healthy and it certainly wouldn't have been comfortable. It will be though, both healthy and comfortable, when Attila and I have worked with it for a few years.
Our country home has not sold, although potential buyers visited yesterday. I have mixed feelings about parting with this home, as Attila has worked so hard to make it comfortable and cozy, and we have so many good memories here. In a way I am feeling quite relieved that the housing market has slowed down to a crawl, so that it is unlikely that our country house will sell at this time.
Terra is doing well at her new job. She and Lares are working hard to adjust to one partner working shift work. It is quite a challenge and much harder than it sounds.
We seem to have passed through the heat wave. The humidity has gone down and the temperatures fall into the teens during the night, which makes for comfortable sleeping. The days are mostly sunny and the bugs are almost gone, beautiful!
I am becoming accustomed to keeping the house in "show" condition, which has been quite a challenge. Before leaving for work in the morning I must do the dishes, make the bed, de-clutter and straighten up all the little objects that were used the night before. It doesn't really take very long to do all this, it is just that I haven't bothered with the little stuff for years, many years. Still, I find I like spending time in an environment without chaos; so there is a bright side.
I find that initiating change is fun and exhilarating. The hard work is persevering with the project after the "honeymoon stage" is over.
Worldly Distractions
Weather
17 °C
Condition: Sunny
Pressure: 101.2 kPa
Visibility: 16 km
Temperature: 17.0°C
Dewpoint: 16.7°C
Humidity: 98 %
Wind: SSE 8 km/h
Quotes
"Courage and perseverance have a magical talisman, before which difficulties disappear and obstacles vanish into air."
John Quincy Adams
(1767 – 1848)
"Few things are impossible to diligence and skill. Great works are performed not by strength, but perseverance."
Samuel Johnson
(1709 – 1784)
"If you wish success in life, make perseverance your bosom friend, experience your wise counselor, caution your elder brother and hope your guardian genius."
Joseph Addison
(1672 – 1719)