We now reside in two places.  Our wild country home, which is a cottage, is our place of residence.  Our little house, which is an urban bungalow, is our get-away spot, what most people would refer to functionally as a "cottage".  Backwards, somehow we got it backwards!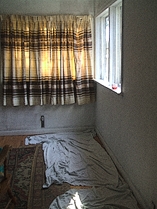 We spent two days last weekend at our little house, cleaning, cleaning, cleaning… still!  For instance, Attila replaced the torn and tattered screen in the screen door at the back of the house.  The screen door is the original, over forty years old, and but for the tattered screen is in good condition.  With a new screen it is functional and a real "period" piece, what some people might call a "feature", while others would not.  We like the screen door so we think it is a feature.
While Attila was replacing the screen in the door, I tackled the kitchen broom closet.  It had been used for garbage, some of which remained in liquid form, hardened over time into greasy black slime.  I wore gloves for this job, and used disposable paper towels.  After cleaning the cupboard thoroughly, I let it air out.  Now it is a great broom closet, that will store cleaning supplies at head height, so that those grand-babies of mine won't get anywhere near the chemicals.
Terra and Lares were there to help last weekend.  They helped us apply the primer to the master bedroom, the living room and the interior doors.  Many hands do make light work.
From the depths of the cupboards I unearthed an old set of drapes made in 1977, loved them at the time and I still like them.  They are up in the living room at the little house.  Terra didn't think much of these drapes, too "70s" she said.  Lares just laughed when he saw them.  I still like them.  They will be replaced at some future date when we can afford to renovate the little house.  For now these drapes are perfect!
Attila has just received a promotion (permanent) where he works, and I am suddenly being offered a few more hours (which may be temporary).  Life is changing, and we are watching the flow and seeing what can and cannot be done.
We are becoming accustomed to the length of the drive to the little house, and back again.  It is long, but we are developing coping mechanisms to get us through.
There is still a bit of painting to be done at our wild country house, and Attila will tackle that this week.  Then of course, there is wood to chop, split and stack in the woodshed.  At least the little house has a furnace and a thermostat!
At the little house we are soon going to be putting on a new roof.  I say we, but it is the royal we, because I won't be up there this time round.  When I was younger I did roofing, on a previous cottage I owned during my first marriage.  I know what the job entails and I know that I'm no longer up to the task.  Luckily Attila and Lares are up to the task, so by winter there will be a new roof on the little house.