We took possession of the little house this past weekend.
My thoughts on it: love it; disgustingly dirty; hate the colours; smelly; tiny; quiet; lovely neighbourhood; perfect (or will be).
The place needs a LOT of work. It took hours and hours of my time just getting the water turned on and the lavatory facility working and clean enough to be used; any detail here would be way to much. The house had been vacant for over a year. Everything is in poor repair and very, very dirty.
Terra and Lares were the kind of children every parent dreams of having near on moving day. They helped us tirelessly from the time I arrived, until Attila and I were ready to head home to our wild country house. We all worked non-stop for two days. Terra and Lares tackled every job that came up, balking at nothing, no matter how disgusting. Terra worked a night shift while we were there, and still she kept on going, helping us get established.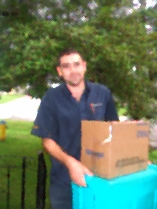 I drove to the new little house by myself on Friday, a long trip. Not having driven such a long trip, in such a long time, I was nervous of the challenge. However, it was a long but easy drive. Attila followed the next day with a rented truck full of our belongings, but not all of our belongings. We stayed our first night in the little house on Saturday night, and can say the new neighbourhood is quiet and peaceful.
When we arrived home to our wild country house late last night, Mist met us at the door. She was all loud complaint for the first hour or so, but soon settled when she realized we were really home and would be staying the night. Mist does not like change. She will, I think, become accustomed to our comings and goings and that will be the new normal.