Attila and I have just had our first real long weekend in about twenty three years. To say it felt good would be an understatement!
On Friday evening we headed for the Rideau Camp to see how things were progressing there. It was beautiful, we hadn't seen it with leaves on the trees, and we loved it. There were very few black flies, and very few mosquitoes. We were in shock, as we had arrived in biting bug season gear, permethrin sprayed shirts and pants, gloves, and hats, high rubber boots, the works. On our Friday evening visit Attila used the gas string trimmer to cut the weeds, after three hours there was a sizeable area that looked neat and tidy. We decided, before we left the camp that night, that we would bring Iris with us in the morning, and stay for two nights.
It was a last minute decision, to go camping for the long weekend, and we weren't really prepared for it, but that didn't stop us from heading for the camp with Iris.
On Saturday morning it took us hours to pack the trailer, and put the new tires on. Our trip began just after noon. The drive was much longer towing the trailer, not only do we drive more slowly, but we stopped several times to tighten the lug nuts on the trailer, as the tires had just been installed. The traffic was light, we tend to travel on the smaller highways and byways where the speed limits are low, so that people who are in a hurry avoid them, and most people are in a hurry it seems, for we seldom shared the road with other vehicles.
When we arrived at the camp there was a party going on down the road, we passed it going in. Loud! The music continued into the night, and the bass was still vibrating through the trailer as I fell asleep, I've no idea when they turned it off, it didn't keep me awake.
It took some time for Attila to maneuver the trailer into place, there is quite a steep drop off the edge of the gravel where he needed to swing the trailer around. I did not watch, nor did I try to help, but relaxed by the picnic table until I heard Tank's engine switch off. Iris was nicely positioned on the gravelled area. When we bought Iris the sales staff mentioned that to avoid mice and crawling insects entering the trailer, it was a good idea to park the vehicle on gravel rather than grass. Since we have a gravelled area, it can't hurt to take the advice.
After detaching Tank from Iris, levelling, and stabilizing Iris, we set up the picnic table near the fire pit, where I proceeded to build a fire to cook our dinner. Attila roasted wieners over the coals, and we had our first hot dogs at the Rideau Camp.
Toilets and Sewage Systems

We spent a lot of time researching and discussing sewage systems for the Rideau Camp. An outhouse would require a considerable investment in time and money, it would need to be built to code. Another option was to simply use the Thedford chemical toilet we purchased for use at night in Iris, our investment there has already been made. A third option was a composting toilet, an inexpensive and seemingly simple solution that is well proven by many homesteaders across North America.

I decided, and Attila told me he would go along with any decision I made, was to give the third option a try, the composting toilet. You can purchase an expensive composting toilet unit, but that would require a building, so it wouldn't be any less expensive than an outhouse, and it would be LOT more work. Another downside of the expensive composting toilet unit is that it might be prone to theft when we are absent from the camp… too much to worry about! One wonders what sort of person would steal a toilet, and it does seem unlikely, but the unlikely is not necessarily impossible. I researched the Luggable Loo systems, and went to Canadian Tire to have a look at them; the lids were hinged with plastic, Attila would break that in no time flat, not high enough quality for us. So I researched DIY composting toilet systems, read the humanure book, and came up with a plan.

The first part of the plan was implemented on our long weekend visit, it provided us with a rudimentary composting toilet system. First I bought two heavy duty five gallon buckets with lids, one coloured, the other white, a large bag of peat moss, and a super sized tote with a lid. In the first bucket, the coloured bucket, I placed 3 inches of peat moss, put the lid on and set it aside. In the second bucket, the white bucket, I place a large kitchen garbage bag, filled it in the bucket with peat moss, sealed the bag with a twist tie, and put the lid on the bucket. Now I had the basic human interface for a composting toilet system.

We plan of using the coloured bucket for solid waste only. The idea is that you do your business, then cover it with one inch of peat moss. On Saturday afternoon Attila chose a flat spot in the forest, a short walk in from the cleared area, cleared it of sticks and then whacked out the grass and weeds. There he placed our coloured bucket, with the white bucket beside it. We don't need to build walls around it, because the forest surrounds us, and we don't need that kind of privacy from each other.

The coloured bucket was used on Saturday and Sunday, and I can honestly say that there was not one whiff of bad odour, not one, in or around that bucket, nor did it attract any flies at all. I'd say the first stage of the composting toilet is a resounding success.

We did not want to leave the coloured bucket sitting out when we are absent, in case an animal takes an interest. Our solution to that problem was to place the coloured bucket, covered with the lid, in the super sized tote, place large granite rocks beside it in the tote, to prevent the tote from being moved or tipped over, placing the lid on the tote, and finally placing a large rock on the lid of the tote to prevent it from either blowing off or being removed by an animal. We brought the peat moss home with us.

Stage two in the composting toilet plan is to build a frame and box to contain the coloured bucket, and attach a toilet seat to the hinged lid of the box. There are many plans to be found online for this arrangement. This will be far more comfortable than using just the bucket. The box will be left under a tarp when we are not there, the coloured bucket will be removed and put in its tote when we are not there.

The third stage in the composting toilet plan is to create the compost bin for the contents of the coloured bucket. I will draw up my plans, Attila will build it for me, and then I will properly prepare it for its first use. More on that later.

Two years after the last offering to that compost bin is made, the contents can be used for garden flowers, and other non-edible garden plants.

The fourth stage in the composting toilet plan is to build a shed in which to shelter the box and coloured bucket, and the peat moss. The shed involves quite an investment, so I am not sure when that will be built, certainly not this summer.

As if that weren't enough information about toilets, I will continue with my praise of the Thedford toilet. This toilet is a chemical toilet, a deodorizer is used to control the smell when it is used for all toilet needs. The way we will use it, at night only in Iris, it seems that for the most part chemicals will not be needed. To avoid having to venture out into the dark after bedtime while camping in Iris, the Thedford sits on the floor and is a a comfort in the night. With no solid waste there is no odour during the night when the Thedford is used. Instead of filling the flushing tank with water, which would make it heavier for me to carry for dumping, I filled empty plastic pop bottles with water, set them beside the Thedford, and used a little water to rinse the bowl a few times after each use. Paper was kept in a garbage bag beside the Thedford. Each morning I easily dumped the contents of the Thedford, rinsed it thoroughly, then placed it back in Iris for the next night's use.

Of course a $20,000 septic system, with a $150,000 cabin to go with it would accomplish the same thing, but that isn't in our budget, nor is it something we desire.
The quality of our beds were also something we needed to experience in order to assess and make plans. The worst mildewed cushions were the back cushions, they will not be placed back in Iris at all. That left the three seat cushions. The bench seat at the front was Attila's bed, and my bed was the area where we had collapsed the table to form a double sized sleeping platform, then used the two bench cushions to form a single bed on the platform. Attila's bed was made up on the bench cushion, but I made mu my bed with 4 inches of memory foam placed on top of the cushions.
Attila was not uncomfortable, but he wasn't comfortable either, not the best mattress, but passable. I was equally neither comfortable nor uncomfortable on the cushion with memory foam, but for one serious issue. Memory foam is HOT to sleep on. It went down to 10C/50F and I was sweating all night long. I can't imagine it in the heat of summer, egads! Another solution must be found for me before our next overnight trip with Iris. I am considering an air mattress, as they are supposed to be cool to sleep on, and I will be shopping this week to see what I can find.
Our diet was tasty if not a bit boring over the weekend. With no time to plan meals, we ended up with only two choices, grilled cheese sandwiches, or hot dogs, both cooked over the campfire. We enjoyed our meals, but more variety would be nice. I brought cooked peas and corn, so we ate vegetables with every meal. I will be spending time planning our food for the next trip out.
The weather was ideal, truly magnificent. Each day was sunny and warm, with a lovely breeze blowing all day long. The camping area is surrounded by trees, so it was easy enough to move our lawn chairs around under the overhanging branches as the sun moved across the sky. The weather was perfect for our first trip out!
There were many birds in the forest around us, filling the days with bird song, and leaves rustling in the breeze. We saw blue jays, crows, and the turkey vultures that always visit to check us out just after the camp fire has been lit. We heard all kinds of other birds, but only other we caught sight of was a male Scarlet Tanager. Neither Attila nor I had ever seen a Scarlet Tanager before, in our whole lives. There it was, high up in the tree tops, unbelievably colourful and beautiful. Also during the day we heard the eagles, there are a pair of eagles that must be nesting close by in one of the oak trees in the forest. At night we heard owls, two of them. I awoke at 2:00 a.m. on Saturday night to use the facilities, and could hear the owls hooting very loudly to the north and east of us, they must have been hunting.
What did we do with our time? We organized our sewage systems, set up the kitchen area on the picnic table, and kept a camp fire burning over which we would cook our meals.
Attila spent Saturday evening and all day Sunday first clearing dead brush around the camp area and driveway, then using his gas powered string mower to cut short the grass and weeds. He also used the ax to remove small trees from the underbrush around the camp fire area, where pesky mosquitoes and insects might lurk. I spent the weekend burning a fraction of the brush, that Attila collected, in the camp fire pit. When the driveway was put in, many years ago, the bulldozer just knocked down trees and bulldozed them to the sides of the driveway. We don't really like that, so we are clearing the dead wood, and when that is done we will level the earth that was piled up. This is a project that will take years and years to accomplish, and there is not rush to complete it, so it is more like play than work.
The weekend was wonderful, we enjoyed ourselves, frequently sitting in our chairs, looking up into the sky and trees, exclaiming to each other how very lucky we felt to be alive, and to be at the Rideau Camp.
We had such a great time that I completely forgot to take any pictures!
I discovered an unpleasantness in my world. All spring I had been wearing high rubber boots to work around the camp, and they worked well. But the last two visits were in warmer weather. My feet and calves sweated so much that my feet were literally standing in a pool of salt water in my boots. The smell was, ahem, overpowering. I now need to clean the boots out to eliminate the smell, and I won't be putting them back on again until the weather turns cold in late October. My problem is that now I need to wear something rugged and cool on my feet for camping. My running shoes are not cool enough. When my feet are too hot they sweat copiously, my face turns read, my ears ring, and I am extremely uncomfortable; I cannot tolerate hot feet.
Upon searching for boots that were rubber but could breath, I found none. I looked at sandals, which would allow my feet to remain as cool as possible, but they would have to be quite rugged considering the terrain at our Rideau and Ancestral Camps. I finally found a pair of hiking sandals that migh do the trick, and actually found a store within driving distance that had them in stock. This morning I hopped in Tank and headed out to try on those sandals. At the store, my feet were instantly at home in the sandals, which offer rugged soles and great support for hiking and working at the camp; they will be very good for walking as well, even shopping. They only had one pair my size, there was no choice in colour, so I bought the pair they had, they were on sale. The sandals are made by Keen, the model is Newport H2. I have a feeling these will wear well, and may still be going strong in twenty years or so. They are washable, which is a read bonus.
Just to note, I had a pair of Finn Comfort sandals, they were great, but after around 15 years the souls disintegrated in my hands. This was very disappointing, as I have cheap sandals that cost less than $10 that were purchased long before that, and I still wear them. I won't be buying Finn Comfort shoes again.
The past weekend was the longest holiday we have had in warm weather for decades, with the exception of the time off Attila took as bereavement time when his father passed away. That was the summer before last, and we used the time to travel to Attila's Dad's place of birth, locate Attila's Grandmother's grave to lay flowers on it, purchased and dedicated a local history book to Attila's Dad and Grandmother, and talked to people who knew Attila's Grandmother, who died when he was a babe in arms. At that time someone incredulously asked what Attila had done to get time off in the summer, and Attila truthfully answered, "someone had to die", because quite literally that is what it took to get a three day break from work.
Not anymore!
The CrabApple tree in our yard is in full bloom, it smells heavenly, and is alive with movement and sound as the bees lavish it with attention.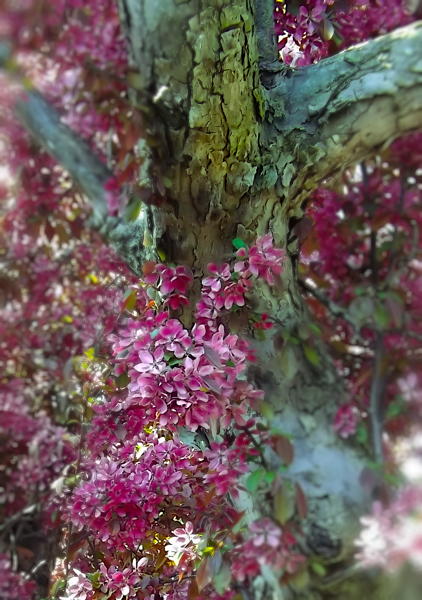 Worldly Distractions
Weather
16°C
Date: 9:00 AM EDT Tuesday 24 May 2016
Condition: Mainly Sunny
Pressure: 101.5 kPa
Tendency: rising
Visibility: 24 km
Temperature: 16.2°C
Dewpoint: 8.5°C
Humidity: 60%
Wind: S 7 km/h
Today Sunny. Wind becoming southwest 20 km/h near noon. High 27 except 20 near Lake Ontario. UV index 7 or high.
Tonight Partly cloudy. Wind southwest 20 km/h becoming light this evening. Low 15.
Quote
"I stopped believing in Santa Claus when my mother took me to see him in a department store, and he asked for my autograph."
Shirley Temple
1928-2014