There is just something about being part of particular types of social groups that I find claustrophobic. I am not saying that these social structures are wrong, or a bad idea necessarily; I am saying they do not suit me at all.
Groups that are formed for profit have never been a good fit for me, unless I am in it for profit. Profit is a particular type of game, and if I am going to play profit, then I will ruthlessly attempt to win that profit; which is the object of the game. Since I am generally not very interested in profit, this game holds little to no appeal for me. As a pawn in the game of profit, I find it difficult to relax, and let myself be used. It doesn't matter how appealing the public relations promotion for the group is, it has always been a bad fit for me. I sense the profit making aspect, feel involved in a game, and begin to play… ruthless group participants are not really what the profit seekers had in mind, it does not end well, and it has always ended. I avoid groups formed by profit seeking entities.
Groups based on "filling a need" from the top down have never been a good fit for me. Top down organizing is seldom, if ever, effective in the short-term, and almost always a failure in the long-term. "Filling a need" groups are almost always based on a "them", the clients/patients/recipients, and "us" the educated/morally-superior/in-the-know social engineers. I have been on both sides of this equation, mostly on the "us" side. These social groups are usually very short term, as they provide no lasting connections or roots in community; at their very best they have managed to facilitate a few loyal friendships between participants, friendships that outlast the group.
All of these groups need participants, and there is always some kind of pressure to remain in the group, whether or not it is adding anything beneficial to your life. Contact with these groups is like having a burr caught on your pant leg. One must go through the usual prickly extraction process.
I prefer groups based on loose clusters of affiliation, with like-spirited people. This type of group tends to accommodate difference with relative ease, and is flexible enough to meet the changing needs of those who belong to it. Since the participants are not needed for the motives of profit, professional career advancement, obtaining funding, or any type of social engineering, people participate when and if they so desire, and in so doing the group evolves organically over time.
Two groups that I visited when I lived alone here at Mist Cottage last winter, just to see what they were like, taking a benefit-of-the-doubt sort of approach, continue their attempts to entice me into participating, even though their structures do not work for me, and I have made it obvious that I have no lingering interest in their organizations. They don't seem to care about my decisions, they feel they know much better than I do what is good for me, and somehow, miraculously, what they determine I need promotes what they want. Like burrs on my pant leg, I pull out the odd barb and keep moving forward in my own life.
Iris the trailer needs new tires. The present tires look OK, but they are cracked and do not hold air very well. Attila is the super-shopper at our house. He loves numbers, thinking about them, crunching them, playing with them. He loves saving money. We like to shop locally, so we chose Canadian Tire as the core of our strategy. We have Canadian Tire credit cards, which pay us a 4% bonus on items we purchase at Canadian Tire, and a bonus of 1% when we use the cards at other establishments. Yesterday Canadian Tire was giving away $50 cash cards with every $200 purchase. Attila decided it was time to buy the new trailer tires. We bit the bullet and purchased the tires, attained our $50 cash card, and used the $51 bonus on my credit card to reduce the bill for the tires. Today we took the $50 cash card back to Canadian Tire and bought the lug nuts we need for the new tire rims, a gallon of exterior rust paint for Iris' frame, 20 paper yard waste bags, and four orange pool noodles, the amount owed on all these items was 0$ as we used our $50 cash card to purchase it.
Then we headed over to the grocery store where we bought grapes on sale, and 8 loaves of rye bread at half price (before their expiry date!). We collected points from the grocery store with our grocery store points card, then I paid the bill with the Canadian Tire credit card, gaining points on that card as well.
That is how we shop. Attila is the master mind behind the strategy, and our standard of living is considerably enhanced through his efforts.
The pool noodles, by the way, are for the guy lines on the awning when we are camping in Iris. After my bad fall almost a year ago, I am very conscious of hazards, and tripping on a guy line would be something I would do. The orange pool noodles will make those thin ropes very visible, and hopefully prevent me from tripping over them and hurting myself.
It rained today, so we decided to stay home rather than visit the Rideau Camp. Attila separated and transplanted some lilacs, along the property line at the side of the yard. He also chopped out a tree growing into our fence across the back of the yard. He has more transplanting to do, some lungwort and some day lilies. The lungwort can wait because it is in full and glorious bloom, and the day lilies are just peeking up out of the ground.
When we first moved into the country house we had nine huge windows to cover. Three of them were in the family room, and for those rooms I picked up a bunch of cloth shower curtains at the dollar store. I liked the pattern, and they were long enough to cover the windows, and ready to hang. That was around 12 years ago, and here are those same shower curtains adorning the window in the front bedroom. This is the only window at the front of the house that I can stand near enough to see out of, it is still a bit crowded in here.

This isn't the final decor, but a temporary measure until we get around to gutting the room, replacing the wiring, insulation, the window, and the floor. When all that is complete, we will buy (or I will sew) our permanent curtains. We are a long way away from working on the bedrooms though, this summer it is the garden shed that is getting a makeover, and we hope to move a lot of the garage contents into the newly renovated garden shed, then some of the contents of the basement into the garage, then some of the contents of the main floor into the basement. It is like playing dominoes. We are living small.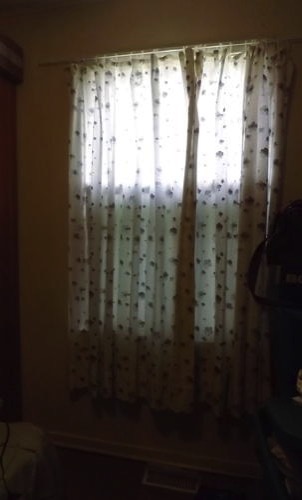 Worldly Distractions
Weather
10°C
Date: 8:00 AM EDT Friday 22 April 2016
Condition: Light Rainshower
Pressure: 101.0 kPa
Tendency: rising
Visibility: 16 km
Temperature: 10.3°C
Dewpoint: 8.7°C
Humidity: 90%
Wind: S 17 km/h
Quote
"Do what you feel in your heart to be right – for you'll be criticized anyway. You'll be damned if you do, and damned if you don't."
Eleanor Roosevelt
1884 – 1962
Note: It is gratifying to know that Eleanore Roosevelt would have received the same bad employment review that I did, criticized for always doing the right thing. I may not have been acceptable to my boss, but it seems I am in good company.