Attila and I visited the little house over the past weekend, we had Saturday off work, and Attila had one day of his holiday time left, which was taken on Monday.  That allowed us to stay two nights and three days in our little house.  Our stay was a tonic, a reclamation of purpose, allowing us to reconnect with ourselves and each other.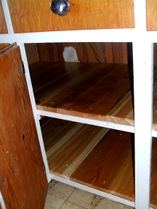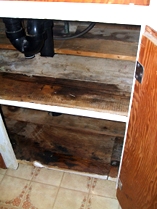 We accomplished much during our stay at the little house.  Attila lined the bottom kitchen cupboards with cedar, and I immediately began to fill them with our kitchen equipment.  Attila prepared the floor of the second bedroom for painting, and applied the floor paint just before we left, the fumes were potent!  We tackled the basement situation.  I applied a soap and bleach solution to the mildewed cement blocks and some of the overhead joists and boards.  That is a big, smelly, messy, disgusting job and I'll be glad when I have it completed!  Attila removed nails, excess boards and bits of the former studs and drywall.  We ran the air cleaner continuously throughout the weekend.
During our stay at the little house we got to visit with Terra and Lares.  The two of them work, work, work!  Terra works variable shifts on an on-call basis, and Lares holds down a day job and is on call in the evenings and during the night.  You have to admire the way these two are working hard to create the life they want.
We also managed a brief visit to Luna's house, which soon will not be her house.  She will be moving in a matter of weeks!  They will be relocating temporarily about a two hour drive from the little house.  That is a six or seven hour drive from our country house, one way, so it is unlikely we can make it that far there and back in a 24 hours period, which is what we have to work with because of Attila usually works six days a week.  What this will mean ultimately is that we will see them less.  It is all temporary though, we might move to the little house, they might move again… who knows!
The grandchildren are changing by leaps and bounds now, the twins are in school and Tink has just begun to walk.  We spent a wonderful hour playing with the grand-kids before we had to leave for our long drive home to our country house.
When we arrived home at the country house, the atmosphere was chilly.  The temperature in the house was a respectable 15 C, not bad after three days with no heat source.  However, Mist was totally unimpressed with the temperature, and with us.  She was volubly indignant for quite a while, but calmed considerably once Attila had a roaring fire going in the masonry heater.  Today she seems much recovered and is friendly again.
Caitrìona and Harriet stopped by for a cup of tea yesterday, on their way home from Harriet's cottage.  We had a lovely chat and Attila was even home for lunch while they were here and got to visit with them as well.
The tension at work seems more intense, I got a call from the manager while Caitrìona and Harriet were here.  This situation is uncomfortable for everyone involved and I do hope it is resolved equitably. I am hoping that the people who mediate this situation are skilled and humane, and that the situation is addressed sooner rather than later, this is the optimistic view.
Errands await me.  I have filing to do.  I have to visit the bank and process the paperwork they require.  There are bills to pay.  There are resumes to send out.  There are telephone calls that must be made.  I've been craving apple crisp again, so I'd like to bake today.  Laundry needs doing again.  It is not an exciting or even interesting list of tasks.  Still, accomplishing a series of little things that need doing does offer some level of satisfaction.
The weather is beautiful!  It is mild for this time of year, and the sky is very blue above the sun drenched treetops.  A day to enjoy!
Worldly Distractions
Weather
3 °C
Condition: Sunny
Pressure: 102.7 kPa
Visibility: 16 km
Temperature: 3.0°C
Dewpoint: -1.0°C
Humidity: 75 %
Wind: E 8 km/h
Quote
"The only limit to our realization of tomorrow will be our doubts of today. Let us move forward with strong and active faith."
Franklin D. Roosevelt (1882 – 1945)