Yesterday was Remembrance Day.  Terra and I were talking on the phone and together observed a minute of silence, not at the appropriate time, we missed that.  My thoughts, during our short tribute to those who faced and face the horrors of war, focused on the WWI, which my grandfather fought in Europe and returned home to us, WW2, which ended before I was born but is remembered vividly by my parent's generation, the Korean War, the war in VietNam, the poem In Flanders Field and those who survived war impartially: physically, emotionally, mentally.
Those who do the fighting in wars are not those who create them. I feel one can honour those who sacrifice, without supporting that war is necessary.
Yesterday was a day full of memories of every kind.  Terra and I had a real heart to heart talk, exploring the feelings of today and how they are affected by events of the past.  Intense territory for both of us, and very heartening to explore our territory with honesty and integrity.
After some correspondence, yesterday I met a local artist at my Grandparent's house and gave her a tour of the interior, talked about my memories and listened to her experiences exploring other historic properties with their owners.  She was a lovely person, so that I doubt we will regret granting her access to our beloved house.  She will also interview my Mother, who grew up in the house  and lived through many changes during and since the Great Depression.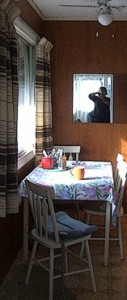 As usual, after having visited my Grandparents house, I am longing for my Grandparents.  The emotion is irrational, intense, mixed with joy and sorrow.
We just received the assessment papers for our little house in the city.  It was built in 1958 and is 718 square feet.  A wonderful size for two people!  Oh, yes, two people and cat!  Sorry Mist!
I am working this morning.  I am dreading it.  It is very, very hard labour, to remain calm while contemplating the situation.  I've been very good, for the most part, at blocking it from my mind.  Nothing for it but to lift my head high, smile and carry on.
This afternoon I have a whole list of things that have to be done.  This is fortunate, the tonic of real day-to-day life after a difficult experience.
Food is a comfort.  I did manage to make my apple crisp, and have been enjoying it for snacks and at breakfast.  Attila is preparing his Turkey Soup, which takes days and days to complete.  Another comfort food that we have indulged in is homemade Macaroni and Cheese, always a favorite.
Time now to close the dampers, the fire has expired in the hearth.  Bring on the day!
Worldly Distractions
Weather
-4 °C
Condition: Clear
Pressure: 103.2 kPa
Visibility: 16 km
Temperature: -4.0°C
Dewpoint: -4.0°C
Humidity: 100 %
Wind: 4 km/h
Wind Chill: -6
Quote
"Every time you spend money, you're casting a vote for the kind of world you want."
Anna Lappe