I have been rambling about this week.
Thursday I had a lovely and relaxing visit with Harriet and my cousin Sali, and Sali's husband and son. We spent a lovely day sitting in the sun, and chatting, catching up on news, making acquaintance. Just one of those quiet days that shine in memory. Hogan was busy, he felled several trees, sectioned them, cleared the brush, pulled out the stumps, and filled the holes that were left with gravel, which he brought back in his pickup truck from the local gravel yard.
Friday was quiet for me, catching up on housework, paying bills. The paying of bills was particularly satisfying, as I had been robbing Peter to pay Paul since we paid for the driveway at the camp. So, finally paying all the bills cleared away those little bits of worry that settle into my subconscious when I have to juggle my books.
Attila, well he is working 12 hour days, five days a week. Saturdays are supposed to be short days, but they are so busy that he heads in for 5:30 a.m. to get ahead of things before things get really busy, and then works late to catch things up to the point where he can feel relaxed on his Sunday off, and not worry about Monday morning.
Saturday I worked at the greatest little location! I love this location, the "boss" is super organized, knows her stuff, and is positive, exacting, and considerate. The customers are relaxed, friendly, and always pleasant, even if things aren't going exactly as they would like. While I was there, Harriet and Ariel dropped in to say hello. They were on their way to obtain drinking water for Harriet's cottage. It was lovely to see them, and Ariel even ran into an old acquaintance.
Saturday afternoon Attila came home from work at 2:00 p.m. This is so rare, it was a real treat! We packed up the car and headed for the little house in the city. The drive was beautiful, sunny and mild, everything green, green, green! The traffic was insane, people doing silly things, impatient things, dangerous things. As soon as we left the area where the affluent recreate, the traffic, and driver behaviour, improved.
We arrived at the little house well before dark. There was a sprinkling of rain, but Attila was determined to get the grass cut on Saturday, so he began the task immediately. It took him an hour and half, and it was almost dark by the time the job was complete. I had a hot meal waiting for him when he came in. We had beet greens with our dinner, which we regard as a real treat. The farm that is close to the little house in the city, and along our travel route, had two bunches of beets and a zucchini left for sale. We bought it all!
So, Attila's Saturday began at 5:00 a.m., when he arose to get ready to go in to work for 5:30 a.m. He worked till 2:00 p.m., then came home, packed the car, changed, then he drove until about 7:30 p.m. When he arrived at the little house, he cut the lawn for an hour and half, and finally sat down to dinner and rest at 9:00 p.m. And not one grumpy moment!
Sunday morning we slept in until 7:00 a.m., had a peaceful chat as we drank our morning coffee, and enjoyed a big breakfast. Then Luna, Janus and the Grandbabies arrived for a short visit. They had been camping at Lake Placid, and were on their way home, and had spending the night with Terra and Lares. Terra and Lares dropped in soon after Luna and gang arrived, so we were all here.
Oh how we love those Grandbabies!
I have always been like this, and known it. My children, and now my Grandbabies, were, and are, the most beautiful children in the world. When my daughter's were born I even felt sorry for the other Moms, whose babies were so red and wrinkly, while my baby was so very cute. I could see such a difference! I laugh at myself now, because I have pictures of the hospital nursery, where my daughters would lie in clear plastic tubs or "bassinets", lined up with all the other newborns. Now I cannot tell which ones were my daughters, all the babies in the nurseries look the same!
The highlight of our visit with the Grandbabies was the short drive to Walmart. Now tall enough to be belted into a car without car seats, we could take them with us in our car; for the very first time in their lives! Luna and Janus and Benny and Bim lead the way in their van, while we followed with the Grandbabies. And how wonderful it was! We sang, as I had wanted to sing with them since they were born. I explained to them that their Great Grandmother had sung this song in the car with me, when I was a little girl.
When I was a child, the eldest of six children, the first five born about one year apart, our visits to Granny and Grandpa's house involved a six hour car ride. That is a long trip, with five small children. My Mom used to keep us busy by playing games like I Spy, and singing songs with us. One of our favourite songs was "Paw-paw patch".
As Attila and I drove down the road with the Grandbabies, we all sang, quite heartily, the "Paw-paw patch" song. It was so much fun! We all loved it.
After a bit of shopping at WalMart, for a birthday gift for a party they were attending later in the day, Luna and Janus, the Grandbabies, and the dogs, were off on their journey home. We waved goodbye in the Walmart parking lot, having had a lovely visit. We hope to see them again in August.
Attila and I headed to the grocery store for supplies, then back to the little house for a quick lunch. Attila decided to take a nap, while I puttered in the kitchen, and pulled a few weeds out of the gardens.
The vegetable garden is doing very well, in particular the tomatoes and the cucumbers. The healthiest plants are those next to the few marigolds we planted in the vegetable garden. The peppers are struggling a bit, competing with the weeds, portulaca the non-flowering weed, hogweed, and bindweed. Also, in the backyard, our clematis and marigolds are thriving and blooming. All of this with so very little attention and care!
Cucumbers love marigolds!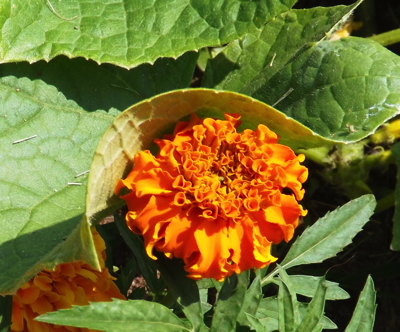 The clematis surprised us with these blooms!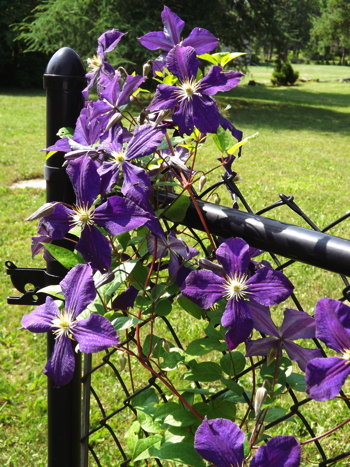 The front garden, where we planted flowering portulaca, is doing very well. The hosta lilies and day lilies on either side of the front step are doing incredibly well.
Day lily!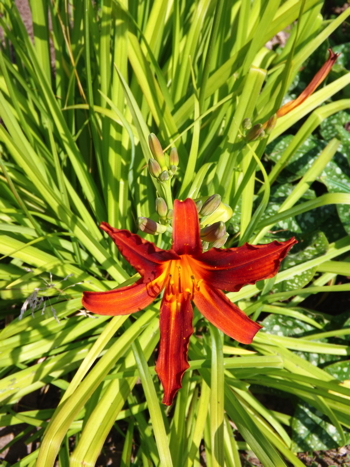 So, here I am writing the last of this entry as we prepare for the drive back to the country house. It has been a busy week, good busy, wonderful busy, mostly up and a little bit of down because my knee still bothers me a bit.
Worldly Distractions
Weather
22°C
Date: 1:47 PM EDT Sunday 20 July 2014
Condition: Cloudy
Pressure: 101.9 kPa
Visibility: 16 km
Temperature: 21.8°C
Dewpoint: 18.0°C
Humidity: 79%
Wind: SE 9 km/h
Humidex: 28
Quote
"One's age should be tranquil, as childhood should be playful. Hard work at either extremity of life seems out of place. At midday the sun may burn, and men labor under it; but the morning and evening should be alike calm and cheerful."
Dr. Thomas Arnold