I hurt my knee over a week ago. I was walking and it just gave out on me, it was very painful. The pain was significant for the first two days, and then it has been a little bit better every day since. I still have a bit of limp. but that is improving. Now it just aches sometimes, like a toothache.
On Sunday we visited the camp, and the dump store. In order to keep a few items at the camp, we moved an old car top carrier, a plastic shell, behind one of the brush piles. For now it will hold an ancient and worthless, but useful, set of pots and pans, and two empty water jugs. We have a few old plastic dishes, which I plan on taking to the camp and leaving in the plastic shell. It will be interesting to see if the bears take any interest in the plastic shell.
Then we visited the dump, where we bumped into Harriet and her friend Nancy, who was visiting the cottage for the weekend. That is where I picked up an old 1961 Electrolux vacuum cleaner. It had two issues, the on/off switch did not work, so to turn the machine on and off one would have to plug it in, and unplug it. Also, and more seriously, the clasp that holds the canister end against the seal is broken, so the canister falls open, and suction is lost. My Mom had a canister Electrolux vacuum cleaner and it worked like a charm. It would be nice to use the one found at the dump today at the little house in the city.
Attila found an expensive chain saw at the dump, we do not know yet what is wrong with it, if anything. If we cannot fix these items we will return them to the dump to give someone else a shot at it.
Harriet found a stainless steel Thermos for Attila. Attila needs a new thermos at least once a year, sometimes more frequently. He works in a rough and tumble environment, and his thermoses take quite beating.
Then we drove back to Granny and Grandpa's house, parked the car, and went for a walk down the track. I wanted to see if there were any wild raspberries there, as there were forty years ago. Sure enough, the wild raspberries are still lining that section of the track.
We moved slowly, I was being very cautious with my knee. The scented breeze was intoxicating. The familiarity of the path was comforting. It did not rain, as it was threatening to do. We enjoyed our walk, and could view our camp from the path.
That is when I noticed a young man in a bright orange t-shirt, who appeared to be coming out of our camp lot. He was on foot, carried nothing, and had no vehicle. Must be one of the neighbours checking out our old car top carrier. It is a little creepy, only a little, the thought that someone ventures over to check out our camp after we appear to leave. Really, he could come over and introduced himself to satisfy his curiosity, while we were there.
After our walk we drove into town and purchased supplies. Then it was home, dinner, and an early night.
Two projects were on the go this week. The first was to get the Electrolux working. I found a fellow online, Eluxurious, who collects them, and wrote a comment in his blog asking for help. What a great guy! He immediately identified the problem, and after following his advice I had the machine running smoothly in a about five minutes. He also suggested a great resource, the Vacuum Cleaner Collectors' Club, which I will be reading with interest!
The house is now dust free and tidy! I like the Electrolux machine better than any vacuum cleaner I have ever owned. Of course, this 1961 model was the absolute top-of-the line machine in its day, and I have always purchased bottom-of-the-line machines, the ones I could afford, until now!
Now I have a Made in Canada vacuum cleaner, and stainless steel soup pot made in Canada… livin' the dream!
The second project is to clean and sterilize a thermos found at the dump. It was dirty, but otherwise in like-new condition. After cleaning it with a steel scrub pad, bleach was added and the whole thing left overnight. This morning it was spotless, shiny as new. In order to dispose of the bleach, and not destroy our septic system, the bleach was poured into the stoppered sink, baking soda added to neutralize the acid, and then the inert mixture was allowed to drain into the septic.
My new 1961 Elux-O-Matic Vacuum, and Attila's "new" Thermos.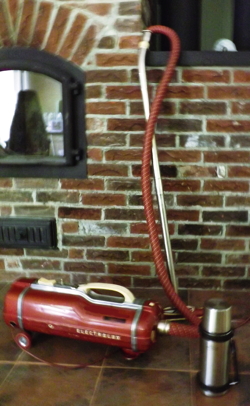 Monday night Attila took a drive to put some fuel in the car. On the way he must have run over a nail, and on the way back the nail blew out and the tire went flat. I thought he was gone a very long time, and had started to wonder if he had had an accident. He got the car off the road and managed to get the spare tire on to get home.
Yesterday I drove to town to see if I could get the tire repaired, I am running around in the car using the spare tire. Bad news I am afraid, the tire is ruined. I ordered a new one, which should arrive today, it did, and off I went the is morning for another round of change the tire. Success!
So, that is what we have been up to this lovely first half of July, 2014! Some downs, mostly ups!
Worldly Distractions
Weather
17°C
Date: 3:00 PM EDT Wednesday 16 July 2014
Condition: Cloudy
Pressure: 101.1 kPa
Visibility: 16 km
Temperature: 16.6°C
Dewpoint: 10.7°C
Humidity: 68%
Wind: W 15 gust 28 km/h
Quote
"Every creator painfully experiences the chasm between his inner vision and its ultimate expression."
Isaac Bashevis Singer
1904 – 1991