A photo from last spring, taken along the road on a trip to the little house in the city, taken from the moving car.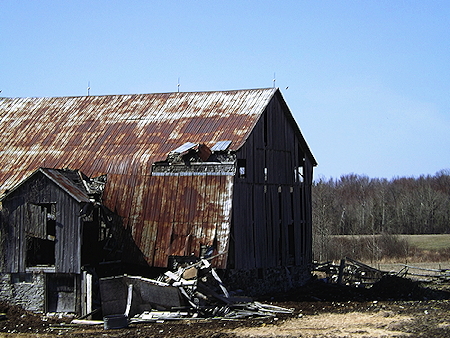 It is all done, almost dusted. All files are now moved to the computers on which they need to reside. All computer hard drives are backed up. The old G4 tower is ready to head down to the little house in the city, where it will serve as a sound system, a youtube movie system, a cookbook, and a reference library of collected domestic tomes and manuals. It might even be connected to the high speed internet connection using an RJ45 cable. I had been hoping the Airport Extreme wireless card from the iBook would be compatible with the older computer, but alas, it is not. The iBook is whole in its box, ready for recycling or whatever fate awaits it, and some of its parts are sitting on my desk to be sold.
It has taken a few weeks to get to this point with the computers. It occupied my time and my mind. No more! I feel somewhat at a loss as to what to do with my time, a sort of temporary post computer shock syndrome. It will not last long, reality awaits.
At the little house in the city the seating has been whatever we could find. My seat in the living room is a wooden rocking chair, that I sat on, and slept on, with newborn Terra always in my arms, when I brought her home from the hospital. At that time her arrival was such a miracle that I refused to put her down, and held her close for the first few months of her life. She and I spent a lot of hours sitting in that chair. Now that I am older the chair is no longer comfortable for me, and so it will go to Terra as soon as a replacement has been installed. To that end I have dismantled an aging Ikea chair that we have been using at the country house, to use at the little house in the city. My old bones find the Ikea chair much more comfortable.
In the shower this morning, a random though popped into my head. It concerns yesterday's quote:
"Every generation imagines itself to be more intelligent than the one that went before it, and wiser than the one that comes after it."
George Orwell (1903 – 1950)
As the water poured over my face, I thought, "There is another element of time to this statement. Each generation, when they are young, imagines themselves to be more intelligent than those who came before them. But when they have matured, mostly with time, age, and experience, they feel wiser than the generation that comes after them, because they now understand that they were not actually more intelligent than the generation that came before them."
Life is cyclical.
Thoughts can be very amusing at times.
Worldly Distractions
Weather
1°C
Date: 11:04 AM EST Saturday 9 November 2013
Condition: Cloudy
Pressure: 101.6 kPa
Visibility: 16 km
Temperature: 1.2°C
Dewpoint: 0.5°C
Humidity: 95%
Wind: SE 17 km/h
Quote
"I have found the best way to give advice to your children is to find out what they want and then advise them to do it."
Harry S Truman (1884 – 1972)
[Does not always work out well with minors! It is the only sane approach with adult children.]