It was something that had to be done. I did not want to do it. I don't like doing it. I can do it. I did it.
The old iBook died suddenly, not giving me a chance to wipe the drive securely enough to let someone else have access to it. With the hard drive in place, I would not give the old computer to anyone who knew anything about computers, and who else would want an old computer, if only for parts! So, there was nothing for it but to get the hard drive out of the computer. I found a 33 step set of instructions on the Internet, setup the new laptop with the opened instruction file in front of me, and followed the steps, one by one, until I had the computer apart and the hard drive out. It took about four hours to get to the hard drive, removing every layer of framing and metal, disconnecting the keyboard and various other items. I may have damaged a few sensitive connectors, but I will never know because the computer will never run again.
There were layers and layers, all with multiple sizes of tiny screws that went into specific holes in different layers. I devised a system where I taped the screws to a piece of paper with each step and layer, and wrote down the information to identify the screws beside them on the paper. It got confusing very quickly. For tools I used torc screwdrivers, flathead and phillips screwdrivers, a wedge, a kitchen spoon and tweezers.
The hard drive is out and sitting on top of the iBook. Now to begin at the end of the 33 step instrucitons and work my way back to a intact laptop, minus the hard drive.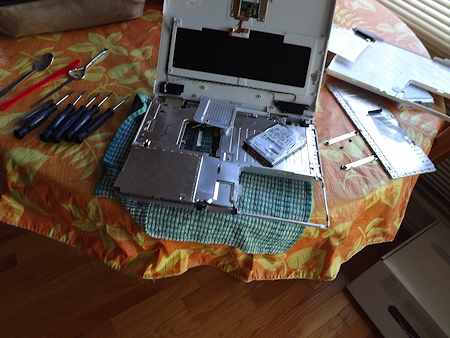 Then it was time to put the whole thing back together again, minus the hard drive.
It went slowly. I managed to get it all back together, and then discovered that ONE screw had gone into the wrong opening, which meant that the small foot in the corner of the computer could not be screwed in, because an incorrectly placed screw was installed on the layer below it. Since tearing the computer apart again, to correct this error, would have taken a few hours, I decided to leave it as it was. The foot is in a plastic bag in the computer box, and will be sent along with the unit when it goes.
I am very tempted to use only external drives for laptops, because removing hard drives from them is a misery. Not so for everyone though, there are those who love to tinker with complicated systems, with lots of bits. I am not one of those people.
It is sunny today, them temperature just above freezing. There is still a skiff of snow on the ground, from last night's offering from above.
I have managed, in spite of it being a hardware day, to bake bread and wash a load of laundry. The laundry is drying in front of the masonry heater on a rack, and a good portion of one of the loaves of bread has disappeared during Attila's lunch hour.
I have been following the news about Toronto's mayor, Rob Ford, and making a few comments of my own about him, such as:
"Drama King, puts any drama queen I've ever known to shame."
"He should be ashamed of himself, but he is only embarrassed."
"The new age of Fordism."
"There should be mandatory drug testing for all politicians… they are driving vehicles with passengers."
"I think we need to plough under this present crop of politicians and plant new seeds in the spring."
The thing that bothers me the most, is that he cannot have changed all that much, he must always have been the "man" he is today, and if that is so, how could people have supported his rise to power. I don't mean the voters, because they don't know what goes on inside the political machine, they only hear the public relations released, or sensational dirt from the opposing forces. I mean the powerful people who supported his rise to power, the other "boys" in the "club", the "old" and powerful friends of Mr. Ford, and of his family.
Harriet and Hogan are at their cottage this weekend, and dropped in for a visit this evening. Thank goodness the iBook was not sitting in pieces all over the place!
Worldly Distractions
Weather
2°C
Date: 4:00 PM EST Friday 8 November 2013
Condition: Mainly Sunny
Pressure: 102.1 kPa
Visibility: 16 km
Temperature: 2.1°C
Dewpoint: -4.3°C
Humidity: 63%
Wind: WNW 17 km/h
Quote
"Every generation imagines itself to be more intelligent than the one that went before it, and wiser than the one that comes after it."
George Orwell (1903 – 1950)