All of the Grandbabies but one were born in September. That is four in the sign of Virgo and one in the sign of Cancer. Three of the Grandbabies are Luna's children, and two of them are Emmi's children. The Grandbabies range in age from one to seven years. We send cards and gift cards, which we hope they like. We do not spend enough time with any of them to know what they like and do not like, so the gift cards seem like the best idea. In theory, Mom takes them out to the store and lets them choose something they like, since she is there and we are not. Happy Birthday to all the Grandbabies!
As of early 2014 all of the Grandbabies will be living far, far away, in England and Alberta. To visit them we would need time off work and funds to pay for travel. Visits do not seem likely, given our restricted time and money situation.
The old General Store, the heart of a community, when there was such a thing.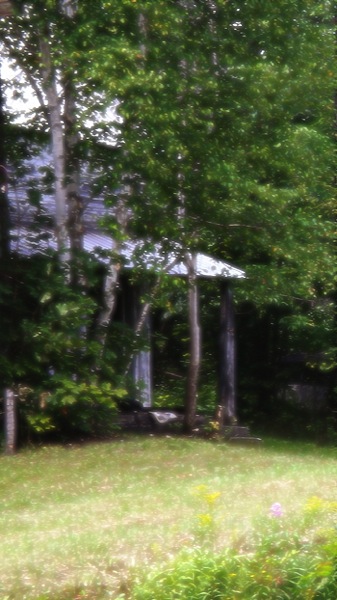 I think I am going to get a real kick out of calling them Grandbabies when they are twenty years old. I sure hope I get the chance to do that! Something to look forward to in my "old age".
The weather continues to be grand! The days are sunny, the temperature reaches only a merciful 23C or there about. The nights are cool, as cool as 5C. Heavenly! It could go on like this for months, as far as I am concerned.
I am keeping a secret journal at the moment, to be published later in September. Keeping two versions going is quite challenging; which is good for me, as changes, no matter how small, keep the juices flowing and the brain working.
We are eating garden and field tomatoes every day! How wonderful and lush these fresh and local tomatoes are, every mouthful juicy and sweet. And the new potatoes are on the shelves at the grocery store right now, mouthwatering. Food, glorious food!
I grew up during a time when, in Canada, a significant proportion of the population was still connected to the seasons, as far as their food supply was concerned. Harvest season, my favourite, involved canning, freezing and jam making. And that wasn't just happening on the farm, most kitchens in the myriad of small towns in Ontario were busy putting food by for the winter. You could stop by the side of the road and buy bushels of fresh tomatoes, apples, beans, potatoes etc., all of it locally grown.
Attila and I still watch the roadsides for the produce stands of small scale farmers and gardeners. We have a few favourite stops along our favoured routes from the country house to the little house in the city, and from our little house in the city to Terra's house. Most of these offer less than perfect looking, fresh and tasty produce. They also operate on an honour system, listing their prices and asking that payment be left in a box at the stand. There is no haggling. We gladly pay them what they ask, for the excellent products that we select and bag ourselves at the stand.
There are stands that sell produce from the Ontario Food Terminal, mostly in tourist towns and larger urban centers. We aren't fooled! The food terminal produce doesn't look the same, it is perfect and uniform in appearance. Not quite what you would expect from a real garden!
The fruits and vegetables my childhood family preserved were fresh from the garden and the farm, and processing captured them at their best. There were never lettuce salads on the table during the winter months, and bananas and oranges were Christmas treats rather than daily fare. Apples in the fall were wonderful, shrivelling and shrinking through the winter until they became a shrunken version of their former selves by spring. They still tasted sweet though, and were wonderful for cooking. Now, if it isn't wrapped in plastic, or picture perfect, the young fail to appreciate it as legitimate food. In one generation we have lost all contact with one of life's most basic resources. The hubris of the moneymakers is shaping the world we live in, and may be shaping our doom as well.
Our new car is already four years old! It sports the original windshield wipers, which are literally flapping in the wind and refusing to do a good job. They are demanding retirement. I finally purchased new ones this week and spent a bit of time learning how to remove the old and install the new. The method wasn't obvious to me, but a after watching a youtube video on the subject, I proceeded through trial and error. They work!
Worldly Distractions
Weather
18°C
Date: 6:00 PM EDT Friday 6 September 2013
Condition: Mostly Cloudy
Pressure: 102.1 kPa
Visibility: 16 km
Temperature: 18.3°C
Dewpoint: 7.0°C
Humidity: 47%
Wind: WSW 13 km/h
Quote
"The older I get, the greater power I seem to have to help the world; I am like a snowball – the further I am rolled, the more I gain."
Susan B. Anthony
1820 – 1906