For decades I have had issues with pre-processed foods.
While growing up, we processed our own foods for use during the winter. Apples, pears, potatoes and many other fruits and vegetables were harvested or purchased in sufficient quantity, when they were in season, to last until the next harvest season. The same old canning jars were used over and over again. Cold cellars kept produce well for many months.
When I was attending University the first time through, studying Food and Nutrition, I was disturbed by the trend to individually package food. I wrote an impassioned essay on the evils of individually wrapped cheese slices, which was something new on the market at that time. Sure, individually wrapped slices made separating the slices so much easier, but at such a cost! At the time I was considered extremely "off the wall" for my views, both faculty and fellow students found my ideas "eccentric". I was ridiculed by some faculty, some students. I did get an A+ on that paper I wrote though, so the indifference to consequences did not prevent the Professor of Human Nutrition from recognizing and rewarding good work.
After many decades, I had almost lost touch with the root reason for my dislike of pre-processed foods. It is primarily the extravagant packaging. Which of course, extends well beyond food products these days.
There are other reasons for objecting to pre-processed foods of course. Another reason is the large proportion of ingredients that do not promote human health and nutrition; additives, salt, sugars of all kinds, fats of all kinds, preservatives and so on. And yet another reason is that I believe food chains should be as local as possible, and that destruction of food sources should be localized and recognized as a local issue, impacting people in such a way as to illicit an immediate and localized response. Global food economies have robbed us of our essential social local feedback systems.
All those miles of floating plastic bits in the ocean are our species shame. And I cannot help but think that there are a few small bits of plastic, perhaps from a slice of cheese I ate, floating out of sight, somewhere out at sea.
Our species is creating more issues than our technology, and our activists, can effectively tackle.
Here at home, Mist has settled in and seems content. She enjoyed her milk this morning, her observations gazing out the open blinds, and her cozy bed. Quiet and serene again, thank goodness! An indignant Mist is a force to be reckoned with!
Finally the humans get it! Mist waited all day yesterday for us to figure out that she just wanted to be brushed; what a happy cat she is today. Just one of the trials and tribulations a cat has to endure, waiting for the human epiphany.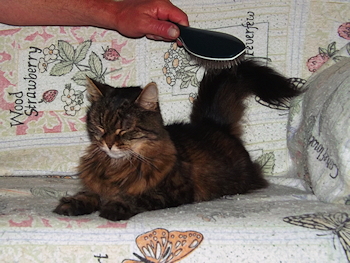 The rest of the week will be extremely busy for me, as I will travel long distances on Thursday, Friday, and Saturday. My routes will be picturesque though, so I am focusing on the lovely drive, rather than the destinations, which are not so picturesque; work and a car maintenance appointment.
One of the things I discovered while I was looking through some older entries, looking for a specific date on something, is that the images included with the entries are memory triggers, much more so than dates or entry titles or tags or categories or key words. This inspires me to spend a little more time preparing images for the entries.
Worldly Distractions
Weather
22°C
Date: 4:00 PM EDT Wednesday 18 September 2013
Condition: Mainly Sunny
Pressure: 102.0 kPa
Visibility: 16 km
Temperature: 21.6°C
Dewpoint: 7.6°C
Humidity: 40%
Wind: SSW 17 km/h
Quote
"The greatest justice in life is that your vision and looks tend to go simultaneously."
Kevin Bacon
1958-