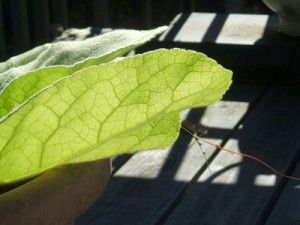 Last summer I tried to grow a garden on the deck at our country house.  We only harvested a few tomatoes and not much else  It was extremely disappointing.
This past summer we planted a small garden at our little house in the city.  We got a healthy crop of zucchini and more than a bushel of tomatoes, sweet and juicy.
There is one very big planter on the deck at our country house.  I meant to plant flowers in it, I really did.  But working three jobs kept me too busy to think about flowers, or anything else related purely to pleasure.  But something grew in the planter, naturally.  A mullein had taken up residence in the planter; from where it came I do not know.  Over the summer it grew and I found it quite attractive.  It withstood the three week "drought" in August, without watering on my part.  I will leave it over the winter and see if it can survive our cold climate in a planter.  I may just have found the perfect ornamental garden plant; or more aptly, it found me.
Attila is out in the yard burning scrap firewood.  There are pieces of firewood that just will not adapt themselves to use in a wood burning stove or masonry heater.  We have been collecting these stubborn little logs for seven years now.  Some have begun to rot, others maintain their original knarliness.  Attila stayed up most of a night a few weeks ago, burning these unusable and punky pieces of wood.  Tonight he is finishing the job.  I'll see him at the breakfast table tomorrow, as I won't be waiting up for him.
We are pretty much "nose to the grindstone" right now.  Attila has been working a lot of overtime, over and above the six days a week he normally works.  I've been working six days a week.  We are tired.
Adjusting to dialup is a challenge.  The biggest inconvenience is that I cannot use the telephone while I am on the Internet.  Very irritating.
Attila and Hogan had a good look at the washing machine last Sunday, during Harriet and Hogan's visit.  Two of the four shock absorbers were broken.  Yesterday Attila ordered new shock absorbers for the washing machine.  They should arrive by next week and by the end of October we will either have a working washing machine or have resigned ourselves to Plan B, the laundromat.
The muffler on Attila's car continues of announce his presence.  It will be several weeks before Attila turns his attention to the car.
So, none of our mini-disasters have been resolved comfortably, but none of them have caused upset either.  It seems balanced.
Luna and Janus are moving again, not far from where they live now.  Another new house.  Three homes in one year, quite a bit of moving around for little people who have only been on the planet for five and two years respectively.  Imp and Elf will stay in the same school though, which is a big plus.
Terra continues to work shifts that rotate almost daily. She has been doing this for a while now and has seemed seriously tired when we see her. On our last visit though she seemed a lot more rested than she has in a long time. Perhaps she is acclimatizing to her challenging and ever changing schedule.
And so here we are, at the end of September! The leaves are bright and cheerful reds and yellows; bright even in the rain. I leave for work just before the sun comes up over the horizon. As the light quickens during my journey, it is difficult to keep my eyes on the road, the trees are putting on such a show and beckon my attention at every turn.
Worldly Distractions
Weather
18 °C
Condition: Light Rain
Pressure: 100.9 kPa
Visibility: 16 km
Temperature: 18.0°C
Dewpoint: 16.3°C
Humidity: 90 %
Wind: SE 8 km/h
Quote
"My definition of a free society is a society where it is safe to be unpopular."
Adlai E. Stevenson Jr.
1900 – 1965
Notes
Adlai Ewing Stevenson II
"…an American politician, noted for his intellectual demeanor, eloquent oratory, and promotion of liberal causes in the Democratic Party…
Stevenson was raised in the city of Bloomington, Illinois; his family was a member of Bloomington's upper class and lived in one of the city's well-to-do neighborhoods. At the age of twelve Stevenson accidentally killed Ruth Merwin, a 16-year-old friend, while demonstrating drill technique with a rifle, inadvertently left loaded, during a party at the Stevenson home…
In 1928 Stevenson married Ellen Borden, a well-to-do socialite. The young couple soon became popular and familiar figures on the Chicago social scene…
He classified himself as a Unitarian. Adlai Stevenson: "I think that one of our most important tasks is to convince others that there's nothing to fear in difference; that difference, in fact, is one of the healthiest and most invigorating of human characteristics without which life would become meaningless. Here lies the power of the liberal way: not in making the whole world Unitarian [Universalist], but in helping ourselves and others to see some of the possibilities inherent in viewpoints other than one's own; in encouraging the free interchange of ideas; in welcoming fresh approaches to the problems of life; in urging the fullest, most vigorous use of critical self-examination."…
While walking in London with Marietta Tree through Grosvenor Square, Stevenson suffered a heart attack on the afternoon of July 14, 1965, and died later that day of heart failure at St George's Hospital."
Source: http://en.wikipedia.org/wiki/Adlai_Stevenson_II
The second of four well-known Adlai Stevensons
Adlai Stevenson I (1835–1914), U.S. Vice President (1893–1897) and Congressman (1879–1881)
Adlai Stevenson II (1900–1965), Governor of Illinois (1949–1953), U.S. presidential candidate (1952 and 1956), U.N. Ambassador (1961–1965), grandson of Adlai Stevenson I
Adlai Stevenson III (born 1930), U.S. Senator (1970–1981), Illinois State Representative (1965–1967), candidate for Illinois governor (1982 and 1986), son of Adlai Stevenson II
Adlai Stevenson IV (born 1956), journalist, son of Adlai Stevenson III