The Obus seat cover is complete! It is made with a simple stitch, and of a simple design. A single crochet stitch was used to create a "cylinder" to slip over the seat cushion, using worsted cotton yarn and a 5 mm crochet hook. The seat cover "cylinder" is open at both ends, designed to stretch slightly across the width of the cushion. It will not shift or bunch, and can be removed and thrown in the washing machine for cleaning. It has taken a very long time to complete this project. I may forget how to do a single crochet in future, but relearning it will be like riding a bycycle, my body will remember how as soon as I get going.
Last month I purchased an Artbin Yarn Drum from amazon dot ca. The only issue with it has been that the soft fabric sides collapse, so that the yarn does not rotate well when used from the outside of the skein. An 8 ½ by 11 sheet of cardboard worked until the drum was moved, then it shifted and failed to hold the walls of the drum rigid. A visit to the Dollar Store solved the problem for $1.25, the cost of a round plastic basket that now acts as a liner for the drum.
There are four devices that will record images in this household. One is an iPad, the sole domain of Attila. Two are computers with built in cameras. One is a digital camera, which must be connected by a cable to the usb port of one of the computers to download images. The iPad and computers are seldom used to record images. The camera requires connecting cables, and exporting images from proprietary Apple software, before they can be worked with. More and more these multiple steps act to impede the inclusion of images on the pages of this journal. The completion of the seat cushion has inspired an effort to take photographs and export them so that they can be shared.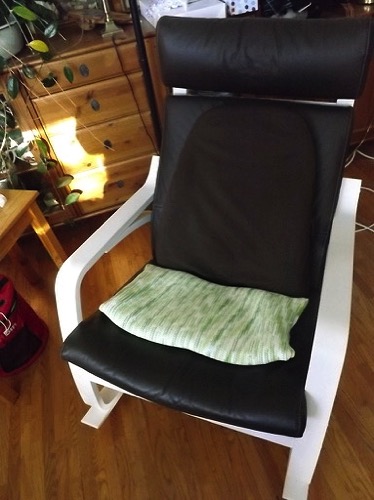 This is the newly crocheted cushion cover on the Obus seat. Since my skin reacts to synthetic fibres, and the original covering on the seat is made of synthetic fibres, the 100% cotton cover means there will be no worries about bare skin coming into contact with synthetics. Now, to consider how to crochet a cover for the Obus back support. It need not be so sturdy and close stitched as the seat, as it will receive less wear. It will not be made with single crochet stitch, that is for certain!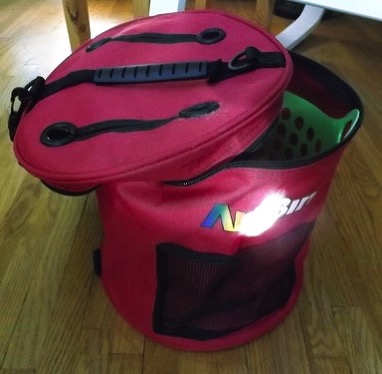 The yarn drum, sporting a lovely lime green plastic liner.
The temperature remains below average, but the clouds and the rain have finally moved on, and the sun is shining this morning. Yesterday morning it was snowing, with no accumulation, but snowing. The rain was intense this past week, and there was flooding in our area, but nothing so drastic as that experienced in Quebec and Ottawa. We had installed a sump pump some years ago, when water was coming into the basement due to a broken water main, in our front yard. It hadn't run again until this past week, and it has had a good workout. The ground water level beneath the house rose to the level of the basement floor, at which point the sump pump worked for hours to lower the level of water. Now the water level is down a few feet below the level of the floor, our battle with groundwater was won, this time. The basement is dry, for now.
Outfitting Iris the trailer for the camping season had begun before the cold and rain arrived last week. Since there was no evidence of rodents having entered the trailer over the winter, it was safe to bring in the foam twin mattress, purchased from IKEA last year. After the mattress roll was uncoiled from its packaging, and had a few days to fully expand, it was covered with a full mattress cover, meant to prevent bed bugs from getting in, but intended in this case to prevent insects of any kind getting near the mattress itself. That is as far as the camping preparations went before the weather turned very nasty.
My thoughts are roving towards Iris once again. There are new curtains to press and hang. Attila's front bunk needs a lot of attention. The seat cushions that I slept on last summer were moved to the front bunk, which is now three cushions deep, and hopefully will be more comfortable for Attila. But the catch is that the added cushions are not full length, so that supports must be found and installed under them so that Attila will sleep on a level surface. To that end, a very nifty wood box was snatched up out of the box bin at the local grocery store, the corner posts sawed off, to be used as a support under the bottom layer of cushions.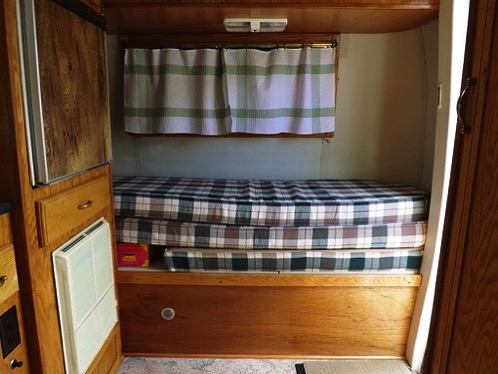 This is the front bunk with all three seat cushions piled up high. The shortest one is on the bottom, with the wooden box beside it. The middle one is longer, but not full length, and it is propped up with a plastic tray, a discard from a produce department. The top cushion is slightly raised at the foot. It remains to be seen if this arrangement will be comfortable for Attila. We are looking forward to our first night out to find out.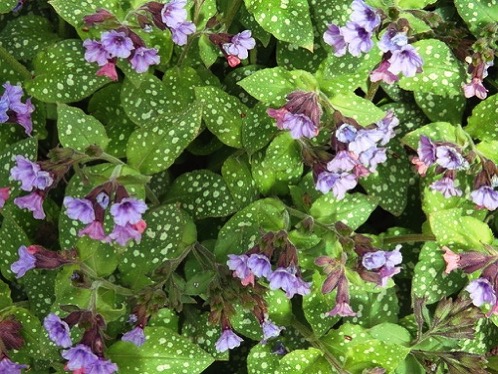 The Lungwort in front of the house, blooming. The dandelions are a riot of yellow in our yard. I like it, but the neighbours use some chemical to prevent them from growing in their yards. The birds and the bees like to be around us, that counts for a lot in our universe.
Weather
5°C
Date: 8:00 AM EDT Wednesday 10 May 2017
Condition: Partly Cloudy
Pressure: 102.1 kPa
Tendency: Rising
Temperature: 5.2°C
Dew point: 0.4°C
Humidity: 71%
Wind: N 8 km/h
Visibility: 24 km
Quote
"Our houses are such unwieldy property that we are often imprisoned rather than housed in them."
Henry David Thoreau
1817 – 1862
This is one of those statements that is only true under certain circumstances. Attila and I felt the country house to be an unwieldy property, because it was so much work and held us so close. Mist Cottage is almost the opposite, a haven and sn anchor point to return to after a wander.
I think of all those people in their huge houses, all over Canada, and how much care and expense those houses exact, and I think that Mr. Thoreau's point very apt in such instances.