There is flooding all around us! It began to rain on Thursday night, then we had heavy rainfall all day Friday, and it has rained all day today. Luckily we had installed a sump pump when the water main was broken in front of our house, which is carrying away the water accumulating below the floor of our basement. So far we are unscathed.
Many roads are closed, basements flooded, and the creeks and streams are running deep and fast and dangerous.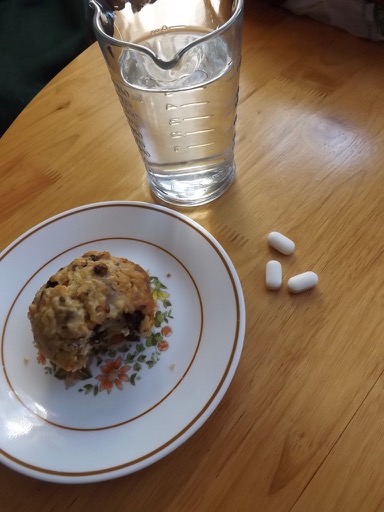 A typical breakfast. The muffin is chock full of goodness, oats, sunflower seeds, flax seeds, raisins, an egg, crushed pineapple, desiccated coconut; it does also include a few tablespoons of chocolate chips, and I add two tablespoons of brown sugar to the recipe, so it is just a wee bit sinful. I measure the water I drink at breakfast, to make sure I get the correct amount recommended for taking the medication which must be taken with food and water.
On Thursday Terra called me and asked me if I wanted to take a trip to IKEA with her and Sunny and Sky. Who could say no, not me! Off we went and had a lovely time walking for hours and hours to see all the sights. Sunny is crawling now, and can pull herself up into a standing position. Somehow she discovered how to pull on her harness in the stroller, hard enough so that the back of the seat rose with her so that she could stand holding onto the back of the seat in front of her, Sky's seat in the stroller. She stood, hands gripped tightly on the back of the front seat, little eyes and a nose just peeking above it, watching everything around her. So tiny and determined! Sky was content to sit in his seat, charming passers by with his big blue eyes and captivating smile. It is so much fun to walk around with these little characters. Sunny wasn't feeling well on the drive back, I think she overdid it standing the whole time we were strolling through the store. Terra said she recovered quickly once she got her home, changed her diaper and clothes and cuddled for a while.
Friday I had my doctor's appointment to discuss my bone density test and ultrasound. My bone density is normal, that is a blessing. The ultrasound showed cysts in one kidney, and some very large gallstones. Neither issue is serious, but he will keep an eye on the kidney cysts, so I have another ultrasound in six months time. More new tests though, to explore those chest pains. Looking at my back and stomach next to see if all is well there. I am glad of the opportunity for such a thorough investigation into these chest pains, but I will be glad when we establish that they signify nothing!
Worldly Distractions
Weather
RAINFALL WARNING IN EFFECT
Lightning Light Rain
8°C
Date: 8:00 PM EDT Saturday 6 May 2017
Condition: Light Rain
Pressure: 99.4 kPa
Tendency: Rising
Temperature: 8.2°C
Dew point: 7.9°C
Humidity: 98%
Wind: W 5 km/h
Visibility: 2 km
Quote
"I am glad your test results are good, they can always find little things that are not like when you were twenty."
My Mom, what she wrote to me in response to my medical news of the day.