At 5:10 a.m. this morning the north-facing side of the roof shed its entire snow load. It was a loud event. Attila slept through it, I did not.
Since the temperature is dropping now, and the January thaw seems to have concluded, it is fortunate that the roof is completely cleared of snow. It is snowing and blustery this morning, and will snow almost every day for the next two weeks, if the weather people are predicting with any accuracy.
Although it is snowing this morning, it was sunny yesterday; one of the four or five sunny days we have experienced since the beginning of December. The roads were clear yesterday.
Maple at Two Hundred Feet: I had not thought that winter's stark black tree trunks and branches could hold such a welcome appeal. The snow banks nested in the trees melted in the thaw, leaving the only white a carpet lying below.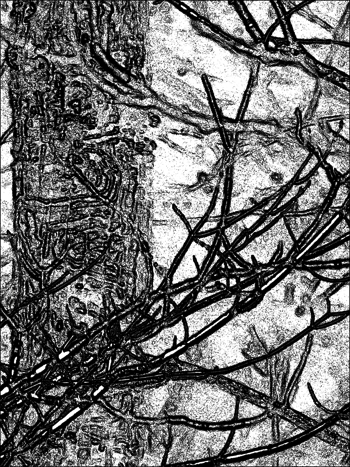 One of my tasks yesterday was to telephone the hospital and re-schedule a mammogram, which had been cancelled due to snow squalls in December. I needed my health card for the process, and noticed the expiry date on it. Oh dear! I had meant to renew my health card while were visiting the little house in the city. But we were having such a fine time visiting with family, that my good intentions were completely forgotten. It wasn't until I looked at the health card yesterday, that I remembered that it needed to be renewed.
Since conditions were ideal for travel, I hopped in the car and drove the 70 km round trip to have my health card renewed. It was a good experience, as it was the last time I renewed it. I have had bad experiences though, when we lived in the city. The process in the city was time-consuming, officious and rude, an assembly line sort of misery. The rural experience was formal but not officious, you might even consider the clerk to have been courteous.
Since I was in town, it was a perfect opportunity to purchase supplies, so I did. I was back home, and had the supplies unloaded and put away, by the time Attila arrived home from work.
It was nice to be out of the house on a real errand. The drive was lovely, the traffic was light to non-existent, and the scenery was stunning as usual.
I have been giving thought to a winter celebration and finally decided upon a simple event. The first Sunday in February will be approximately midpoint between the Winter Solstice and the Spring Equinox, Midwinter, we will call our celebration Midwinter. We will take our Christmas decorations down, burn our Christmas tree in a bonfire, prepare a special meal, probably a turkey dinner, and light candles in the house after dark.
Having said this, I must observe that winter weather arrives in this part of Canada long before the Winter Solstice, and spring arrives long after the Spring Equinox, but in roughly equal measure. Spring-like weather does not really occur where we live until April; we have dead-of-winter weather until the end of March.
The end of January, beginning of February, has some associated history, in a variety of places and cultures. There is "Imbolc or Imbolg (pronounced i-molk or i-molg ), also called Saint Brighid's Day (Irish: Lá Fhéile Bríde, Scottish Gaelic: Là Fhèill Brìghde, Manx: Laa'l Breeshey), is a Gaelic festival marking the beginning of spring." What is the beginning of spring in other parts of the world is midwinter in Canada. Then there is Groundhog Day, which has little meaning as far as I am concerned, in the Canadian climate. Much is made of it in parts of Ontario, but I have never regarded it as having any kind of significance, in any way. Then there is Pancake Tuesday, later in February, a religious day, which is also loosely associated with Mardi Gras.
The family continues in good health. Imp lost her first tooth last week! She is quite the young lady now, and seems very pleased to be so. The move to England is looming, set for the spring.
Terra and Lares have a new puppy, unnamed thus far. She is a black lab, and very, very cute, from the pictures we have seen. That makes theirs a household of seven, two humans, two dogs, and three cats. Fortunately it is a very big house.
Worldly Distractions
Weather
-2°C
Date: 9:33 AM EST Wednesday 15 January 2014
Condition: Light Snow
Pressure: 100.8 kPa
Visibility: 16 km
Temperature: -2.0°C
Dewpoint: -7.5°C
Humidity: 66%
Wind: SSW 28 gust 41 km/h
Wind Chill: -9
Quote
"We allow our ignorance to prevail upon us and make us think we can survive alone, alone in patches, alone in groups, alone in races, even alone in genders."
Maya Angelou
1928-