March! It is my least favourite month of the year.
My Granny passed away in March of 1976, I still tear up when I think about how much I miss her. My very dear friend and lover Pat Logier passed away in March of 1996, a very sad time in my life. March is when winter weather can seem like it will never, ever, ever end. March brings the spring season, but not necessarily spring weather. March, even when the weather is lovely, holds no promises that winter's worst will not return for a star performance.
I don't like March much. But, I am having comparatively grand March this year. Living at Mist Cottage means that we see the snow melt away in March, we are reminded that milder weather will come. This year March is stirring our longing to be out at the Rideau Camp; we are beginning to think about being there, what we will take with us for our picnics, what little projects we want to work on, how wonderful it will be to sit under the trees in the shade on hot days, and to sit under the stars around our campfire on clear nights. Yes, we are having a pretty good month of March this year.
Our wedding anniversary is in March. For our anniversary this year we made ourselves a pizza, and bought a movie from iTunes. It was lovely. But it seems that we need another little boost just now, as another weekend greets us with cloudy skies, a nippy wind, and the threat of freezing rain. Time for another pizza! March is a two pizza month! We purchased some CD movies on sale from iTunes some time ago, one of them will provide us with an enjoyable "pizza and a movie" night in.
When I was a single Mom going to Grad School, my special time with Terra was treating ourselves to a Friday night pizza, and watching Star Trek on the television. By that time Luna was well into her teenage years and had no interest in spending time with either Terra or myself, preferring her friends. Terra and I both remember those Friday nights with fondness.
After not having had a family Doctor for some years now, I am finding that the Doctor at the walk-in clinic has taken an interest in providing me with good care. I had chest pains last year, and he has been following up on that quite diligently. I don't have any significant problems with my heart, which is good news. I will be tested further for my high blood pressure though, and I have a related appointment with a cardiologist. The walk in clinic doctor is also arranging for testing on several other health concerns I have described, which will involve a few more non-intrusive tests. We discussed cholesterol, and my levels are a bit high, which I take quite seriously because of the slight problem with the valves in my heart. He wanted me to try a new medication, so I agreed, because you just never know, and began to take it today. There is no noticeable side effect after the first dosage.
The pills were shocking. When the druggist opened up the prescription bag to go over the details with me, I could hardly believe my eyes. The pills are humungous! I was so disoriented by the size of the pills, and the fact that I am to take six of them every day, that I walked out of the drug store in a daze, forgetting to pay for the medication. I realized it after I got home, and called them to arrange going in to pay the bill next week. They hadn't realized that the bill was unpaid, and probably wouldn't have caught it. I am glad I caught it though, and called them, karma is a powerful thing.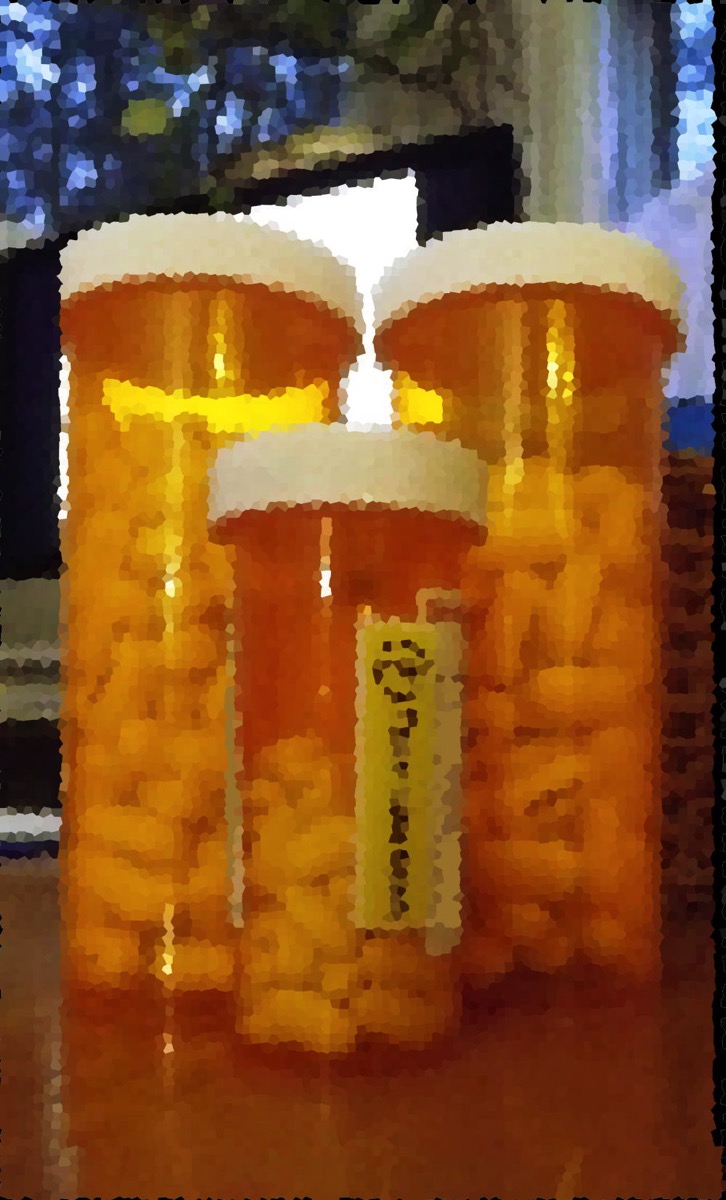 The small bottle of medication in front is two months worth of my old medication, which I have been taking for years, and which works well in some ways and not quite good enough in others. The two large bottles of medication are one month's worth of the new medication. I am to take three pills in the morning and three pills in the afternoon. Quite a contrast in volume. We shall see if there is an overall improvement, or any side effects. The new medication won't work as well where the old medication was very effective. The new medication will have to do a great job to earn its place on my shelf.
Tonight I will be baking sourdough breads. I will make one loaf of 100% whole wheat bread, and one loaf of Finnish Pulla bread. The sourdoughs are fed and proofing on the top of the refrigerator where it is nice and warm. I will also be baking oatmeal bread and Pineapple Coconut Muffins. Time to get busy with the baking because I am running out of snacks to eat!
I am wearing my beanie today and enjoying it very much. The next project will be learning the double crochet stitch, by making a washcloth using it. There is an excellent learning tool on one of the crochet groups on FaceBook (thanks Bex for pointing me in their direction)! I have been learning from videos, which work well for me when I already know how to do something, but are really challenging when first learning. Using videos to learn requires constantly taking my focus off the task at hand to fiddle with the video controls, so that a confusing demonstration can be repeated, or the video can be paused while I catch up. The site I discovered is one that demonstrates using animated gifs for every little step in the process. It is easy to see what the crocheter is doing, and the gif repeats over and over, so that I can try it, tear it out if I need to, and try it again without ever having to adjust the screen.
Attila and I went for a walk today. It was surprisingly cold out there. The temperature is above freezing, but with the brisk wind, and the dampness, it felt a lot colder than that! Still, it was nice to be out under the sky for a little while.
Worldly Distractions
Weather
2°C
Date: 2:00 PM EDT Saturday 25 March 2017
Condition: Cloudy
Pressure: 102.9 kPa
Tendency: Rising
Temperature: 2.2°C
Dew point: -1.6°C
Humidity: 76%
Wind: NNE 22 km/h
Visibility: 24 km
Quote
"Always laugh when you can. It is cheap medicine."
Lord Byron
1788 – 1824