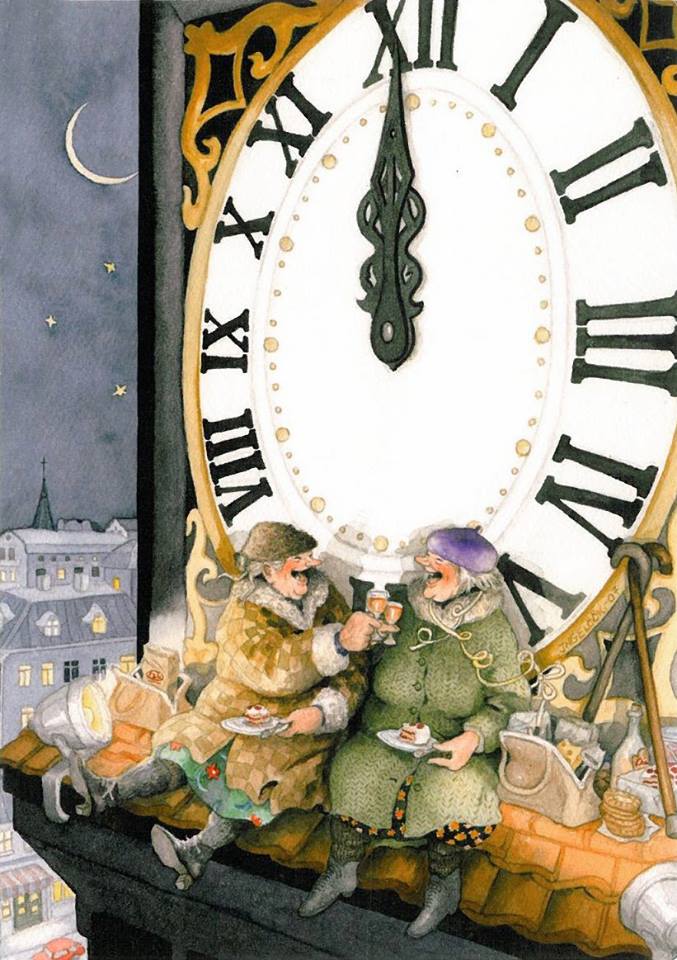 They call it New Year's Eve. It is so wonderful to share it with you.

Well, what a day. Reviewing the past 365 days has been a journey, it was a year of extremes. One year ago today I was experiencing one of the worst days of my life. 2017 ended and 2018 began with Attila telling me he no longer wanted to be married to me, or to live with me; that he didn't want to think about me. Now, one year later, he tells me he wants to be married to me, and that he loves me, and that he loves our home. 2018 was a roller coaster of a year. Life is not the same for me now, now what it was. And yet I can say that some of the change has been welcome. It is a new relationship, this relationship with Attila. It is untested, familiar yet not familiar. I am skeptically optimistic.

So I am saying goodbye to 2018 with few regrets. It was a tough year.

Perhaps 2019 will be a kinder, gentler year for me. It certainly looks hopeful.

The world around Mist Cottage seems to have descended into madness. And yet good people hold strong, persevere, and hopefully, in the fullness of time, they will prevail. There is historic precedence for this.

All I know for sure is that I live in a little house, in a peaceful area of the world, with a man to whom I am married. I have enough to eat, I am warm in the winter, and comfortably cool in the summer. I have a comfortable bed to sleep in, a comfortable chair to sit in, clean water to drink, to cook with, and to bath with. I have known great love, suffered deep despair, felt the touch of the universe (some might say God), accepted the insignificance of myself, and the miracle that I am. There is much to be thankful for.

On this night on the edge of the old year, I listen to the rain rat-a-tatting on the metal roof, the wind battering the windows, and I am caught, something tugs at me. This something pulls me towards the kindnesses that have been gifted to me, the wonderful people with kind and compassionate hearts, who have shared parts of their lives with me, a sentence, a conversation, an afternoon, a small gesture, an embrace… I wonder if the universe takes this energy, that swirls around me, this something called affection and respect, gently into their lives. And then I realize that it is not my destiny to know where affection and kindness land, the universe will decide where it is needed most.
Worldly
Weather
WIND WARNING
2°C
Date: 8:00 PM EST Monday 31 December 2018
Condition: Light Rain
Pressure: 101.0 kPa
Tendency: Falling
Temperature: 2.4°C
Dew point: 2.3°C
Humidity: 99%
Wind: E 12 km/h
Quote
"Love is the voice under all silences, the hope which has no opposite in fear; the strength so strong mere force is feebleness: the truth more first than sun, more last than star."
E.E. Cummings
1894-1962

Thank you Patrick.