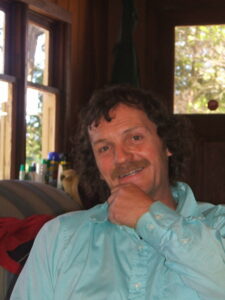 My youngest brother passed away on Saturday, December 4, 2021.

As an adult my brother went by Jim, which I honoured. In my heart he was always Jamie. He was a tall, dark, and handsome man.

Our childhood was relatively isolated on a farm, we had each other as playmates, born about one year apart. We were watched over by my Mom. We roamed the farm, and surrounding bush, climbing trees, building with sticks and stones, eating fruit fresh from the farm in growing season, or bundled in Dad's old clothes, socks for mittens, to play for hours and hours in the snow. We had each other, and that was wonderful.

This picture was taken at my sister's cottage, at a family get together. What a good time we had! Jim, and my brother Jeff, and I were digging out the main trench for the septic system. It was a lovely day, sunny, breezy, and the breeze was a blessing under the circumstances. My two brothers were such a joy to work with that day, the three of us discussing how we would approach the project, who would do what, with such good spirited cooperation between us. All of my brothers have/had big, generous hearts.

Jim had been ill for quite some time. My Mom moved in with him on the farm for the last few years to provide care, and my sisters and brother-in-law, who live very near, visited with great frequency, and helped out whenever they were able. He went into hospital just days before he passed away. It has been difficult being so far away during this Pandemic, and comforting that Mom and my sisters were with him through his journey.

God speed Jamie.