After a quiet, relaxing Christmas morning, Attila and I were ready for action!  And action is what we got.  Luna, Janus, and the Grandbabies arrived for Christmas dinner.  They stayed until yesterday morning, but truth be told, it felt as if they came and went in just a few hours, the time passed to happily and swiftly.
Imp and Elf and Tink liked the gifts we gave them, which always feels good.  One of the gifts was a $10 gift card for Walmart.  So on Boxing Day off we went to Walmart to see about spending the $10.  The trip turned out to be more of a lesson on how little one can buy for $10!  Imp found one small item that she liked, on which to spend a portion of the $10.  Elf could find nothing he wanted in the $10 range.  Tink had some of her allowance to spend as well, so she found a craft kits that she liked, and bought it.
Of interest to Attila and I, is that the toys at Walmart were very "junky" compared to those at the Mastermind Toys Store where we bought their Christmas Presents, were mostly cheap plastic, and most of them cost, for one item, the same amount of money that we spend on food for the week.  We will definitely be visiting the Mastermind Toys Store again!
Imp remembered that we tried to make paper airplanes to throw into the bonfire earlier in December at Luna's place.  We didn't have much success, as none of us had a pattern.  Imp must have done some research to surprise me!  She asked me for a piece of paper, and this is what she left for me!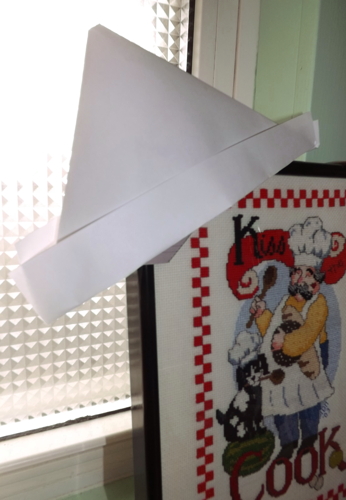 Tink enjoyed drawing with chalk on the chalkboard.  She drew a beautiful butterfly for us!  She also drew a great caterpillar.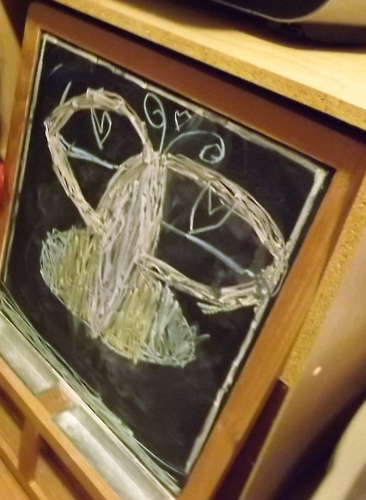 On Boxing Day morning Elf was curious about what I do on the internet.  So I showed him this online journal.  He wanted to write something in the journal, so he dictated and I typed.  I corrected three instances of grammar, and other than that, these are his very words.

Elf: On Living in Ireland last summer.

One day a family was hiking up Mount Donegal. It was a rainy day. We were starting to walk beside a river. The water was very very clean and there was birds and all that. We would hop on the rocks when there was lots of rocks. We had so much fun jumping on the rocks.

One time I saw a bridge, it was very cool and went over the river. It was very rocky. I think we could see rocks like sand in the river from years and years of the rock going away. We couldn't see the top of the mountain, it was so cloudy at the top.

So we climbed up more of the mountain, and it got beautifuler and beautifuler. You could see more and more of the water in the ocean. When we got up to a place, we had to stop because we didn't have very much trail left. So we decided to walk on the rocks on the river for half the hike. I would do a whole bunch of silly stuff on the rocks, like meditating, and saying "it's my teensy island".

On the way up we could see a quarry where people used to mine. There were little old cabins made of cobblestone. A river would flow into the quarry. It was cool.

The more we got up the mountain it got foggier and foggier and boggier and boggier. We had lunch at a very long and big wall, that went all the way over the twelve bends. We went to almost the top, until one of us needed to use the loo, so we had to go down. But is was a glory to see all the things we saw on our trip.
We all had a lovely time!
Worldly Distractions
Weather
-7°C
Date: 1:00 PM EST Monday 28 December 2015
Condition: Not observed
Pressure: 103.6 kPa
Tendency: falling
Temperature: -7.2°C
Dewpoint: -12.4°C
Humidity: 67%
Wind: NNE 27 km/h
Wind Chill: -16
Quote
The Children's Hour
Between the dark and the daylight,
When the night is beginning to lower,
Comes a pause in the day's occupations,
That is known as the Children's Hour.
I hear in the chamber above me
The patter of little feet,
The sound of a door that is opened,
And voices soft and sweet.
From my study I see in the lamplight,
Descending the broad hall stair,
Grave Alice, and laughing Allegra,
And Edith with golden hair.
A whisper, and then a silence:
Yet I know by their merry eyes
They are plotting and planning together
To take me by surprise.
A sudden rush from the stairway,
A sudden raid from the hall!
By three doors left unguarded
They enter my castle wall!
They climb up into my turret
O'er the arms and back of my chair;
If I try to escape, they surround me;
They seem to be everywhere.
They almost devour me with kisses,
Their arms about me entwine,
Till I think of the Bishop of Bingen
In his Mouse-Tower on the Rhine!
Do you think, o blue-eyed banditti,
Because you have scaled the wall,
Such an old mustache as I am
Is not a match for you all!
I have you fast in my fortress,
And will not let you depart,
But put you down into the dungeon
In the round-tower of my heart.
And there will I keep you forever,
Yes, forever and a day,
Till the walls shall crumble to ruin,
And moulder in dust away!!
Henry Wadsworth Longfellow
first published in the September 1860
[When I was a child, Mom would recite this to us at bedtime.  Still when I read it, I hear her voice.]