Wednesday, May 20, 2105
Today I sold the bunk beds in the second bedroom, to the neighbour, for their two small sons. I sold it to her for 1/3 of what I paid for them, and they were used only twice. She dismantled it and carried it home, with a small bit of assistance from me.
That cleared up a lot of space in the second bedroom.
The other project that was tackled today was organizing the canning equipment. The empty jars were to be stored down in the basement, so there was a lot of "up and down the stairs" in my day. My knees were very sore at the end of the day.
The rhubarb in our garden is doing well, so I picked some of the larger stalks to stew. There is nothing like fresh produce from your own garden.
A realtor came through the country house this evening, with prospective buyers.
Thursday, May 21, 2015
We have been renovating at the little house in the city for five years now. During that time we have "put up" with a lot of chaos, and temporary solutions to domestic comfort. On this stay at the little house in the city, I have begun the task of taking the chaos in hand.
On Thursday I spent over eight hours emptying the hall closet. It is the only closet in the house. It has been the central storage place for tools and materials for the last five years. Attila could find things in there, most of the time, but it was getting to the point where it was time consuming to find the tools we needed.
Part of emptying the closet was dealing with the hundreds of plugs, screws, washers, nails, and little bits of useful metal, that were spilled all over the shelves. The job of picking up all of these items was made extra miserable because they were mixed with copious amounts of sawdust, and, well, mouse poop. Lots and lots of mouse poop. We have evicted the mice, but they left their calling cards.
I began the clean up with a pump spray bottle of hydrogen peroxide. I sprayed every layer of tools that I removed from the cupboard. And when I got to the almost bare shelves, covered with a thin layer of sawdust, mouse poop, and little metal and plastic bits, I gave it an extra good spraying.
Once I had removed all of the items from the cupboard, including the objectionable elements, I washed it from top to bottom with hot water and soap and bleach.
After letting everything dry, I organized all of the items and returned them to the cupboard. Now I can find anything I need in there!
I pushed myself, finishing the job after 10 p.m., after which I collapsed into bed.
Friday, May 22, 2015
Today Terra texted me and asked if I could "babysit" her, while Lares went out and attended to necessary things away from home. Of course I said yes. We had a lovely visit, she is still on heavy pain medication and can become quite dizzy while standing. So we lay in her bed and chatted, watched a movie, and chatted some more. I had a lovely time, and when Lares came home he BBQ'd some hamburgers, while Terra ventured downstairs to warm up some tomato soup. Then Lares got busy with burlap to cover up their extensive gardens, because there was a frost warning.
I headed home before dark, to cover my newly planted tomatoes, lavender, and portulaca. The sheet of plastic I had wasn't quite long enough to go over all the tomato plants, so I grabbed a plastic tablecloth and used that as well. I used clothes pins to attache the plastic and the tablecloth to the wire tomato baskets, and secured the ends by laying heavy pieces of lumber on the edges of the plastic, on the ground. The portulaca is in a little raised bed at the front of the house. I used a plastic wash basin and a vegetable drawer saved from an old refrigerator, to cover it. It looked terrible, but it did the job.
Saturday, May 23, 2015
We got our frost last night! It looks like there was no damage.
Our dining area in the kitchen overlooks the bedroom window of the house next door. This means that when I am gazing out the window at the trees, I am also aware of the visual opening into the house next door. And I am aware that I can be observed from that window, which I don't care for much.
I had purchased some inexpensive plastic film, designed to be applied to windows for privacy. I measured and cut, and then applied the film to the windows. I now have the privacy I crave, and the light can still shine into the room. It does seem a little bit "institutional" to me, I will have to wait and see if I get used to it.
The window in the dining area, the light comes in, and you cannot see in!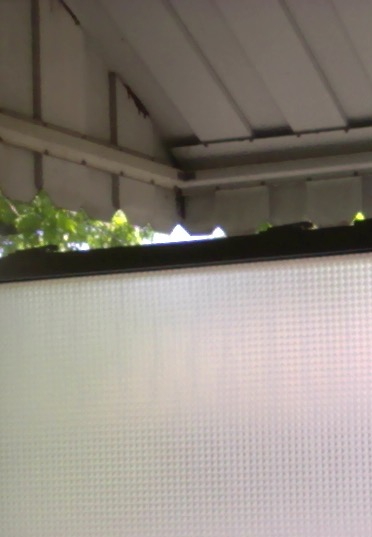 Attila and I have a lot of linens. There are towels that Attila's Mom gave him when he left home to go to university; they may be antiques. There are towels that the cat has clawed and pulled, less than pretty, but still functional. There are sets of towels that I don't even remember where they came from. We also have quite an assortment of old sheets, and pillow cases, and tea towels, and odd sized bits and pieces that I can't bear to throw out yet, although I have no earthly use for them. The older towels, and odd sized linens, filled to bursting a 63 litre tote. A second tote was filled with new unused sets of towels, facecloths, and dishcloths. What amazes me is that we also have a linen closet at the country house, that is full to bursting. If we manage to move to the little house, I will wait until the dust has settled and sort through all of these linens, and purge, purge, purge.
Attila worked today. We spoke late in the afternoon, over FaceTime. He is working on the gardens at the country house, which do need attention. One of the projects he started years ago is a granite pathway into the forest. It is almost complete now, I think he will finish it tomorrow.
Tomorrow I am thinking of attempting to cut the grass in the front yard, here a the little house in the city. My knee is still bothering me a bit, but I am hoping that if I take painkillers, and wear my knee brace, and take things very slowly, I might just manage to get the job done. We shall see!
Attila tells me we have another realtor coming this week to show the country house.
Sunday, May 24, 2015
Today I mowed the lawn! All of it! It took all morning, which is about three hours of hard work. I took two breaks, long enough to cool down, and feel relaxed, before starting again.
Then I watered the plants. That is when I discovered that four of the tomato plants were killed by the frost we had on Friday night. They were near the edge of the plastic covering. I will need to go out and buy another four plants.
I was very hot when I finished all my yard chores, so i came inside and hopped in the shower. That felt so good!
I am not sure what I will do with the rest of my day, but I plan on taking it relatively easy, so as not to strain my arthritic knee, or my back, or… well, there is a lot that can hurt on this old body, so I'll just take it easy!
Worldly Distractions
Weather
Little House in the City
9°C
Date:
8:00 PM EDT Saturday 23 May 2015
Condition: Mainly Sunny
Pressure: 102.5 kPa
Tendency: falling
Visibility: 24 km
Temperature: 8.5°C
Dewpoint: 3.6°C
Humidity: 71%
Wind: S 17 km/h
Country House
18°C
Date: 8:00 PM EDT Saturday 23 May 2015
Condition: Sunny
Pressure: 102.2 kPa
Visibility: 16 km
Temperature: 18.0°C
Dewpoint: 0.8°C
Humidity: 31%
Wind: SW 17 km/h
Quote
"Better by far you should forget and smile than you should remember and be sad."
Christina Rossetti
1830 – 1894