Today is so hot, and humid. My Mom is happy as a clam, she loves the heat. Me, I am safe at home, in the air conditioned luxury of Mist Cottage. Attila, well… Attila is outside, working on the exterior south wall of the house, and the exterior south wall of the garage, scraping paint, and repainting. He has finished scraping and painting the wall the house, and had just finished scraping the wall of the garage. I offered to help, but Attila pointed out that having to take me to the hospital for heat exhaustion would not really be of much help to him. He has a point. I do not tolerate the heat well.
This afternoon it will feel like 39C with the humidex. Tonight the temperature will fall to 17C. It is a real roller coaster ride!
This morning I attended a three hour workshop on storing family photos and documents. It was excellent, and the cost was entirely reasonable at $8. I have not really done anything like this since I stopped going to Yoga class, which is more than two years ago. When a description of this workshop popped up in my email box, I called immediately to reserve a seat. This morning I was resistant, I had to make myself get dressed and get out the door on time. It was well worth overcoming inertia.
I haven't been eating a lot lately, the dental work is still giving me a bit of grief, which is normal. When Attila got home from work yesterday, he asked me what I wanted for dinner. I responded by asking him what HE wanted for dinner. His response was immediate, pizza! We haven't had pizza since last spring, it is not summer food, requiring the oven to bake. We decided that since it was the first day autumn, an oven meal would be appropriate, even though the temperature outside was hot enough to fry eggs on the back porch railing. So we celebrated the Autumn Equinox by making a homemade pizza, and sitting down to eat it in front of Netflix, watching an episode of Star Trek: The Next Generation. We know it is autumn, the trees know it is autumn, only the weather doesn't know it is autumn.
The pizza was better than ever. The pre-made pizza sauce from the grocery store is shockingly high in sodium, which is unacceptable for me. On last night's pizza, we used a jar of the Tomato Red Pepper Sauce, made earlier in September, in place of the pre-made pizza sauce. The homemade sauce is very low in sodium, so that my part of the pizza got more than the two tablespoons of sauce usually allowed. It was wonderful! And to think, we have another 34 jars of Tomato Red Pepper Sauce… 34 pizzas!
It seems to be my year for run ins with insects. In this heat the yellow jackets are everywhere, huge ones! I went out to see how Attila was doing with his project, and a yellow jacket must have come back into the house with me on my clothing. Then it must have ended up on the floor, where my bare foot came into contact with it, and it stung the bottom of my toe. I felt it. My toe has a "blister" and is quite sore still. I killed the yellow jacket. There are a lot of wasps around our house, the nests seem to be right under the shingles. Attila sprayed and destroyed a nest one evening last week, that was under the awning outside the dining area windows. There was also a huge cone shaped hornets next in our flowering tree in the front yard this summer, which was sprayed in August, and is now inactive. We had another nest of hornets under the compost, the black plastic bin. Attila was planning on spraying it before digging it out, but an animal, probably a skunk, got to it first, dug out the nest and ate all the wasps. Yay!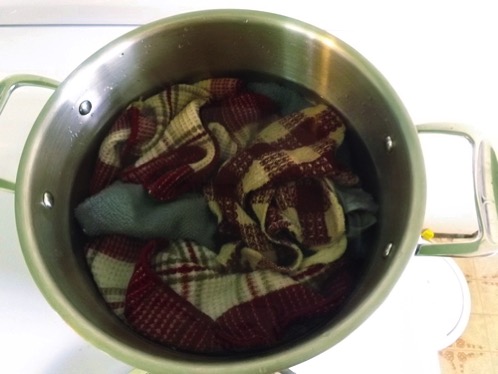 A pot full of dishcloths and facecloths, boiling them up to kill the bacteria, five minutes does the trick!
Worldly Distractions
Weather
HEAT WARNING IN EFFECT
23°C
Date: 2:00 PM EDT Saturday 23 September 2017
Condition: Mainly Sunny
Pressure: 101.9 kPa
Tendency: Falling
Temperature: 23.4°C
Dew point: 20.2°C
Humidity: 82%
Wind: S 22 km/h
Humidex: 31
Visibility: 24 km
Today Mainly sunny. High 31. Humidex 39. UV index 6 or high.
Tonight Clear. Fog patches developing overnight. Low 17.
Quote
"In a time of universal deceit, telling the truth is a revolutionary act."
George Orwell
1903 – 1950