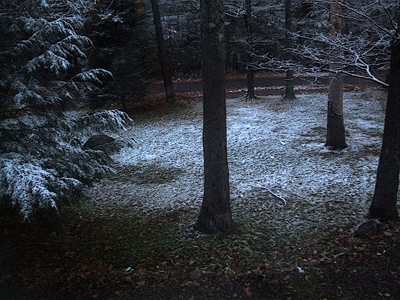 It is snowing!
If you read this journal for any length of time, you will know that snow, winter and cabin fever are very real issues in my existence.  Isolation and Canadian winter make a potent opponent.
But the first snow is different.  It is magical.  I am amazed at my internal response to the first snow of the season.  I experience joy, quiet, peaceful, emanating joy.  This white substance, that will eventually bring me to my knees begging for mercy, elicits when it first appears a drug like euphoria of warmth.  It is beyond all reason.
Life is a mystery.  Sometimes I am a mystery to myself.
First snow!
This morning I became so frustrated by the way my hair is hanging at the front, in my face, that I took the scissors and cut it off, well one or two inches of it anyway. I feel better! I am not sure if I look better though… The sunny side of that is that nobody sees and nobody cares. I become more and more invisible as I grow older, someday I will disappear altogether, hopefully that will happen after I leave this body.
We heat with wood exclusively, except when we leave for an overnight stay away from home, when the electric heaters are started in case we are delayed in returning to light our fires.  There are wonderful things about heating with wood.
Wonderful things about heating with wood exclusively in a masonry fireplace:
1. sitting in front of a roaring fire with a hot cup of coffee
2. watching Mist the kitty curled up in front of the roaring fire, sleeping contentedly
3. leaning against the brick wall to chase away the chills
4. warming ones clothes before getting dressed in the morning by pressing them against the warm bricks
5. maintaining heat during power outages in winter (off-grid heating, the original inspiration to install a masonry heater in this house)
6. drying clothes quickly and cheaply on racks, during on-peak hydro billing hours
7. drying Attila's soaked outdoor work clothes, like boot liners, at the back of the masonry heater, always dry and warm by the next day
8. drying bath towels and always having dry, warm towels to greet you as you step out of the shower
Less than wonderful things about heating with wood exclusively in a masonry fireplace:
1. travel becomes expensive (switching on electric heaters) and therefore limited, resulting in isolation (wealth would solve this, send money!!!  LOL, I am not serious, people have worse problems.)
2. frequent nose bleeds caused by the dry air that results from heating with wood
3. cool areas near the perimeter walls
4. time deficit, Attila spends a LOT of time splitting and toting wood from the wood shed, at least 100 lbs a day when it is below freezing
5. wood chips everywhere, from toting firewood through the house at least twice a day
6. ash dust, that fine matter that is swept into the room when opening the door to the masonry heater, a fine layer settles every week
7. watching the weather reports to adjust fire frequency and size according to what is coming our way, it takes a day or two for the thermal mass in the heater to adjust temperature, up or down
8. lack of a cooking surface on the masonry fireplace, it would be great to cook while we have a fire burning
The snow that is falling now will not last the week.  No matter, more snow will be on the way soon enough!
Worldly Distractions
Weather
0 °C
Condition: Snow
Pressure: 100.7 kPa
Visibility: 16 km
Temperature: 0.1°C
Dewpoint: -1.4°C
Humidity: 90 %
Wind: NW 21 gust 30 km/h
Wind Chill: -5
Quote
To You, Let Snow And Roses
"To you, let snow and roses
And golden locks belong.
These are the world's enslavers,
Let these delight the throng.
For her of duskier lustre
Whose favour still I wear,
The snow be in her kirtle,
The rose be in her hair!
The hue of highland rivers
Careering, full and cool,
From sable on to golden,
From rapid on to pool –
The hue of heather-honey,
The hue of honey-bees,
Shall tinge her golden shoulder,
Shall gild her tawny knees."
Robert Louis Stevenson