My right knee is arthritic. I am hoping to nurse it along so that it lasts a lifetime. That may or may not be possible, but I will do my very best for that knee!
I noticed on my first walk, after the temperature dipped below freezing out there, that my knee became painful. I have babied it since, resorting to an anti-inflammatory cream for a few days, covering it with a piece of one of Attila's socks, with the foot cut off (my Mom's suggestion, thanks Mom), walking carefully, and doing one knee exercise every single day. I have yet to return to the whole exercise routine, but that is coming soon, probably after we get the second wardrobe constructed, and Attila has moved the furniture around. When all that is done, the couch/daybed will be accessible, and I can use it to lie on while I do my other knee exercises.
I did a lot of poking around on the internet about the issue of arthritic pain in cold weather, and eventually found a pattern for a knee warmer. It is a knitting pattern. I don't knit. I asked my Mom if she would give it a go, and she said yes. Today my knee warmer arrived in the mail from Mom, and it is wonderful! Because of the design, there is no pressure on my knee when it is bent, which can be a problem. I am wearing the knee warmer right now, and I can say that the warmth really makes my knee feel better.
Here is a link to the pattern:
http://www.ravelry.com/patterns/library/phils-knee-warmer
And here I am, the fashion model, sporting my lovely, cozy, and comforting knee warmer. I love it!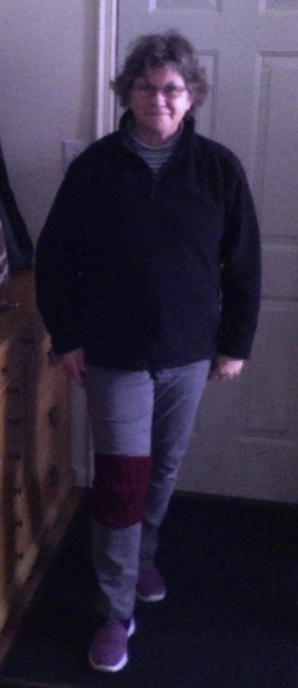 Worldly Distractions
Weather
SNOW SQUALL WATCH IN EFFECT
-12°C
Date: 6:00 AM EST Wednesday 13 January 2016
Condition: Clear
Pressure: 101.1 kPa
Tendency: rising
Visibility: 24 km
Temperature: -12.3°C
Dewpoint: -16.0°C
Humidity: 74%
Wind: WNW 18 gust 30 km/h
Wind Chill: -20
Today A mix of sun and cloud with 30 percent chance of flurries. Wind northwest 20 km/h gusting to 40. High minus 8.
Tonight Flurries and a few local snow squalls ending before morning then mainly cloudy. Local amount 10 to 15 cm. Wind northwest 20 km/h becoming light this evening. Low minus 9
Quote
"In spite of the cost of living, it's still popular."
Laurence J. Peter
1919 – 1988