We've had our evening meal. Attila is out stacking firewood, accompanied by the melodious hum of the many mosquitoes who would love to adore/devour him. Attila's mountain is shrinking.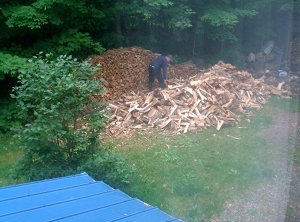 We visited our little house in the city last Saturday. It was my very bright idea that we would "relax" on this trip, it would be a little holiday, we wouldn't take on any chores. Ha! Who was I kidding. Only me.
Attila mowed the lawn, watered our little garden and staked the tomatoes. I ran errands, bought the weekly groceries and kept the kitchen clean. Keeping the kitchen clean when you cook everything from scratch is time consuming, lots of dishes and well used work spaces. We brought our hoe down with us, at my request, so that I could weed the garden with the hoe. While growing up on a farm, I was responsible for weeding acres of strawberries, with my hoe. I managed to weed our little garden in under a half hour, and did a fine job, even if I do say so myself. Our little garden is doing well so far, tomatoes and zucchini only. We will see how it goes for the rest of the summer.
We did manage to go for a long walk on Saturday night, and then again on Sunday afternoon. And we ate very well. On the trip down we stopped at a roadside stand to purchase one quart of freshly picked strawberries and one locally grown hothouse tomato, all this for $5.50. A true extravagance. Both purchases were delicious and so wonderful after a winter of the imported offerings at the grocery stores. I enjoyed a toasted tomato sandwich, and we had the strawberries sliced over bowls of chocolate ice cream. Pure delight.
Luna worked Saturday night, I called her just before she left for work, which was quite late. We arrived much later than usual, both having worked that day and getting off to a slow start on our trip. Early Sunday morning there was a knock on the door, which I answered in my pajamas. There was Terra with her smile, like opening the door to sunshine.
We are home and back at work now, another week which will fly by. One of my coworkers has asked me if I might run my anti-virus software on his Mac (his Mac is laughing at him), which will have to come home with me to use the desktop computer, because my laptop is not an Intel chip, and his Mac is an Intel Chip. I must use a computer with an Intel chip to connect to his Mac, then check his hard drive with my antivirus software. And, oh yes, I forgot to tell him to back up his hard drive first, so it may be a day or so before we get as far as actually eliminating a virus on his computer. Also, there are a number of things he can try himself to resolve the issue:
1. Make sure that Voiceover is turned off in the Universal Access control panel.
2. Check that the Date and Time are not set to announce the time, then check the Speech Control Panel and make sure that the system voice is not set to hysterical, Alex is a good choice.
It will be interesting to see what works to fix this problem! It is probably a good idea not to use a root login account for everyday use, I'll remind him about that too.
So here we have it, another quiet evening in the green, green wood.
Worldly Distractions
Weather
23 °C
Pressure: 101.3 kPa
Visibility: 16 km
Temperature: 23.0°C
Dewpoint: 14.1°C
Humidity: 57 %
Wind: S 17 km/h
Humidex: 26
Quote
"Normal is not something to aspire to, it's something to get away from."
Jodie Foster
1962 –
Jodie Foster
"…an American actress, film director, producer as well as a former child actress…
Foster was born in Los Angeles, the daughter of Evelyn "Brandy" Ella (née Almond) and Lucius Fisher Foster III. Her father, a decorated Air Force lieutenant-colonel turned real estate broker, came from a wealthy background and left his wife before Jodie was born. Evelyn supported Jodie by working as a film producer. After appearing as a child in several commercials, Foster made her first credited TV appearance on The Doris Day Show. Her first film role was in the 1970 television movie Menace on the Mountain, which was followed by several Disney productions…
Foster's films have spanned a wide variety of genres, from family films to horror. In addition to her two Academy Awards she has won two BAFTA Awards for three films, two Golden Globe Awards, a Screen Actors Guild Award, a People's Choice Award, and has received two Emmy nominations…
Foster has two older sisters, Lucinda "Cindy" Foster (b. 1954), Constance "Connie" Foster (b. 1955), and an older brother, Lucius Fisher "Buddy" Foster[53] (b. 1957)…
Foster has two sons: Charles Foster (b. July 20, 1998) and Christopher "Kit" Foster (b. September 29, 2001). Foster gave birth to both children, but has not revealed the identity of the children's father(s)…"