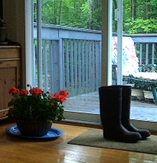 Yesterday, as Attila was walking through the kitchen towards the stove, pots began to rattle.  I thought it was just Attila's heavy foot on the kitchen floor.  But no, when I glanced up at him he was not moving.  We looked at each other, puzzled.  Perhaps large trucks at the construction site a few doors down the road?  Perhaps.  The rattling continued for almost a minute, then ceased.  We shrugged and carried on with our lunch preparations.
Later in the afternoon Terra called to see if I had noticed the earth quake.  Aha!  So that is what made the pots rattle!
The visitor who tore open our garbage, and distributed it across the public roadway yesterday, may have been a raven.  I had seen a bear the day before, and Attila had spotted a large raven perched high on a tree just down the road, the morning of the incident.  Either way, we need a second garbage can to deter our visitors.
A quiet day, with intermittent torrential rain and sunshine. My geranium is moved indoors for the duration of the stormy weather, just in case we get hail. I've been wearing Attila's rubber boots in my forays outdoors, even though they are much too big for me. I like clomping around in them, it delights my sense of the ridiculous.
Worldly Distractions
Quote
To the soul, there is hardly anything more healing than friendship.
Thomas Moore
(1779 – 1852)
Weather
20 °C
Condition:Stormy
Pressure:100.7 kPa
Visibility:16 km
Temperature:20.0°C
Dewpoint:18.3°C
Humidity:90 %
Wind:W 13 km/h
Humidex:26
Magnitude
5.0
Date-Time
Wednesday, June 23, 2010 at 17:41:41 UTC
Wednesday, June 23, 2010 at 01:41:41 PM at epicenter
Time of Earthquake in other Time Zones
Location
45.904°N, 75.497°W
Depth
16.4 km (10.2 miles) set by location program
Region
ONTARIO-QUEBEC BORDER REGION, CANADA
Distances
43 km (27 miles) N (352°) from Cumberland, Ontario, Canada
48 km (30 miles) NNE (15°) from Gatineau, Quebec, Canada
54 km (34 miles) NNE (21°) from Hull, Quebec, Canada
56 km (35 miles) NNE (16°) from OTTAWA, Ontario, Canada
Location Uncertainty
Error estimate not available
Parameters
NST=355, Nph=354, Dmin=153.9 km, Rmss=0 sec, Gp= 25°,
M-type=teleseismic moment magnitude (Mw), Version=A
Source
Geological Survey of Canada, Ottawa, Ontario, Canada