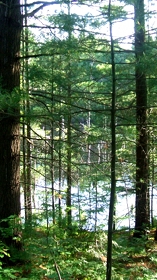 This morning we awoke to heavy rain.  We are to expect thunderstorm activity this morning.  A dreary, dripping landscape stretches as far as the eye can see.
Attila and I have decided to paint our main living space.  The main living space is a dark green, the colour it was the day we moved into the house.  This hasn't been too awfully dark, because there are windows everywhere.  However, it is time to lighten things up.  Attila has cleaned the walls in preparation.  He must repair the hole in the wall, made by the previous owners for a speaker (?!?); the speaker is still there!
I am trying to purge excess belongings again.  Where do they come from!  Not a question really, because I know where they come from.  They are the accumulation of decades of frugal living.  We saved everything that came our way, because we might some day need it.  And although we have needed some of the things we saved, most of the things we saved have served only as weights, physical and spiritual.
This morning I have been putting up for sale the last of the accessories for the little trailer, which we lost to a fallen tree.  I anticipate that these will sell easily, as they are in excellent condition and the trailer was a vintage model owned by many collectors.  Next on my list is the our bass guitar, which is a Hagstrom Mk 11.  I haven't yet figured out how to price it, as buying and selling isn't usually one of my interests.  I think you get the picture, we have a lot of stuff.  We are people of endless curiosity, with a lot of interests.
Hopefully, if I slowly divest our premises of unused belongings, on a daily basis, the change will gradually become noticeable and the atmosphere lighter.  I know change is on its way, I guess this is my effort to have some input into how the world around me evolves.
Worldly Distractions
Weather
17 °C
Light Rainshower
Pressure:101.2 kPa
Visibility:15 km
Temperature:17.0°C
Dewpoint:16.4°C
Humidity:96 %
Wind:S 11 km/h
Quote
"I dwell in possibility…"
Emily Dickinson
(1830 – 1886)