During this visit to the little house in the city, I have had, for the first time in a very long time, the opportunity to explore some interesting social groupings in my immediate surroundings. The little house is located near two larger cities, both about a thirty minute drive from the house, on good roads. That means that exploration is affordable and accessible, at least while I have a car at my disposal. It is not the same as being in a city like Toronto, with a public transit system, which allows people mobility without a vehicle, and which I consider to be an ideal and unattainable place to exist.
Yesterday I attended a religious meeting, where tolerance of all beliefs is professed. It was interesting. People were friendly. There were happy children present. I was welcomed warmly and asked if I would introduce myself, to which I agreed, wrongly assuming that the leader would mention my presence. To my surprise, as the meeting got started, I was handed a microphone with which to introduce myself, which I did, as gracefully as I could. There was a speaker who outlined many of his achievements with great pride, and considerable detail in outlining his personal successes. He said that he had made a positive difference in many people's lives. There was a reasonably priced, very healthy meal offered at the end of the meeting, to be followed by a discussion.
My experience was generally good. There were a few things that made me uncomfortable, and they are things that I find significant.
One was the speaker, who had accomplished much, and spoke of nothing else. During the question period he offered close-ended answers to questions from the assembly, and to my question about the structure of the organization, after the meeting by his pamphlet display table. I always hope for genuine engagement, in those who advocate for others.
I was asked three times, by different people, "What do you do"? I tried different answers with each person (I have held many positions in my life), and did not feel good about any of the interactions. Perhaps I was being exposed to a particular element in the assembly, I don't know. It is a minus in my book, to be asked, "what do you do"? It is a question I do not ask of others, because I would like to get to know them without the clutter of outer world achievements.
The meal ended up being another awkward experience for me, which was not unique to this group. I was invited to join in the meal by many smiling people. Breaking bread together is a wonderful community activity. It is not something I can participate in, with my disability, anaphylaxis. People seem to be taken aback by the condition. This is always an awkward issue when amongst strangers; which wears away with time and exposure.
Last but not least, I was approached for a donation, the basket held out in front of me, held by a man with an unsmiling face, many eyes upon me, until I gently shook my head no. Had I been discreetly asked, upon entry, for a fee to attend the meeting, I probably would have complied.
The leader of the group told me that every meeting is different, so several visits would help me to get a feel for the group. When I found her, to say goodbye and thank her for welcoming me, she gave me a hug.
Just Hanging Out: Branches on the tree in the back yard on a rainy October day.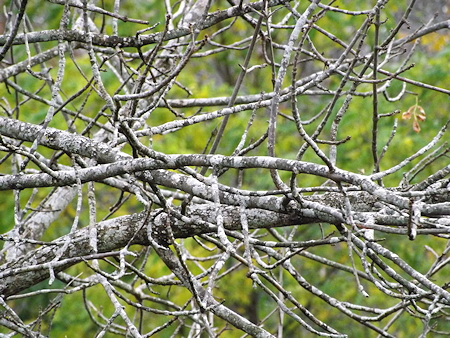 corporate landfill

used cardboard
the air-filled gleaming display
when my contents
had value
to the process

unwrapped
no shiny sparkle diamond
tiara gone
just me
not the process

unfettered

can you see me?

by Maggie Turner, 2013
Worldly Distractions
Weather
15°C
Date: 11:24 AM EDT Monday 7 October 2013
Condition: Light Rain shower
Pressure: 100.4 kPa
Tendency: rising
Visibility: 6 km
Temperature: 15.2°C
Dewpoint: 14.6°C
Humidity: 96%
Wind: WSW 16 km/h
Quote
"We confide in our strength, without boasting of it; we respect that of others, without fearing it."
Thomas Jefferson
1743 – 1826