I find it challenging to time my meals around medications that must be taken with a meal. Unfortunately, the first dose of the antibiotic given to me in the hospital was taken after midnight. I am usually sleeping at that time of the night. It is a minor inconvenience, but I notice it because I usually eat when I am hungry, not by the clock. There I was this morning, tummy rumbling, waiting for another hour to eat my breakfast, so that I could take the medication with food.
Yes, I could eat more often, but it is far to easy for me to adopt a habit of eating when I am not hungry, so I do not go there.
I am enjoying the firings in the masonry heater/fireplace. My chair has been turned to face the fireplace, and the flames give comfort, if not warmth, as the kindling crackles and snaps during the burn. We use dry pine for the curing, it burns reliably and quickly.
Grey skies and colour, the view out the kitchen window this morning.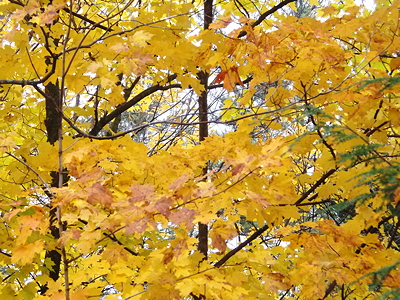 Chipmunk, in our front yard at the country house, enjoying the great outdoors, which is where he/she belongs. I don't feed wild animals, they do not share my values, and have their own way of looking at things.
The leaves around our country house are in full colour. I love the autumn, it is my favourite time of year, it makes me feel grateful, that I am warm and well fed. I think it might be a miserable time for the homeless.
Those In Need

Only one politician running for municipal office, in the three municipalities where we are entitled to vote, mentioned the issue of housing for lower income people; that one individual is a housing developer, who wants to build low-income housing (for a profit to himself), and so has a personal profit motive for his interest. None of the politicians acknowledged access to healthy food as an issue. What disturbs me most is that this silence is accepted as normal.

The affluent realtor, who has our country house listed, does have a social conscience. She regularly stocks up on items like hats, coats, food, diapers, all kinds of items that she donates to low-income families, at her own expense. And I know this because we chat, not because she makes a huge public display of her largess. No one knows she is doing it, unless they talk to her in person, or are receiving assistance from her. There is no financial or political gain for her, no tax write offs, no interest in procuring contracts for her business. Her daughter is likewise socially minded, and runs a food bank and other programs to assist those in need. Our realtor is the ONLY person in the area around our country house, who I have met, that is genuinely concerned about others, without any concern for publicity and/or profit. There may be more like her, whom I have not met; but honestly, I have met a lot of people here (population: residential 600, seasonal 6000), a lot of people, and our realtor is unique in my experience.

Our realtor is observant, without being judgemental. She has taken us through some very raunchy properties for sale. When we ran across disgusting things, in kitchens for instance, she would always point it out, and she would always observe something else in the kitchen upon which she could base a positive comment about the person living there, always. In one sentence she brought the energies of kindness, respect, and compassion to that person's home.

If our country house sells, it makes it easier to pay the high realty commission, more than double my annual income, knowing that she uses some of her income to address the needs of others.
Worldly Distractions
Weather
17°C
Date: 9:44 AM EDT Wednesday 15 October 2014
Condition: Mist
Pressure: 101.0 kPa
Visibility: 8 km
Temperature: 17.1°C
Dewpoint: 17.1°C
Humidity: 100%
Wind: S 22 km/h
Quote
"Judge thyself with the judgment of sincerity, and thou will judge others with the judgment of charity."
John Mitchell Mason
I am not alone in my feelings about the "community" surrounding our country house, this was how one person described it in a letter to the editor of a local paper:

"[our town] is marketing itself as an environment that is unwelcoming, fractious, non-collegial, uncompromising, litigious, inhospitable, irritable, peevish, antagonistic, hostile, unfriendly, inflexible, obdurate, and otherwise, a place where people do not play well together in the sandbox."

I hear you fella! I think that this affects our chances of finding a happy buyer for our house, although I remain optimistic that someone will overlook the town, and find this country retreat a welcome retreat! I am hoping that this election brings some sane leadership to the area, it wouldn't take much in the way of common sense and decency, to turn it all around.