Before going to work…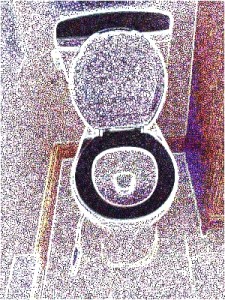 Lately I've been feeling a little overwhelmed by the poor management at work, wondering why the supervisor doesn't just make that return phone call to a customer, show up for that appointment on time etc. At the moment there aren't any checks and balances taking place on his activities, hope the company catches on sometime soon. In the meantime I try to mediate the distress the customers are feeling. I am beginning to worry that the poor fellow is suffering from the beginning stages of Alzheimer's, which is not an implausible explanation for his behavior. He seems like a nice enough man, as far as human beings go, but something is amiss.
Home from work, after supper…
While I was hard at work this morning, so was Attila working hard at home. He made two trips to the local dump, the first with the old toilet and the second with a stationary bicycle that he picked up at the side of the road years ago, thinking I might like it. I didn't. It has been sitting in our back yard ever since. Not anymore. It is now safely displayed in the recycle shed at the local dump.
Our little green Toyota is 13 years old and needs a bit of TLC. So Attila changed her oil and wired up her dragging muffler system. Good as new; ahem, well that is not possible. She will go for a few years yet though, on short trips.
Attila and I are enjoying a quiet evening. We have watched an episode of Northern Exposure, our favorite TV series and now we are looking at Internet news footage on Hurricane Irene. Our Rogers High Speed is so slow that each page takes almost five minutes to load, but does eventually load. This is working well for Attila, I can hear him snoring as he dozes, resting comfortably on his easy chair. It is working well for me too, because I'm writing this journal entry as I am waiting for the web pages to load.
Harriet called from her cottage, we are going to head over for a visit tomorrow, we haven't seen them since Canada Day weekend. I'm looking forward to seeing them, catching up with the news, sitting on the beach, perhaps even a boat ride!
Recently a new cookbook arrived at our house, courtesy of Attila's employer, they were clearing stock. My quote tonight is from that book, we found the writer very amusing. There is a recipe for cabbage stew that I really want to try. Cabbage is a wonder food, it is inexpensive, nutritious and easy to cook with. The Cookbook is The Sicilian Gentelman's Cookbook, by Don Barrata, Firefly Books, 2002.
Worldly Distractions
Weather
22 °C
Condition: Mostly Cloudy
Pressure: 101.1 kPa
Visibility: 16 km
Temperature: 22.0°C
Dewpoint: 17.8°C
Humidity: 77 %
Wind: NW 9 km/h
Humidex: 28
Quote
"On Dieting Without Hunger
The old man was once called upon to be best man at a wedding, but found that the formal dinner jacket and pants he owned had drastically shrunk after years of storage with too many mothballs. This is an invariable consequence even when the most expensive mothballs are used. Rather than take up an argument with the local mothball dealer, my father decided to reduce his own girth and thus outfox the villain.
Far from eating less, he simply took to cooking himself each night a stew of vegetables or fish, and eating all he wished…
The suit fit fine, though a little loosely, at the wedding…
So much, then, for the complex and extravagant diets after which modern sophisticates chase. They will chase in vain until, exhausted and disillusioned and tired of tilting at obscure windmills, they return to basics: rich, glorious soup…
Of course, there was the problem that his other suits were then too large (You might have noticed that we live in an imperfect world)…"
Source: The Sicilian Gentleman's Cookbook page 79