Life has been busy of late.

This past week Attila went into overdrive, finished installing the eavestrough along the back of the house, and installed the 1000 liter rain tank. We had a thunderstorm just after he got it all setup, and the tank filled in 10 minutes! The overflow was shocking, it poured onto the back porch in buckets, before Attila managed to redirect the downspout into the yard. He has since setup an overflow pipe into a second and third barrel to catch additional water. If the overflow barrels overflow, they will empty directly into the yard.

On Saturday we drove straight to the Camp, no stops. Our visits are more as maintenance staff than jolly vacationers!

The mouse trap in Grace the trailer is still collecting mice, so every visit involves burials and clean-up. Attila cut the "grass", which is really assorted native plants that are generally regarded as weeds. Cutting the grass with a strimmer is a very big job, that takes many hours to complete, but the results are beautiful. I killed about a dozen army worms. This is the first summer that they haven't swarmed at the Camp, so grateful for that! The water level in the swamp is falling. One of my favourite trees is suffering from a very bad case of black rot, I sprayed the areas I could reach with insecticidal soap, but I am not optimistic that it will be helpful.

The day at the Camp was beautiful, sunshine and clouds, breezy and not too hot, it was beautiful. On our last visit Attila planted six Ground Cherry plants that he had started from seed. One had been dug up by an animal, but the other five were surviving well. They were well watered before we left. While Attila was down by the swamp cutting grass, I heard a noise in the bush and turned to find a doe staring at me from the shadows. She slowly turned away and ambled off into the bush, with her fawn beside her. There are still quite a few birds at the Camp, seldom seen but constantly heard.

Taking a break from our labours, we enjoyed a quick lunch of cheese and homemade potato salad. Then it was back to work, much to be done! We did sit for an hour or so just before it was time to head home, enjoying the breeze, the swaying tree tops, the bird song, just being part of the natural world.

Sunday Attila installed a second 1000 liter rain tank to catch the water from the roof of the garden shed. This tank will fill more slowly than the first, so it does not have an overflow system. These tanks will provide better quality water for our garden plants, and reduce our water/sewer usage and billing from the municipality. He also mowed the yard, another big job, and tended the garden, mostly weeding, and he did more planting as well. Almost all the plants he grew from seed in his little greenhouse are in the ground, only a few left to plant.

My projects on Sunday kept me busy in the kitchen. I baked five loaves of 100% Whole Wheat Bread, one dozen 100% Whole Wheat Hamburger Buns, Apple Raisin Cinnamon Squares, and made four liters of Switchel.

During the week, Attila comes home and after showering the remains of the work day away, he heads into his garden. I make dinner while he is doing that, almost always in the Instant Pot, which works well because we only decide what we will have after Attila gets home from work. Attila eats and heads back to his garden. By the time the light begins to fade Attila will come back into the house, we will chat a bit, and then it is time to turn in for the night. Every day is different, and everyday is the same.

Monday was very busy paying bills, which has been challenging these last months, but is getting a little easier to accomplish. In the early morning before I arise, Attila is usually out and in the garden harvesting Swiss Chard and Beets for my breakfast or lunch, and picking the Strawberries that ripen, usually five or six Strawberries a day. My fresh garden meals are delicious!

Yesterday was Canada Day, so Attila had the day off. We celebrated by roasting a chicken in the portable oven on the back porch. So good! We gardened, and made coleslaw, which I canned, six 500-ml jars. It is so good. I used Tattler lids, they are reusable, and so much more ecnomical than using the disposable metal lids. I am still leary of them though, after having an 80% failure rate last year. This is the third batch I've canned using the Tattler lids, and they all sealed. My confidence is gaining with the Tattler lids. The trick for me has been to keep the lids and rings in a simmering pot of water, on a hot plate, on the counter, beside the work space where I fill the jars. When I was experiencing failures I was not keeping the lids and rings boiling hot before putting them on the jars.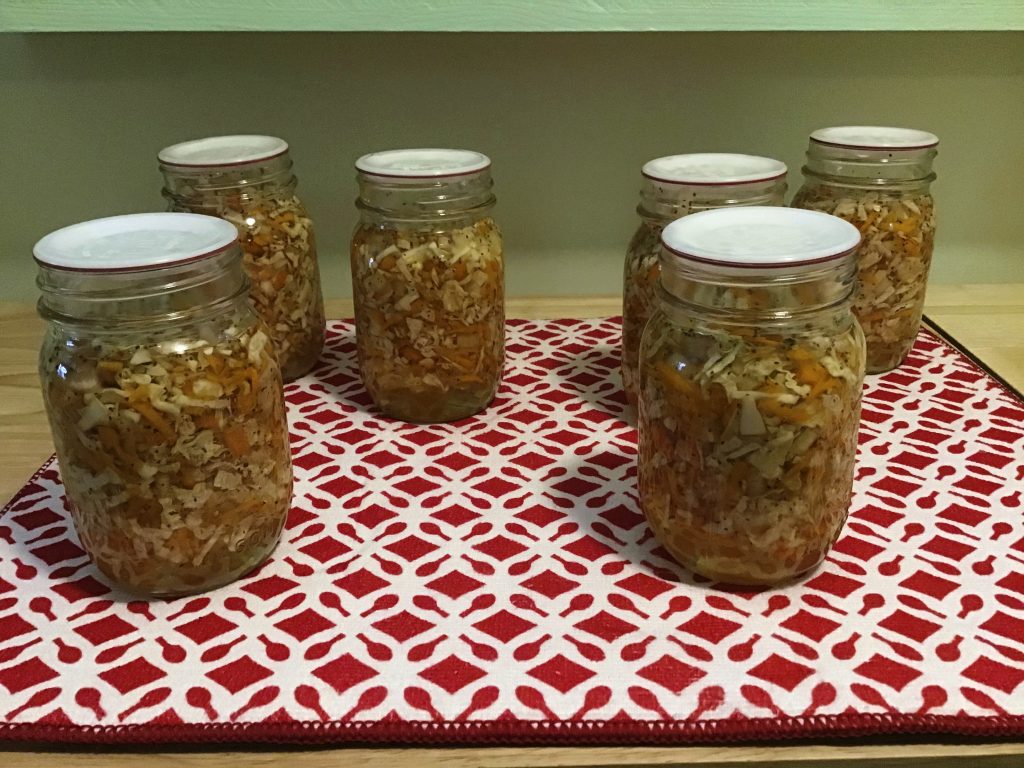 When I weeded the garden a few days ago, I brought in some of the Purslane that I pulled, I was going to add it to my stir fry, but changed my mind when I read about Spurge, a look alike plant, so I put the Purslane in the compost. However, I've now done additional research and feel sure what I harvested was Purslane. Yesterday, while weeding the garden, I saved more Purslane, washed it, and set it in a big metal bowl of cold water. Wow, this plant would thrive in a hydroponic system!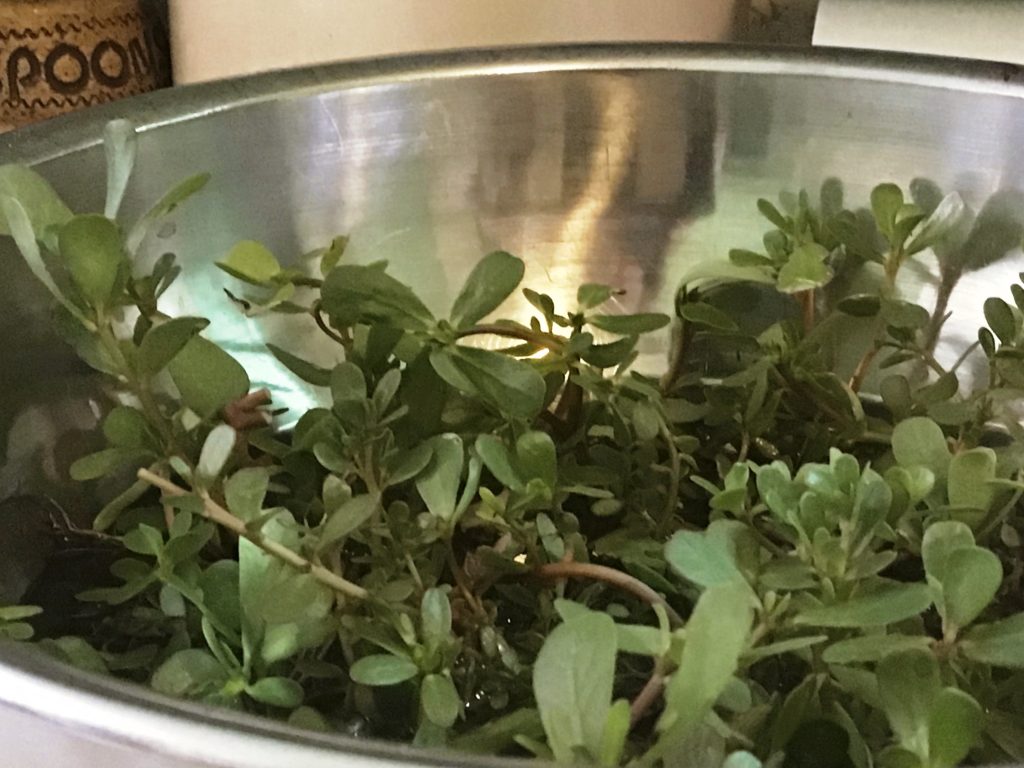 So here it is, July already! I have resigned myself to not being able to get fresh local Strawberries this summer, no one delivers, and I dare not venture out into areas where potentially coronavirus infected people are roaming without a care. I purchased some frozen Strawberries, not a product of Canada, which is all I could access easily. I have plans to can Strawberry Rhubarb pie filling, with the frozen Rhubarb from our garden, and the frozen Strawberries from God Knows Where. No hurry, all of the ingredients are frozen.

It has now been 135 days since I ventured into a store or public place. I've seen no one in person, other than Attila, during that time. I do miss grocery shopping, and shopping for supplies. I am grateful we can still drive directly to the Camp though, it is a change of scene, even if it is mainly for maintenance purposes.

Take good care of yourselves! Stay safe! Stay strong!
Worldly
Weather
It is going to be stinking hot today!!

28°C
Date: 9:00 AM EDT Thursday 2 July 2020
Condition: Mainly Sunny
Pressure: 101.1 kPa
Tendency: Falling
Temperature: 27.7°C
Dew point: 17.7°C
Humidity: 54%
Wind: NW 11 km/h
Humidex: 33
Visibility: 24 km
Quote
"Normality is a paved road: It's comfortable to walk, but no flowers grow on it."
Vincent Van Gogh
1853-1890

So very true, I love to visit normality, but I wouldn't want to live there… no fear (or is it chance) of that. Maggie