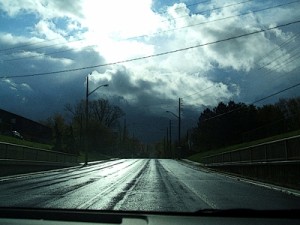 I am feeling much better, after quite a run with that miserable cold. The cough is almost gone and I've been sleeping through the night every night, getting some much needed rest.
We drove to the doctor's office for our flu shots on Monday evening, it is a two hour trip, one hour there, one hour back. With my allergy I need to trust whoever is injecting substances into my body, so I will not go to a public clinic as they are seldom prepared to answer my detailed questions about the shot ingredients. My doctor's office is prepared for me. The real bonus is that Helen, the nurse who give the shot, is a real pro at giving needles. I didn't even feel it!
The heating season has begun; Attila is out chopping firewood as I write. It is still relatively mild though, so he is able to keep the house cozy and warm with only one roaring fire each day.
I believe my bout of ill health is a direct result of three factors. One, the most significant I think, is sitting all day in a windowless room, then driving home to sit yet again in my cozy easy chair. Two, burning the candle at all ends working six days a week. And three, working for a selfish and lazy manager and under a very demanding off-site supervisor who is a cracker-jack worker and becomes frustrated with the problems caused by the lazy guy. I am caught in the middle.
So to address the first issue Attila and I are walking each evening, unless it rains and then I stay indoors so as not to risk getting sick all over again. To address the second issue I've decided to turn down Saturday work as of the second week in December, until after the New Year. Issue number three isn't resolvable, but I figure if I can still sleep most nights I'll get by; I just have to keep smiling while I am at work and forgetting those people the second I close the door behind me at the end of the day.
Attila and I had a little shock last week. I was vacuuming the carpet in our country house bedroom when I noticed black mildew all along the baseboard. By gum, the stuff had conquered about three feet of baseboard. What a smell! So Attila ripped out the baseboard, found the leak in the window that caused the water damage and fixed it, temporarily. I got out the bleach and cleaned the area thoroughly. We are going to need new windows in the bedroom as soon as possible, but will try to put it off until spring if we can. The window opening is about eight feet wide and six feet high; expensive windows to replace.
So all is well here as we settle into the cooler weather and enjoy our last snow-free days of the season.
Worldly Distractions
Weather
2 °C
Condition: Mainly Clear
Pressure: 100.8 kPa
Visibility: 16 km
Temperature: 1.7°C
Dewpoint: 0.0°C
Humidity: 89 %
Wind: SW 9 km/h
Quote 
"Oh sleep! It is a gentle thing,
Beloved from pole to pole."
Samuel Taylor Coleridge
1772 – 1834