I'm on my way!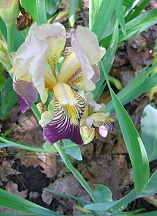 I've added a few of my own graphics to the site design and am now beginning to experiment with submitting entries.  The archives will remain on my static web site, as will my recipes, list of people I refer to (Cast), poetry and photography: all listed in the column to the right of this entry, under Favorites.
I'll be testing these functions and pondering on the boring details of how to get things done; at least for a while.
Yesterday, before the rain started, I took a little tour of the garden. From a distance, this iris is hardly noticed.  How glad I was to have taken a closer look!
Attila works today, we are both working next Saturday.  I don't mind working on a Saturday when Attila is working on Saturday, why not!  However, when Attila has one of his few two-day weekends I intend to be here at home with him.  I think his next weekend off is in August, and we are both looking forward to it.
We are in need of supplies, so a jaunt to the grocery store is in order at some point this weekend. We can drive 35 km to a centre with a few retail outlets, or drive 60 km to a centre with all the retail outlets we need to visit.  Those are our choices.  In our part of the country shops and services are few and far between, so one must make an outing of every shopping trip, and make sure to make a list and attain everything on it.
Of course there are shops in the local village, closer to our home.  These shops are meant to serve the seasonal residents and the prices are well beyond our means.  We don't actually need to buy the most expensive cuts of meat available in Canada, or "exotic" foods like fresh salmon, smoked trout and imported cheeses.  The market is small in this little village, for tough cuts of meat (the ones we can afford) or sale items such as you see in chain grocery stores.  The difference in the price of a bag of milk, between our little local grocery and the nearest chain store 35 km away, is enough to pay for the fuel to travel 35 km times two.
In the summer this outing to purchase food and supplies is a source of pleasure.  In the winter it is another matter altogether.
Yesterday, despite my better judgement, I delivered a resume to a local business advertising for an office manager.  Sigh.  I want to give up, but something in me just keeps on trying to survive!  It will only take one tiny bit of good luck, just one thin wafer of good fortune, to put us back on our feet. Funny old world!
Worldly Distractions
On The Screen
Antonia's Line
The DVD was defective, so we watched this video in two parts.  The first part we watched via the DVD player on the television set.  Then we watched the remainer of the movie on my computer, because the computer software was able to detect and skip the damaged area of the DVD.
Quote
"Computers make it easier to do a lot of things, but most of the things they make it easier to do don't need to be done."
Andy Rooney 1919-
Weather
14C
Condition:Cloudy
Pressure:101.6 kPa
Visibility:16 km
Temperature:14.0°C
Dewpoint:13.0°C
Humidity:94 %
Wind:ESE 11 km/h