Here I am again.  This new venue is easier to post from and more difficult to post from.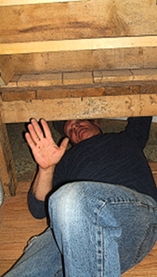 It is easier to post from because the coding is already there, all I have to do is type and then click on Publish and the deed is done.
It is more difficult because it feels different, more distant, less my own.  That is because I have less control over this type of digital interface than I did with the hand-coded web site.  I don't entirely trust this way of doing things, not in the long term.  That is because I have no intention of becoming a server software power user or a database/php guru.  If problems arise with those functions, I'll be helpless to fix them myself.  My entries might be lost to me, forever.  I don't trust database backups, because I don't know how to restore the backup to its original glory.
This morning Attila and I sat over our morning coffee and discussed our game plan for the day.  I made a list of odd jobs I could accomplish, and suggested that he finish the job he started last week.  I wouldn't normally press Attila on finishing a project, but this one involved emptying out a closet onto the family room floor.  I won't be able to tolerate that mess for very long and it is in a high traffic area so it cannot remain "out of sight, out of mind".  Nothing for it but to get the job done.
After a quick breakfast Attila and I tackled emptying the last shelf in the closet, so that he could crawl into the small space under the stair landing.  It is damp in there, and it smells musty.
The day I took possession of this house I found multiple mouse traps and dead mice in that little space under the landing.  The smell was intolerable.  We cleaned that out and haven't looked at it since.  The mice are long gone, the bad smell a memory, but the mustiness remains.  Attila is adjusting the vapour barrier, the insulation and putting wallboard over the studs this morning.  He has already installed a grate in the stair riser so that fresh air will circulate and damp can escape.
Our 25 year old dehumidifier expired of old age a few weeks ago.  I bought a new one last week, one of the two left at the store.  It is doing its magic downstairs, removing the dampness from underneath the stair landing, slowly but surely.
We plan on packing up our Swede Saw and heading over to Caitrìona's property later today. There is maple sapling, a very stubborn maple sapling, growing up under the side porch. Attila will crawl under the porch and remove the stump and most of the root.  We will also fetch water, as it is spring fed and makes excellent drinking water.
The sky is overcast this morning, but with any luck the sun will break through by this afternoon, making it a pleasant day for a drive.
Yesterday Harriet and I chatted over Skype.  Skype is not perfect, but it is so much more satisfying than email, chat, texting or telephone contact.  The biggest problem with Skype is that Harriet couldn't share her dessert with me, and it did look good!
Worldly Distractions
Quote
"Man is so made that he can only find relaxation from one kind of labor by taking up another."
Anatole France
(1844 – 1924)
Weather
16C
Cloudy
Pressure:101.5 kPa
Visibility:16 km
Temperature:16.0°C
Dewpoint:12.8°C
Humidity:81 %
Wind:NE 5 km/h