Looking out the window this morning, at first light, I could see snow mixed with the spitting rain. I rose from my chair to get a better look out of the window. The white flakes melted on contact with earthly surfaces, no accumulation today. In the ash tree outside the window, a beautiful Blue Jay fluttered from branch to branch, found the few remaining seeds, then flew off to try his/her luck further down the street.
I have become accustomed to visiting Facebook each day to see what my friends are up to. There are friends on my friends list who really are friends! However, lately I've noticed a subtle state of uneasiness, which manifests as anxiety as I try to fall asleep at night. I am wondering if it is related to Facebook, and the "friends" who aren't really friends, just interesting people on my friends list. So today is a day that I will not login to Facebook, and perhaps tomorrow and the next day too. It remains to be seen if Facebook is at the root of the uneasiness.
Facebook is not a particularly healthy place in which to spend time. It is full of emotionally homeless people. And here I failed, I had to write that on Facebook, the emotionally homeless concept, could not resist! And while I was there I noticed that someone had tagged me in a comment, and so visited the comment to see what was up, and got a link to a very useful archival technique tutorial for removing photographs from those old gluey photograph albums. Facebook has its positive aspects. I am back now though, logged out, closed the browser window, narrow escape.
I will continue to use the Internet to work on my genealogy, and was hard at it this morning by 6:30 a.m. I haven't discovered any new-to-me data, but the process of research is like peeling an onion, layer by layer information is revealed. Every day spent with the records could bring to light something new and interesting.
It is an odd sensation, while perusing files on ancestry, to find my Grandpa and his personal information listed on a stranger's family tree. They are not related, as far as I know. It is just weird to see strangers sifting through my family identity. I also collect information on people I am not directly related to, but who have been a part of the communities where my ancestors lived. I don't post it on the internet though, nor do I hand over the connections, images and stories I have found to the multinational corporation that is ancestry. It is also interesting how misinformation is published and then shared with confidence in its legitimacy. That is one of the reasons I publish books with references, references that will verify the information shared.
After renovation projects there is always cleaning to be done, and clutter to clear. Furniture needs to be returned to its rightful place. This need was graphically demonstrated to me this morning, as I bumped my bad knee on an end table that was sitting in an unaccustomed spot, thankfully sustaining only a bleeding surface wound; so far the arthritis does not seem to be flaring up.
Attila has been working hard this fall, new windows in the dining area, a new window in the back bedroom, and a new kitchen floor. Renovating Mist Cottage has been a slow and laborious series of projects, which began in 2010. Attila has done all of the work himself, with the exception of putting on the new roof and gutting the basement, when Lares helped him, and the hiring of a contractor to dig and install the footing drainage around the basement. Because Mist Cottage is so small, each renovation project is intrusive and requires significant adjustments in the way we live, for the duration of the project. Because the renovations advance slowly, we are able to savour each improvement, enjoy each change to the fullest extent. Soon, I think, both the bathroom and the kitchen renovations will be completed to our satisfaction. Then I think Attila will hang up his tools until the spring, when he will tackle putting a new roof on the garage.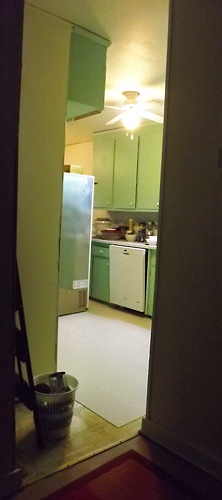 The new floor project as it stands today. The refrigerator and the range have been moved back to where they belong, we can cook again!
Worldly Distractions
Weather
2°C
Date: 6:00 AM EST Monday 13 November 2017
Condition: Light Rain and Snow
Pressure: 102.9 kPa
Tendency: Rising
Temperature: 1.5°C
Dew point: -0.6°C
Humidity: 86%
Wind: ESE 12 km/h
Visibility: 16 km
Quote
"Nothing is really work unless you would rather be doing something else."
James M. Barrie
1860 – 1937