It is sunny here this morning. As you can see from the weather information below, our weather is all over the place. Wednesday night is supposed to be -19C, and then the temperatures will swing up again. It has been a bit of a roller coaster through February.

We are enjoying a Statutory Holiday today, Family Day. I would have preferred if it had been called something a little more inclusive, such as Kindness Day, or Friendship Day, which would include families and those who are flying solo through life, but the government decided on Family Day, so Family Day it is. Whatever it is called, it is a welcome break in the dead of winter.

As I sit here typing, I can hear scratchy noises from down in the basement, with intermittent sharp cracking sounds. That would be Attila. Yesterday he moved the freezer out of the way, and finished installing electrical boxes, so that today he could install the last large stretch of wall with vapour barrier today. After he tapes the vapour barrier he will cut and install the last big sheets of drywall. I will help him carry in the drywall, it is so awkward to move it around in the cluttered basement. When the drywall is screwed on, it will be time to tape it, and then paint it.

There are two sections of the basement that will be very difficult to complete. One is the wall behind my canning jars, which will all have to be moved, a daunting task, I have a lot of thinking through before that gets tackled. That wall is insulated, with taped vapour barrier installed, but it needs drywall. The other finicky bit is a 16 inch space behind two full three drawer filing cabinets. Attila only wants to move those once, so he is waiting until we organize down there, and know where they will be placed long-term.

I've been having a ball in the kitchen. Yesterday I baked a dozen Cranberry Chocolate Chip Muffins, and used most of the whey I had collected when straining my latest batch of yogurt. A batch of Apple Cinnamon Raisin Walnut Muffins went into the oven after that, and Strawberry Rhubarb Squares went into the oven when they came out. After all that I cooked a pork roast in the Instant Pot, made gravy, and we enjoyed a meat and potatoes dinner.

Condiments from the grocery store have a lot of sodium in them. I have made low-sodium pickles, relish, and chow chow. But I have been craving Sweet Thai Chili Sauce, and Plum Sauce, two favourites that have been off-limits for years due to their high sodium and sugar content. So I thought I would give it a go, making my own. I started with recipes I found on the internet, recipes full of salt and sugar, tasty! But not for me. I omitted the salt called for, and substituted liquid stevia for the sugar called for. For the plum sauce I used pureed pie pumpkin instead of plums. The results were KAPOW! Even Attila choked a bit when he agreed to a taste test. My versions are full of flavour, perhaps a little too acidic, perhaps not. What I am noticing, as I learn to cook with liquid stevia, is that it does not cut the acid the way cane sugar does, so the amount of vinegar may need to be reduced, or perhaps there is another trick yet to be discovered. I use these sauces to mix with noodles and cooked vegetables, so they might be great, or not. I have yet to try them. I won't share the recipes because they are a work in progress.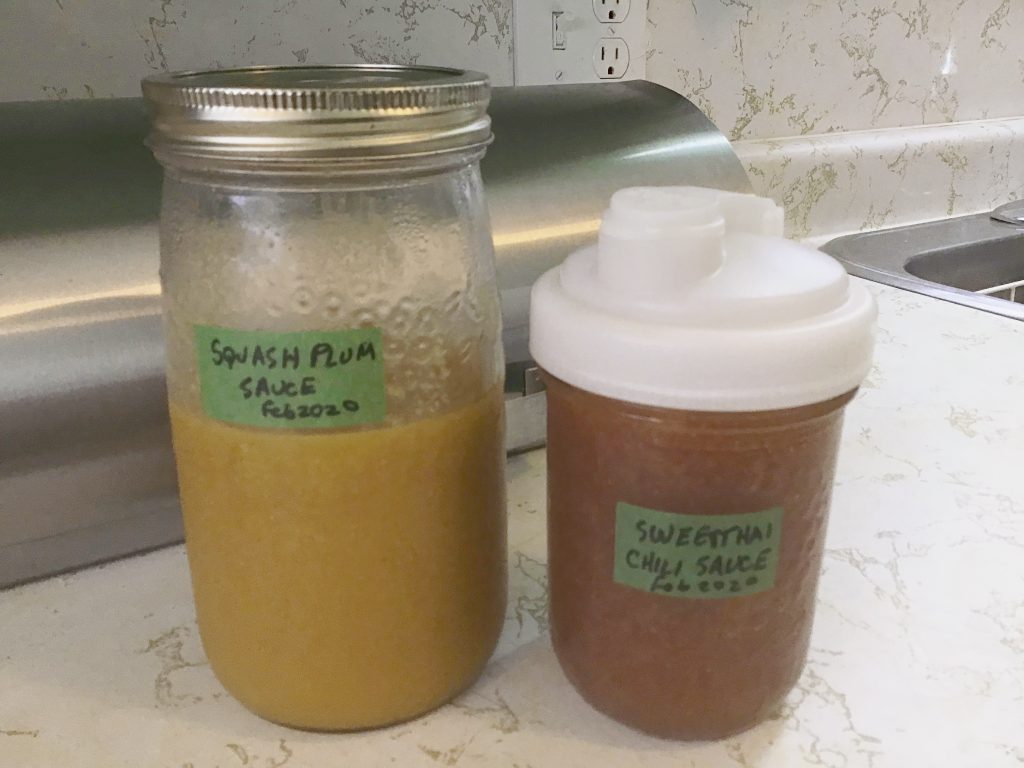 My biggest and best project for the weekend turns out to be a vegetable project. When we were shopping for supplies on Saturday, sweet potatoes were on sale, so one was purchased. Today it was peeled and small portion of it was cut into 1/2 inch strips. Out came the Air Fryer, which I've not yet used, and Attila uses constantly. He agreed to walk me through the process, to make Sweet Potato Fries. Who knew! I omitted the salt and pepper, and replaced them with 1/2 teaspoon of onion powder (our garden onions dehydrated), then tried the air fryer for the first time. Attila stood by to provide support, as I pushed buttons and learned how to use the appliance. It is very easy to use. WOW! These are so good that not for one second did I miss salt! They are healthy enough that they are good for breakfast, for lunch, for dinner, for snacks. This Air Fryer has real potential for the low-sodium, low-sugar, low-cholesterol eating regime.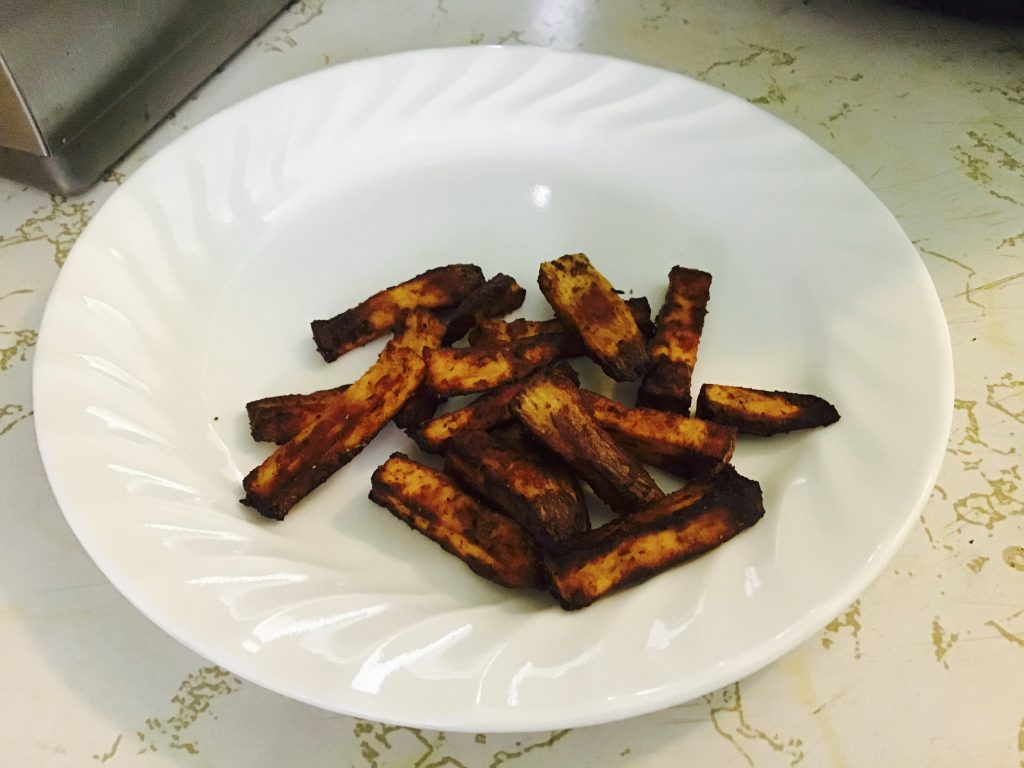 We were talking about which appliance we might prefer, the Instant Pot or the Air Fryer, if we had to choose but one. I would choose the Instant Pot, hands down, and thought Attila would choose the Air Fryer. But no, he also chose the Instant Pot, for its immense versatility in preparing ingredients and whole dishes.

While not in the kitchen, you will find me shuffling our belongings from here to there, as I go through the daily chores. The house is not as cluttered when we first stuffed 1800 square feet of furniture and belongings into a 640 square foot house, but still, it is cluttered with the basement storage under renovation. Eventually the basement will be completely insulated and the daunting task of organization will begin.

We do everything in this little house that we would do if we lived in a bigger house. We grow food, and store all the related equipment. We preserve food, and store all the related equipment. We cook almost everything from scratch, and store the related equipment. Very little goes out to the garbage, or even recycling, and there are weeks where we do not put out anything for garbage pickup or recycling. The renovation projects require equipment and supplies, all stored on site. Every square inch on the main floor of our little house is in constant use.

The lap blanket I am crocheting for Attila is coming along slowly, the last ball of yarn for the body of the blanket has been started, and the yarn for the border, picked out by Attila, has been purchased. I anticipate completing this blanket before spring begins. I thought it would be finished last winter, ha! Plans, no use getting too attached to them.
Worldly
Weather
-22°C
Date: 5:00 AM EST Friday 14 February 2020
Condition: Not observed
Pressure: 103.1 kPa
Tendency: Rising
Temperature: -21.7°C
Dew point: -26.4°C
Humidity: 66%
Wind: NNW 13 km/h
Wind Chill: -30
Visibility: 24 km
-6°C
Date: 10:00 AM EST Monday 17 February 2020
Condition: Partly Cloudy
Pressure: 102.8 kPa
Tendency: Rising
Temperature: -6.2°C
Dew point: -12.6°C
Humidity: 61%
Wind: NNE 14 km/h
Wind Chill: -12
Visibility: 24 km
Quote
"Everyone thinks of changing the world, but no one thinks of changing himself."
Leo Tolstoy
1828 – 1910