Although I am an experienced canner, I am no stranger to failure. My penchant for experimentation gets me into trouble sometimes, other times it has delightful results. Yesterday was one of the times that things didn't go according to hopes.
The first batch of canned Northern Spy Apples was successful, but for the packaging that was mistakenly left inside the canning lid during the canning session. The resulting canned apples were delicious, almost perfect, but there was some concern that they were shelf safe, so into the refrigerator they went. The first jar was opened and tasted wonderful!
Yesterday another 26 Northern Spy apples were peeled, cored, and diced. That was a big job. Then one teaspoon of sugar was added to each canning jar, the apples ladled into the jars, topped up with the water they had boiled in. Rims were checked, lids were placed on the jars, and the rings were screwed on the to the new very light "finger tight" that I had seen in a video. My usual finger tight is much tighter than this, so this was the first time I tried this new method of finger tightening in the pressure canner. The jars were pressure canned at 10 psi for 8 minutes.
The jars were removed from the canner when the pressure had fallen to zero. There was a surprise in store. The liquid in the jars had leaked out, about half of it from each jar. The jars were sticky, so the sugar must have dissolved so that it was a sugar syrup that escaped from the jars. All of the jars were sealed.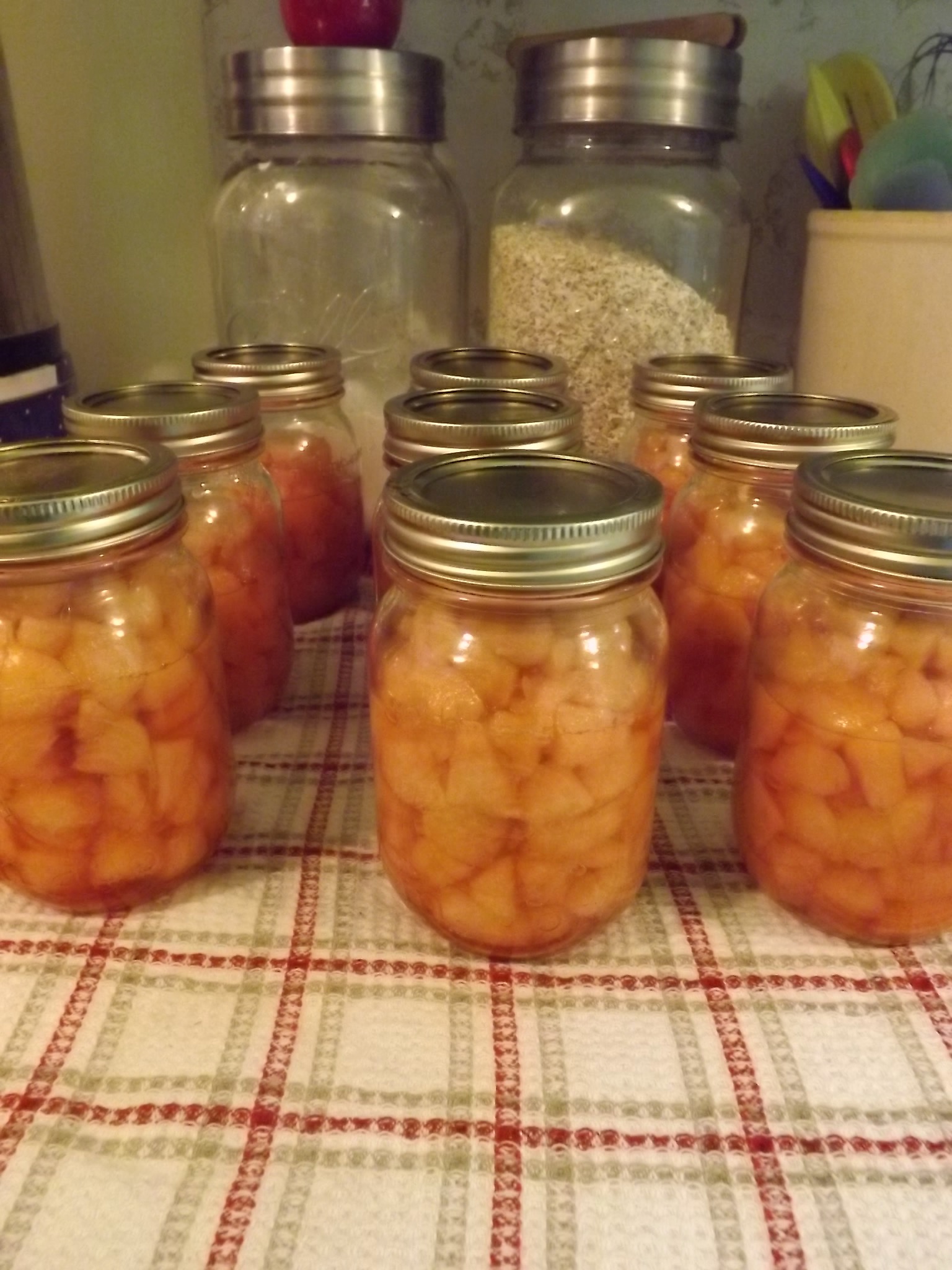 I am suspicious that the leaking liquid was a result of the lightly finger tightened rings. I will try this again sometime, but jars headed for the pressure canner will be finger tightened more securely. The lightly finger tightened rings are fine for the steam canner, but not for the pressure canner.
I had a half a jar of these apples for breakfast, with fresh-baked biscuits. Oh my they were good! Not very sweet, but not tart either. An apple a day is what they say!
I tired myself out yesterday, preparing all those apples for canning. Today is a day to take it easy, paying bills, putting away canning equipment, reading, and anything else that takes my fancy. And I think I'll just have myself another one of the biscuits!
Worldly
Weather
7°C
Condition: Mostly Cloudy
Pressure: 101.5 kPa
Tendency: Falling
Temperature: 7.4°C
Dew point: 4.8°C
Humidity: 83%
Wind: ENE 7 km/h
Visibility: 24 km
Quote
"All love that has not friendship for its base, is like a mansion built upon sand."
Ella Wheeler Wilcox
1850 – 1919