Thanksgiving was a busy holiday weekend! Attila had the Monday statutory holiday off work, so we bundled our lumber and food into the car, and headed for the little house in the city on Saturday, after he arrived home from work.
The bathroom renovation took over our renovation vacation completely. We had intended to use our time to build a front step on the house, where the front porch had been removed, and the foundation dug up and waterproofed. There was no time for the front step project during out vacation.
Attila has been determined to get the front step project going though, and having two consecutive days off work would allow him a bit of a run at the project. He began working on the front steps within an hour of arriving at the little house in the city, late Saturday afternoon. He continued through until after dark, then resumed early Sunday morning, working again till after dark Sunday night, and then all day yesterday, Monday. He made good progress, but ran into a few challenges, needing materials that could not be had, as the stores are closed on statutory holidays. There is one remaining two-day weekend for us this year, so that will be dedicated to trying to get that front step finished!
The new front step, not finished of course! The steps have been built, but the bottom step is way too high off the ground, so we need to either add another step, or create a concrete landing at a height that will provide a normal rise on the first step. The concrete solution is favoured at the moment. Other solutions involve replacing the risers, or landscaping. We are running out of time, winter is on the way!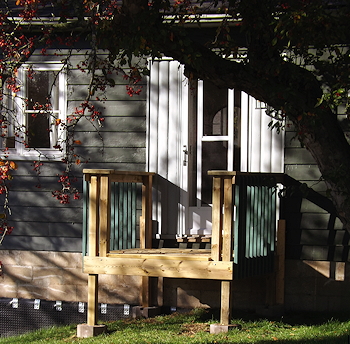 On Sunday Terra was able to drop by, before her night shift, to share a turkey dinner with us. That was my project for the weekend, to prepare a turkey dinner. Those new pots and pans that we purchased with our points, at the beginning of September, were marvellous to work with! I was able to cook all the different vegetables, simultaneously, with ease. Everything was ready at the same time; nothing had to be kept warm while the pot it had cooked in was washed and used a second time to cook another vegetable!
I discovered the hard way that overeating at a feast, and then taking ibuprofen, is a very bad idea! I spent the entire night sitting or pacing, with my gastrointestinal system on fire! Silly me!
The ibuprofen is for my back, as the last time I cut the lawn I hurt my back trying to get the lawn mower started. The pull start on a mower is a miserable affair! The ibuprofen did the job though, the inflammation has subsided and I am feeling more comfortable. Next time I will begin a course of ibuprofen immediately after injuring myself!
We really like our neighbours at the little house in the city, all that we have met to date. Our immediate neighbours had an old freezer they wanted to get rid of, a little apartment size affair. So we went over and had a lovely visit with them, taking the old freezer with us when we returned home. It works very well, although it is not energy efficient. Beggars can't be choosers though. We are grateful to have it!
We were greatly disappointed when the used fridge, that we had purchased for the little house in the city, stopped working over the weekend. Terrible luck! It is a high end Kitchen Aid, that we picked up for a song as a result of Lare's mother's kitchen renovation. We tried different things, but nothing brought the old refrigerator back to life. Nothing for it but to move everything into coolers!
Luckily we have the new used freezers! All of the food from the refrigerator freezer fit into the apartment sized freezer. All of the food from the refrigerator was moved into two coolers and we brought that food home to the country house with us. We were able to make ice to keep the coolers cool in our new used freezers.
We reviewed our finances, and a new refrigerator at this time is not in the budget. So coolers it is! Thank goodness we have the new used freezers to keep us supplied with ice for the coolers. We will also use our emergency Koolatron as our main refrigeration at the little house, for beverages and frequently used items.
Maybe in a few years we can accumulate enough points on one of our cards to buy another refrigerator. Until then, we will manage with our coolers.
I have finally managed to find a manual for this old Kitchen Aid refrigerator. The internet does offer some tips on home repair, which will be attempted before giving up entirely. But if it is the compressor that has given up the ghost, no attempt will be made to repair it.
Another issue will be how to get rid of the very large Kitchen Aid refrigerator that no longer works. We certainly cannot move it with our car! I do not think it is old enough to qualify for free carting away by the hydro people. It is a dilemma. We have time though, to resolve it. In the meantime I will advocate moving the old refrigerator into the garage, until it is old enough for hydro to pick it up.
It seems such a shame that this perfectly good framework for refrigeration will end up in a landfill! The refrigerator, if the cooling system were a better quality, could last a few lifetimes!!! The waste disgusts me. My Grandmother's refrigerator, which is older than I am, many, many decades old, was still working when it was stolen, a few years ago.
In August our country house refrigerator gave up the ghost. We replaced it immediately. But a second refrigerator at a second property is a luxury. Perhaps at some point we will find an old one that is being given away, you never know!
Things to do today:
1. watch the pink dawn
2. watch leaves drifting down
3. enjoy the sunshine
4. listen to classical piano
5. cook pinto beans for a future batch of baked beans
6. wash up the dishes
7. dismantle and bring in the patio table
8. look forward to turkey leftovers for dinner
Worldly Distractions
Weather
13°C
Date: 11:00 AM EDT Tuesday 15 October 2013
Condition: Sunny
Pressure: 102.3 kPa
Visibility: 16 km
Temperature: 12.8°C
Dewpoint: 6.5°C
Humidity: 65%
Wind: SE 8 km/h
Quote
The quote below expresses the sentiment behind my decision, for insisting on writing my blog using my own server space, my own domain, and my own installed software. Of course, bots from facebook visit this site four times after each entry is posted, which tells you something about data gobbling greed, in my view. But since it is public, I don't block them. But they don't own my content, or control the way in which I choose to communicate it. I think about how much power the banks have to control our lives and how we do things, by controlling how we can use money; and then I think about how much more powerful a corporation would be if they could control how we can communicate with each other. Cause for pause.
"I use Google+ as the source for posts that will also go to Twitter and
Facebook and LinkedIn, via the Friends+Me service.
https://friendsplus.me/
I treat all of them as distribution methods for things I want to make
fully public, and I'll interact with readers who respond on any of
them, but I ignore pretty much everything that others say on Google+
and Facebook – I pay a bit more attention to Twitter.
I think it's VERY dangerous to become in any way dependent on any of
these services – they own your data and can (and will) do all sorts of
things with it that you can't anticipate and may be troubled by. So I
refuse to use them for anything that isn't entirely public."
Adam Engst, October 14, 2013
Note
Adam Engst
"Engst is notably the publisher of TidBITS, one of the oldest Internet-based email newsletters, which is distributed weekly to tens of thousands of readers. He has also written many technical books, including the best-selling Internet Starter Kit series in the 1990s, books on Eudora and iPhoto, and magazine articles for MacUser, MacWEEK, and Macworld. Adam is the publisher of the Take Control book series; his wife, Tonya Engst, is the editor in chief of the series.
Engst is well known for his interest and support of the Macintosh community, repeatedly ranking in the top five in the annual MDJ Power 25 survey of the most influential people in the Macintosh ecosystem.
He is particularly proud of the fact that he is one of the few industry figures who has been turned into an action figure."
Source: http://en.wikipedia.org/wiki/Adam_C._Engst