An eventful weekend around here. Friday Terra's water broke, 7 weeks premature, so she drove herself into the hospital. We dropped in on her Friday night, she was in good spirits and feeling fine. The babies were under close surveillance, their heartbeats strong, and they were quite active. The idea was that the babies might wait to be born, so Terra would stay in hospital until they arrived, hopefully in at least three weeks time. Such was not to be. We got a call at 5:30 a.m. this morning from Lares to say that they were on their way, and three hours later Lares called back to say they had been born. He had no details on their health, they hadn't been assessed yet, but he said they looked fine, their heart beats were strong, no obvious problems. They will be in NICU for some time. The boy I will nickname Sunny, and the girl Sky. Sunny was 3 pounds 3 ounces at birth, and Sky was 3 pounds 8 ounces at birth. It seems that all will be well, but a little complicated for a few months. Terra is doing well. And so their heart's desire has been granted, and their adventure begins.
On Saturday Attila and I took a day trip to the Rideau Camp. Things were still very dry there, so the complete ban on any kind of burning was in effect. Attila prepared the path to the site for the humanure compost bin, and the area where it will be placed. I hand picked all new growth of brambles from the site. Early in the spring, after I had dug up and burned all the brambles on the site, quite a job, I sowed white clover seed over the entire area. It has taken off and flourished. The bees were really enjoying it. This year the bumble bees are huge, almost an inch long and very fat. They are a lot of fun to watch, as they bumble their way around the site.
We also found hundreds of army worms climbing the trees at the camp site. We spent a few hours killing them, but I am not sure that will deter the other flanks of the army as it descends on our forest.
We ate a lovely picnic lunch at the Rideau Camp, then packed our things and headed out to tour the local area. Attila picked a route that rambled through a half dozen small villages. It was a perfect day for roving, the sun shone brightly, and fluffy clouds lumbered across the sky. We located a hiking park, but did not stop to go for a hike. We also viewed an historic bridge, and found a canoe route rest stop along the Rideau system. We were hoping to find a source of potable water, just a tap with water where one could drink, and fill water jugs. We did not find any public source of drinking water, so we will have to keep looking. I had called the Township office and they knew of no public source of drinking water. It looks as if we may have to get our well working sooner rather than later.
I believe this is a Tiger Beetle, it was crawling on the ground near the camp fire pit, it caught my eye immediately.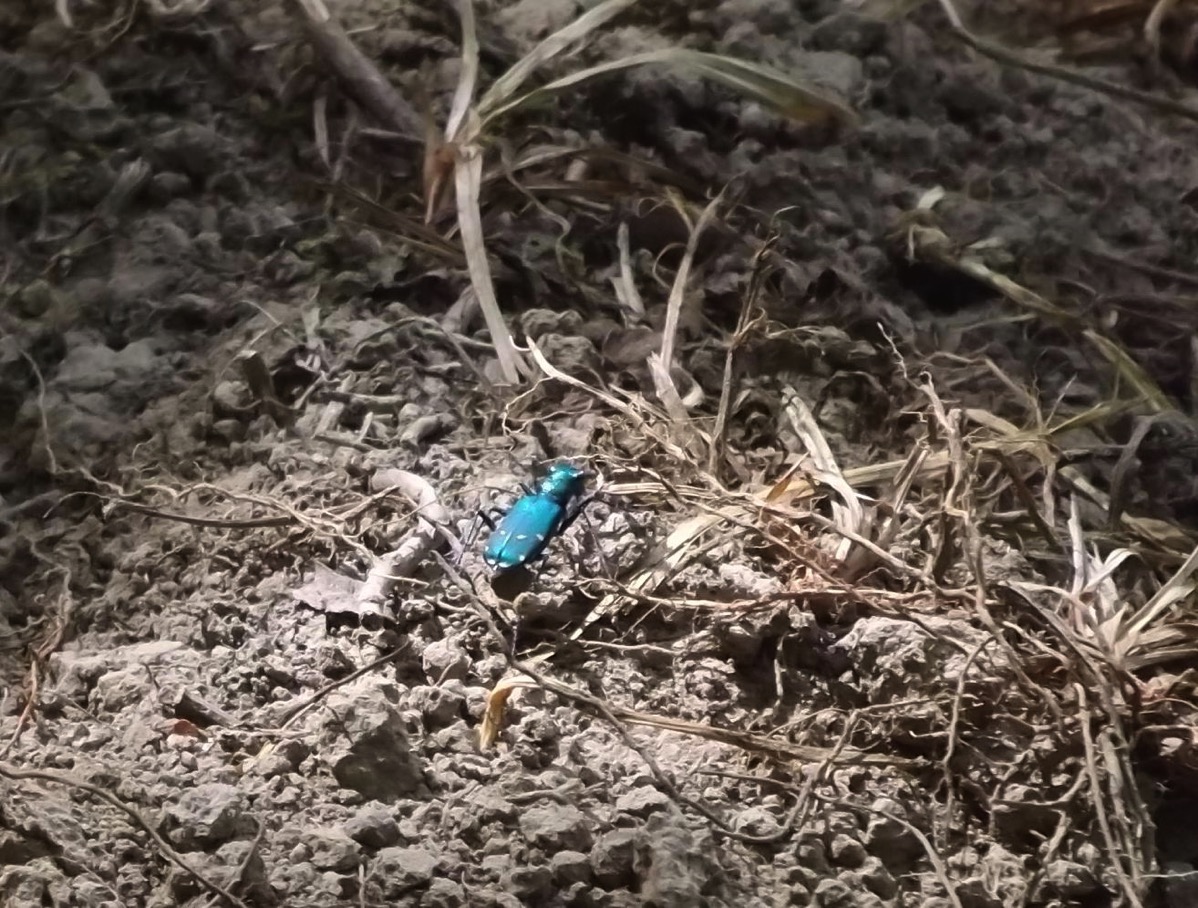 Yesterday we awoke to torrential rain and high winds. It was an exciting day. Lares called and asked us if we would drive out to their place and let the dogs out for a while, and feed them, which we did. We timed our visit to see our new Grandbabies so that it did not coincide with other visitors, except Luna who had decided to stay for a few days, which meant we could go into the NICU with Terra and Lares to visit the babies. They are very tiny. Sunny slept the whole time we were visiting, he is a little further behind than his sister, so he needed an oxygen tube in his lungs, and the "blue light" to make things easier on his liver (hyperbilirubinaemia). As Terra spoke to him gently he stirred and gave a little sigh, recognizing her voice. Sky was awake and very active during our visit. She opened her eyes, to have a look around, and when the light was shone on the incubator so that the nurse could perform a task, Sky placed her hands over her eyes. She too responded to Terra's voice. They are off to a challenging start, but they are all in very good hands, and the prognosis is good.
Terra will be going home in a few days time, and then she will begin to develop the routine of daily visits to her babies in the NICU, a thirty minute drive from her home, for close to two months. Although it will be difficult, she will be totally prepared for their arrival home.
So there we are, Attila and I are the Grandparents of seven Grandchildren. It seems incredible, and yet by the standards of our family history, the number is small indeed.
Worldly Distractions
Weather
16°C
Date: 7:00 AM EDT Friday 3 June 2016
Condition: Mainly Sunny
Pressure: 101.7 kPa
Tendency: rising
Visibility: 24 km
Temperature: 15.8°C
Dewpoint: 11.6°C
Humidity: 76%
Wind: W 5 km/h
Today
Sunny. Becoming a mix of sun and cloud this afternoon. Wind becoming southwest 20 km/h this afternoon. High 26 except 22 near Lake Ontario. UV index 7 or high.
Tonight
A few clouds. Wind southwest 20 km/h becoming light this evening. Low 14.
17C
Date: 5:00 AM EDT Sunday 5 June 2016
Condition: Not observed
Pressure: 100.6 kPa
Tendency: falling
Temperature: 16.7°C
Dewpoint:
13.4°C Humidity: 81%
Wind: ENE 8 km/h
Today Showers with risk of a thunderstorm. Amount 15 to 25 mm. Wind becoming south 20 km/h gusting to 40 late this morning. High 20. UV index 3 or moderate.
Tonight Cloudy with 60 percent chance of showers. Wind south 20 km/h. Low 14.
Quote
"You can learn many things from children. How much patience you have, for instance."
Franklin P. Jones