I am on a mental ramble here, which is how undisciplined I have become since leaving the academy. Sometimes I feel concerned about it, but most of the time I am having the time of my life, and I value the joy of living.
The last few weeks have been mild, and one might think spring arrived early. I know better, as we experienced this sort of interlude in 1994 when we moved into our house in the little city. That warm spell was shorter than this one, but no less memorable. Yesterday began with spitting rain falling from the overcast sky. By mid-afternoon the sun came out, and the temperature soared to 15C on our back porch. And where was I? I was out on the back porch, soaking up every ray of sunshine that came my way. I cuddled in my jacket, as the brisk wind was keen on robbing the warmth the sun provided. That is where Attila found when he returned from work, and where he joined me. I know this warm weather is not meant to last, but it is a lovely reprieve, and reminder that soon spring will arrive.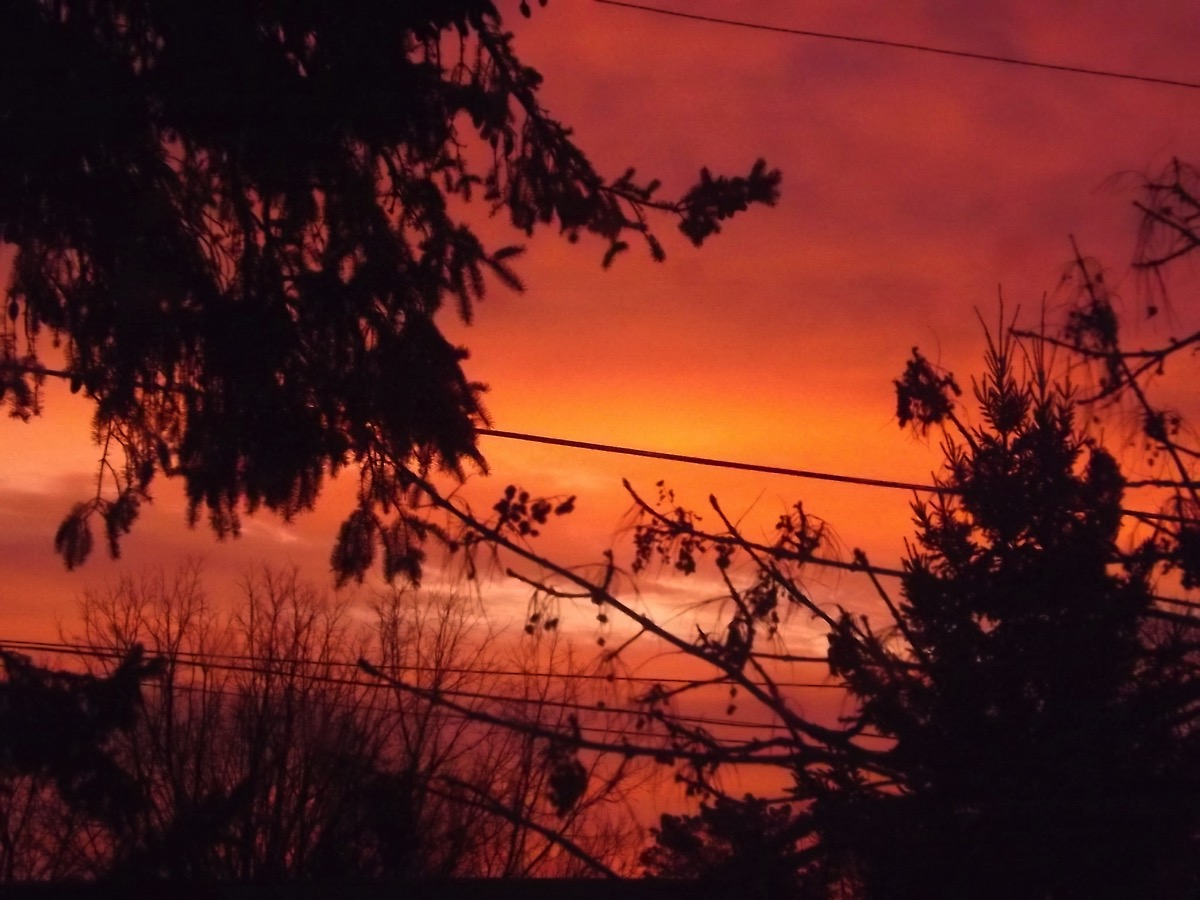 This is the morning view out the living room window, to which I have become so attached. The colours don't last very long, and I am always grateful when I happen to be looking out the window when they are at the height of intensity.
In mid-January I experienced a gastrointestinal upset that lasted for a month. It was puzzling, and worrisome. I had a few theories as to what it might be, some of them downright scary, and others not so much. The problem cleared up a week or so ago, to my great relief. But my system swung the other way to experience the opposite extreme, which has been equally uncomfortable. An experiment was in order. Yesterday I consumed a 70g portion of the ricotta cheese I like so well. Sure enough, during the night my gastrointestinal system swung right back to the original extreme condition. I am in a see-saw situation.
I had used this ricotta cheese in baking, and it did not affect me at all. I froze some of the ricotta cheese, thawed it and consumed it, and it did not affect me at all. I drink milk, and eat other cheeses, and they do not affect me at all. But eating this ricotta cheese fresh does affect me, distinctly and unmistakably. Going forward it can be my own fool-proof cure for constipation. My next experiment will be to try different brands of ricotta cheese to see if I can tolerate any of the alternatives.
My son-in-law Janus has expressed an interest in my 2007 iMac. It will only run operating systems up to and including El Capitan, and so has become a less flexible solution for us, which is important because we rely on computers and not cell phones. I spent yesterday cleaning up the hard drive, removing the last vestiges of my files, updating the software that I was leaving on the machine, and creating a login account for Janus to use, since he should not use the admin login account for day-to-day use. Attila brought the computer box in from the new shed, after he got home from work, and now the computer, the OSX install disk, the keyboard and the mouse are nicely packed and ready for pickup or delivery, whichever comes first. I will miss the old iMac, it is a beautiful machine. But we really need to keep current with our technology, and we do not have room for more than one computer in our little Mist Cottage.
The Ontario grown garlic we bought at the farmer's market last Sunday, it cost $2, which is quite expensive, but it was an outing so we indulged. Attila stir fried it with the $2 organic cabbage we bought from a different vendor at the market. I am really looking forward to having a garden this summer. We will be able to eat as much as we can grow!
Today I am baking my first loaf of Finnish Pulla, using the yogurt sourdough starter my friend Auntie Mame sent me. I learned a few little things with the first loaf of sourdough I baked last week, with the rye starter. It is important in my Bosch mixer to add the dry ingredients first, the starter will smear and fail to incorporate itself into the dough if added to the mixer bowl first. Adding the dry ingredients first really worked well, and the dough was very easy to work with when it came out of the bowl. The recipe I used was sent to me along with a sample loaf of Finnish Pulla by Auntie Mame, and I am looking forward to seeing how my first loaf will turn out.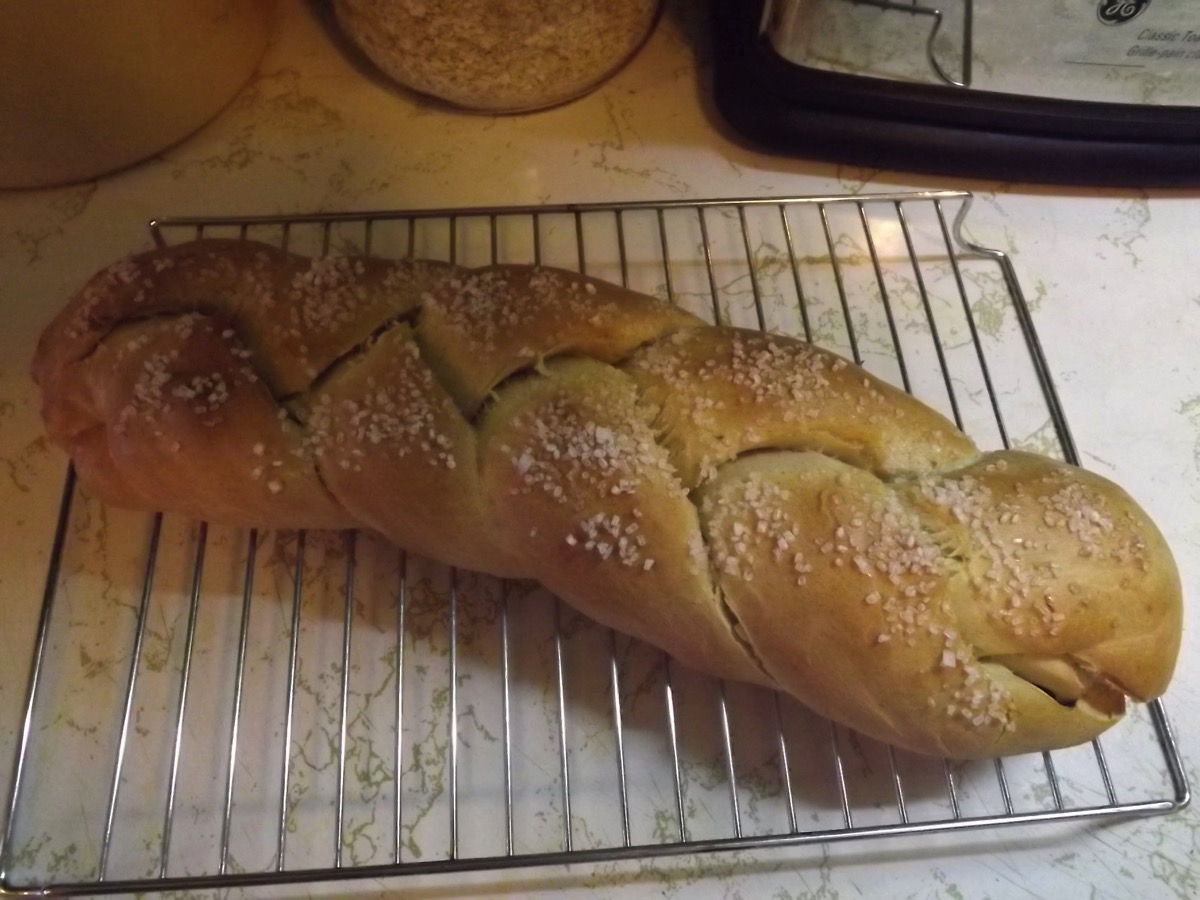 My very first loaf of Sourdough Finnish Pulla. I put 1/8 tsp of salt, as opposed to the 1 tsp called for in the recipe. I also used canola oil instead of butter, as cholesterol is an issue for me. I added no commercial yeast to this, the rise is completely due to the sourdough.
Attila does not like sourdough bread. I love sourdough bread. All for me is what I say! He likes the Finnish Pulla though, and I will have to share that. The loaf of bread I baked with the rye starter was very nice, it had a very good crumb, and was nice for sandwiches. But Attila doesn't like it. Since I was the only one eating the loaf, it was in danger of spoiling, so the last half of it was used for croutons. The result was disappointing, the croutons were rock hard, and very hard to crack with out teeth, not really very pleasant on a green salad. But we will eat them, nothing goes to waste here, our mistakes are usually consumed. Thank goodness we don't have many serious failures in the kitchen!
Lately I have been watching a channel on youtube, about a family who moved into a yurt with three small children and built a small house over the course of three years, which they moved into. I enjoyed the mountain dream home series Fouch-o-matic, which featured the whole family. They are very likeable people, and I enjoyed hearing about how they met their challenges and made progress.
The wife Esther did another series which featured just herself, and other homesteading wives, all around her own age. This series I found tedious, there was nothing new to me in anything that they were talking about, which is not really a problem. One positive aspect of it was that the information "taught" held no glaring areas of misinformation. I think my problem was more that they thought of themselves as teaching others, when in fact they were only just learning themselves. I would have enjoyed hearing about what they were learning, but could not get past their belief that they were in a position to teach, when all they were doing was sharing their learning experience. Trained as a teacher I know how carefully one needs to structure information and delivery in order to make it easily understood, and what a thorough knowledge one needs of the subject at hand to successfully teach others. We can learn from sharing, but the act of sharing is focused on the me, and not the same as teaching, which is student centric.
Worldly Distractions
Weather
3°C
Date: 10:00 AM EST Friday 24 February 2017
Condition: Light Rain
Pressure: 101.1 kPa
Tendency: Falling
Temperature: 2.5°C
Dew point: 1.2°C
Humidity: 91%
Wind: NE 22 km/h
Visibility: 24 km
Quote
"Just because your voice reaches halfway around the world doesn't mean you are wiser than when it reached only to the end of the bar."
Edward R. Murrow
1908 – 1965