The weather was lovely today, perfect for sitting out on the back porch and enjoying the sunshine. Perfect for gardening (Attila), and perfect for watching gardening (me)… my kind of watching sports!

The long weekend is over, it was a busy one. We stayed very close to home, as we figured others would not, and we intend on keeping safe.

We did, however, venture out once in the car. A month or so ago I had ordered a red currant, a high bush cranberry plant, two strawberry plants, and a horseradish plant. They were finally ready for pickup. The company had advertised delivery to vehicle, so we thought we would take a chance. We brought all of our protective gear, just in case we needed it.

It went smoothly enough, I called the nursery and prepaid. Then I called from the parking lot, and the fellow left the cart with our order by the back of the car. We discovered he had forgotten the horseradish plant I had paid for, so I phoned him from the car and he brought it over and left it at the back of the car. Attila loaded everything and no one came near us. It was a successful adventure.

We were the only people taking such precautions. When we arrived there were about six people standing about together, chatting, at the entrance to the nursery, and a staff member was chatting less than six feet from another customer. Two older women wore masks, that was refreshing, but they were only protecting others, not themselves, and the others we saw didn't give a toss.

On Saturday I milled two 1 gallon jars of whole wheat flour. On Sunday I baked five loaves of bread, and one loaf of 10o% whole wheat Squash Spice Raisin Bread. I bake exclusively with whole wheat flour now, that I mill myself. On Monday I baked 9 100% whole wheat hamburger buns. That was my first attempt at hamburger buns, and we were very pleased with the results!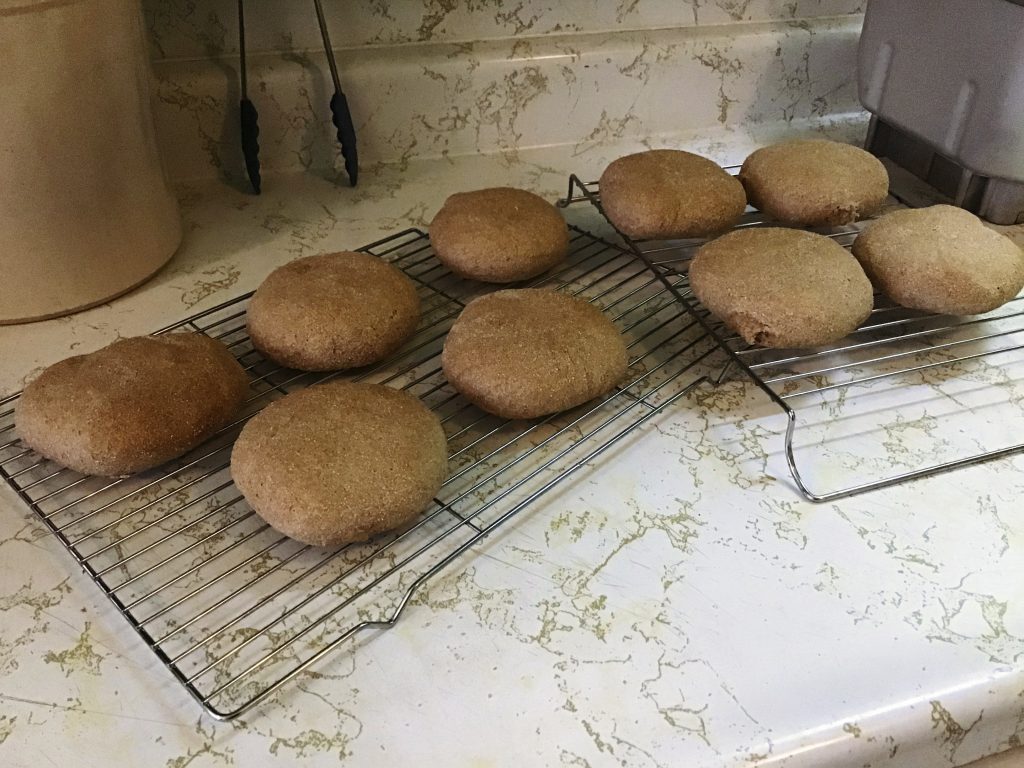 Today Attila and I canned 13 500-ml jars of Coleslaw. Attila chops and prepares the vegetables. I prepare the syrup, the equipment needed for canning, and can the coleslaw. It is a lot of work, but it is a great go to for the vegetable portion of a meal. We have already consumed 10 jars of Canned Coleslaw, and I imagine we will be making more by the end of May. The only expensive ingredients is the red pepper, the rest is as cheap as it gets, cabbage, carrot, and onion.

We are growing cabbage and carrots in the garden, fingers crossed we get a harvest!

Attila has been off work for two months now, and isolated for two months. I've been self-isolating since February 27th. The isolation seems normal now.

Good news from our pharmacy! They now deliver, one day a week, and so we do not need to brave the store to get our medications. What a relief that is. When last we had our prescriptions refilled, Attila had to go into the store to get them, they didn't deliver at that time. Now they do. Now, if only the local grocery store would wake up and provide delivery service! I live in hope.
Worldly
Weather
20°C
Date: 7:00 PM EDT Tuesday 19 May 2020
Condition: Mostly Cloudy
Pressure: 102.5 kPa
Tendency: Falling
Temperature: 19.8°C
Dew point: 3.5°C
Humidity: 34%
Wind: NNE 16 gust 28 km/h
Visibility: 24 km
Quote
"We cannot direct the wind, but we can adjust the sails."
Bertha Calloway
1925-2017