The only shortcoming of our new little travel trailer, Iris, is that she has no bathroom. The advantage to this is that there is no plumbing to winterize, pipes to freeze, or onboard sewage to dump at a dumping station. The disadvantage is that we don't want to be venturing out in the middle of the night to use the facilities, which are down the road at my Granny and Grandpa's house near our camp, and who knows where in a campground.
What to do.
I looked at composting toilets, which would be lovely in a larger trailer, a Tiny Home, or a cabin, but not in our teeny tiny Iris.
I looked at incinerating toilets, liking the idea that there would only be ash left to deal with. After watching numerous videos, I came to the conclusion that this would not be a good solution for a tiny trailer.
I looked at toilets that use absorbent materials in a foil covered bowl, so that every bit of what you leave there is vacuum sealed in foil and placed in the garbage with a huge plastic ring that holds the whole thing together. That whole idea offends me deeply, humans do not need to wrap their crap in foil, which will end up in a landfill site. We are a culture that is addicted to over packaging, everything!
I looked at the 5 gallon bucket with a seat, lined with a plastic bag, which again, would go into the garbage. Just the thought of the cleanup after the bears had been through the garbage completely put me off that idea.
I looked at chemical toilets. I looked at a lot of chemical toilets, from different companies. I researched the additives, finding that there were eco options, that were septic friendly. These units could be dumped into vault toilets, trailer dumping sites, and even regular toilets if, one were very careful. Then I had a look at designs, there were quite a few. Finally, I waded into the camping forums, targeting people in tent trailers travelling with children, to see how these units held up under wear and tear and strain. The chemical toilet, with eco deodorants, became my first choice in a toilet for Iris.
After reading extensively in the forums, I decided that the Thetford Curve Porta Potti would be our best option. Pricey, but much cheaper than buying a bigger, fancier trailer with a bathroom in it; and much better overnight company than the bucket and plastic bag solution.
The Thrown in the Jewel! This is a picture of our new Thetford Curve. Isn't she beautiful!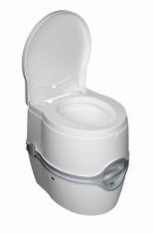 We received our Porta Potti today, and it looks pretty good! I tried the seat, the trap door, disassembled it for dumping, and reassembled it for use. We love it!
It occurred to me that when we are staying in the trailer at our camp, if the trailer had a bathroom and a blackwater holding tank, we would have to move the whole trailer to a dumping station to empty the tank. With the Porta Potti we can simply load the sealed blackwater chamber into Tank and drive to the nearest outhouse or dumping station. This is much easier than moving the whole trailer.
Well, there you have it, the resolution of my most pressing issue related to camping. We are good to go, and environmentally respectful. Now all we need is to get Iris home, some lovely warm weather, and some free time.
All this toilet talk is reminding me of the movie Kenny, a mockumentary. Attila and I really enjoyed that film.
And just to keep it going a bit, I am reminded of my sensational hit, a cartographic project, mapping the history of flush toilets in Ontario. I did it because my Granny and Grandpa didn't get a flush toilet until I was well into my teen years, and their home was one of the happiest places on earth, confused with heaven by their Grandkids. I was tired of reading policy papers measuring poverty, and the quality of life, by the presence of a flush toilet. Look at us now, almost everyone has a flush toilet, and is our society any happier than that of our forefathers and foremothers? I don't think so.
Maybe outhouses are the social therapy the human race needs.
Weather
-5°C
Date: 4:00 PM EST Wednesday 2 March 2016
Condition: Mainly Sunny
Pressure: 101.5 kPa
Tendency: rising
Visibility: 24 km
Temperature: -4.8°C
Dewpoint: -15.6°C
Humidity: 43%
Wind: WNW 19 gust 34 km/h
Wind Chill: -11
Quote
Kenny: "There's a smell in here that will outlast religion…"
from the film Kenny